Antiques l'Histoire – Belgium
Dear Diva Readers,
One of my favorite flea markets in Europe takes place Sunday mornings in the Belgian town of Tongeren, tucked away in the bucolic countryside near the German and Dutch borders.   And while the town is synonymous with flea market fun, it's actually known for so much more.
Local antiques dealer Anne Marie, of Antiques l'Histoire,  who owns one of my favorite antique shops in town, often explains to Antiques Diva clients, "See that Roman wall across the street from my shop?  Tongeren was an important and rich city in the Roman empire, named Atuatuca Tungrorum. Today it's the oldest city of Belgium with a rich history with lots of remains of Roman and Medieval times."
For Antiques Diva clients vintage and antique shopping on the streets in front of the medieval city walls is a step back in time.   Here you're guaranteed to score sensational deals on anything from vintage Delft ginger jars for under 50 Euro to Belgian enamelware, linens and various kitchenalia.
Anne Marie grew up in the Tongeren area, in the rural Haspengouw region,  and explains, "I'm quite proud on the international image Tongeren has today concerning antiques and our market.  People come from around the world to shop in our town and my shop.  I love that my shop contributes to the town's reputation as a must-shop stop on the continent for antiques and vintage lovers."


Antiques l'Histoire is located in a quaint 19th house.   "If I can say this, I think I have an atmospheric and nice antiques shop." She confides, "It's my fascination for history that resounds in the shop's name. And I hope and also believe that the visitors experience a glimpse of a rich history when they visit Antiques l'Histoire."  Anne Marie's warm welcome and offer of a cup of tea or coffee adds to the warm environment, as does her ease with several languages and interest in helping the client find just what they're looking for.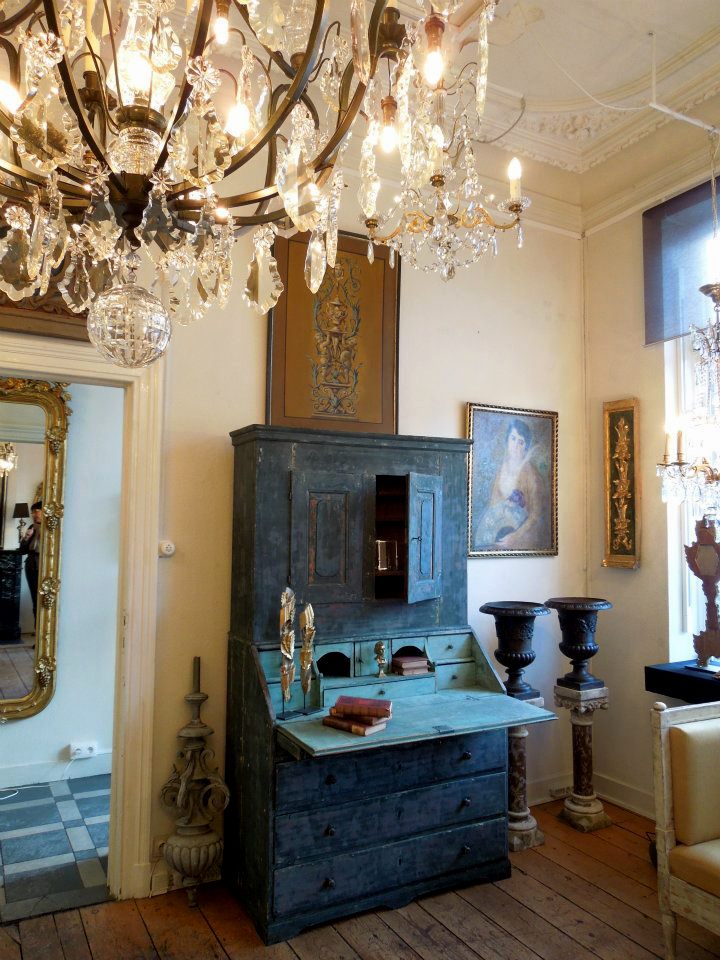 Anne Marie explains, "Antiques have always been my passion.  Along the way I developed a certain specialization in French mirrors and chandeliers from the 18th and 19th century.  Besides that I try to follow and adapt to certain trends in the antiques world."
She was the first antique shop in Tongeren to begin dealing in Swedish pieces.  "Keeping up with the trends is  why I started not that long ago with old Swedish furniture.  Clients appreciate this whole idea of Swedish antiques. Furthermore I offer my clients a rich range of European furniture and atmospheric antique objects and accessories. Thereby I often offer fine glassware and also antique tableware."
Overall the shop is imbued with an Old World Glamour… from the crystal you often see glinting as you peek in the window of the shop, or the melting mercury that sparkles from the mirrors to the tablescapes Anne Marie creates.
"I believe the shop has some kind of long lost atmosphere. When I enter the shop I still admire the rich impression it gives when the sparkling lights of the chandeliers reflect in the gold and silver mirrors around the shop space."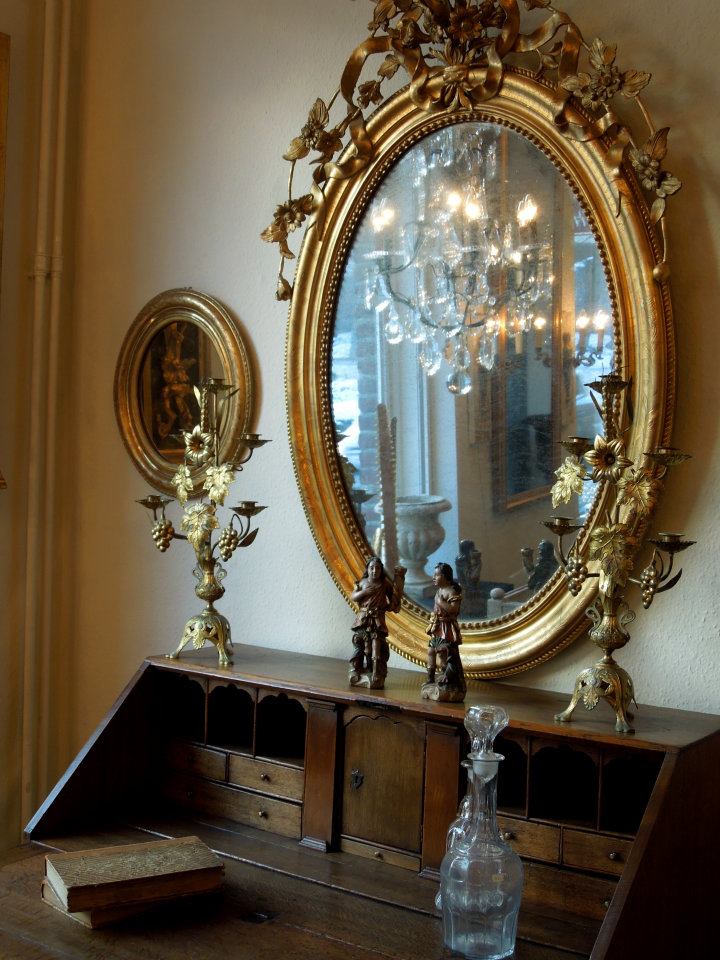 When asked where she sources her inventory, she explains, "Almost every month I travel to France, searching for fine objects which I can offer to my clients. French mirrors and chandeliers are my real passion. I'm always focused on the fact that my mirrors and chandeliers are treated with the appropriate care, which they deserve. By the moment they enter the shop they have gone through quite a process, which results in a nice range of finely selected objects. And that's because I only want the best for my clients."
Simply the best is how I would describe Antiques l'Histoire.  Gorgeous inventory,  great prices, one of the best shops in Tongeren.
The Antiques Diva®
Where To Shop:
Antiques l'Histoire
Leopoldwal 14
3700 Tongeren Belgium
Phone:  +32 (0)497 85 41 94
Email:  antiques.histoire@telenet.be

Toma Clark Haines is a Global Tastemaker, Speaker, Writer & Entrepreneur; and founder and CEO The Antiques Diva® & Co, Europe, Asia and America's largest Antiques Sourcing & Touring Company.
Latest posts by Toma Clark Haines (see all)