Meet Alys Dobbie, Our New Diva Guide
Dear Diva Readers,
Meet our newest Antiques Diva Guide, Alys Dobbie – she's an antique and vintage dealer, wearer and endorser as well as being the newest Diva on our team, leading tours in London at the Portobello Flea Market! She has been in the antiques trade for the last 11 years, getting her start selling in the markets of London and working her way up to owning 2 shops and becoming owner of "Vintage Shop of the Year 2012" and "A Judges Choice Young Gun 2013."  She's 30 years old and has a wide spectrum of knowledge with a specialty in Mid-Century Modern design.  In addition to being a dealer and antiques tour guide Alys also restores furniture and we will be featuring Alys' restoration tips on our blog in the coming months.
Meet Your London Portobello Guide – Alys Dobbie
Antiques Diva: Which Tours do you lead?
Alys: I currently run one-day tours in Portobello and Notting Hill but will be working on the East Sussex and Brighton tours too alongside our Antiques Diva UK agent, Gail McLeod.
Antiques Diva: What do you like about your job?
Alys: I love meeting new people and finding out their individual tastes and requests. Having a good relationship with dealers is essential in being a Diva and I love having a rapport with the characters of the industry!
Antiques Diva:  What do you consider your specialty in helping clients?
Alys: I have a good knowledge of Mid-Century design and artefacts so I'll be able to help anyone seeking the vintage look. I also have a degree in furniture restoration so I know to look for repairs or damage and can give advice on polishing and restorations.  I love helping clients find what they want – the cherry on the cake is always when you find the speciality item they've been looking for.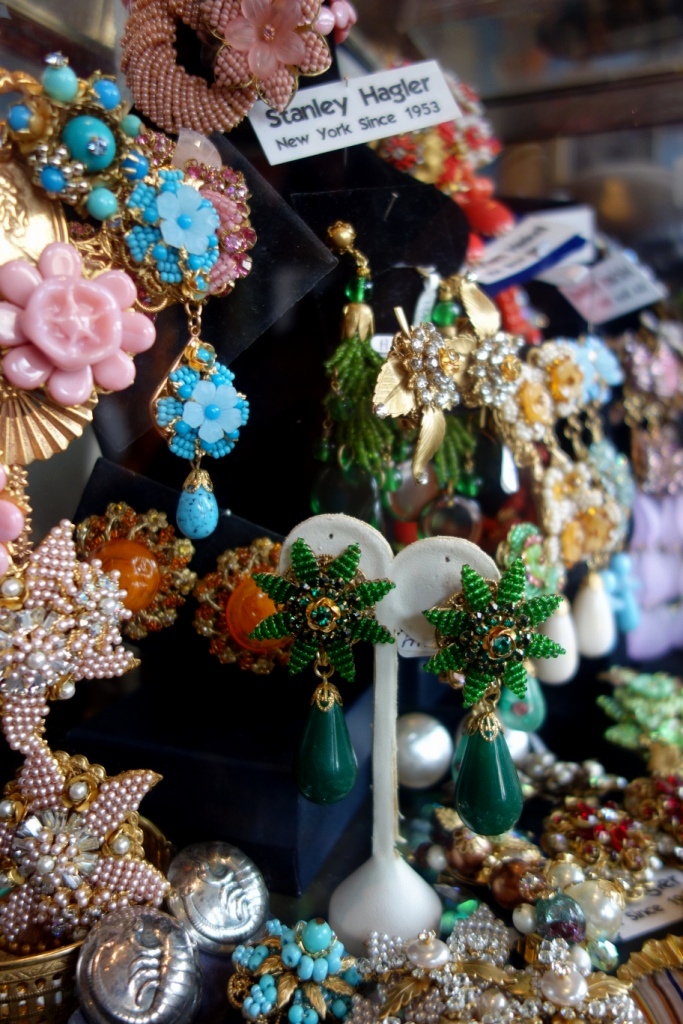 Antiques Diva:  Where did you grow up?
Alys: I grew up in Tunbridge Wells in Kent – my dad and I used to hit the boot fairs every sunday when I was a kid to seek out bargains. I used to buy clothes and sell them to the designer boutiques in town for pocket money.
Antiques Diva:  What do you do when you're not working? Hobbies? Interests?
Alys:  When I'm not working I'm usually still working. I love buying items for my shop so will drag my boyfriend (er Fiance! Ms Dobbie is getting married!!) around antique centres (he secretly loves it too). I also make my own wine and sloe gin. My favourite part of the day is taking my Border Terrier dog Fred for a walk on Brighton beach, where I live now.
Antiques Diva: Favorite spot to vacation?
Alys: I went to the States last year and absolutely loved it. My dream holiday would to be to drive around the Deep South, checking out thrift and antique stores whilst eating some good BBQ. I have a soft spot for Granada in Spain. The tapas are to die for.
Antiques Diva: Do you have a favorite museum of work of art that inspires you?
Alys: The Tate Gallery in St Ives, Cornwall is my favourite gallery in England. The building itself is spectacular and conjures up memories of long summer holidays with my dad. The whole village is full of artists – both up and coming and established. The Barbara Hepworth gardens are also fantastic.
Antiques Diva: Give me 5 words that describe your personality?
Alys: Quirky, Dry, Organised, Confident, Thoughtful
To follow Alys' Adventures check out her store as well as Facebook site and Twitter.
To book a Portobello Flea Market Tour in London email info@antiquesdiva.com.
Cheers!
The Antiques Diva ®

Toma Clark Haines is a Global Tastemaker, Speaker, Writer & Entrepreneur; and founder and CEO The Antiques Diva® & Co, Europe, Asia and America's largest Antiques Sourcing & Touring Company.
Latest posts by Toma Clark Haines (see all)