The French Antiques World of Melanie Aussandon
Dear Diva Readers,
Earlier this week I wrote announcing our fab French Antique Buying Tours in Provence, telling you how delighted I was that Melanie Aussandon, the bloggess behind Le Petit Cabinet de Curiosities had agreed to become our Provence-based Antiques Diva Tour Guide helping both dealers, designers and tourists shop abroad.
;
Today I wanted to show you inside Melanie's wonderful showroom in Aubagne, nearby Marsailles. In addition to working as a Diva Guide, Melanie runs a successful antiques business – her showroom open only by appointment is in a French apartment decked out as if someone lives there – but literally everything is for sale!! Here she displays her French treasures which she ships worldwide. My French Life recently did a lovely interview with Melanie where she tells about growing up in France the daughters of interior designers/ upholsterers it perhaps my favorite media blitz I've seen on Melanie was the feature Victoria Bliss magazine did on Melanie's antiques business. As you can imagine I'm delighted that Melanie has agreed to be part of the Antiques Diva team!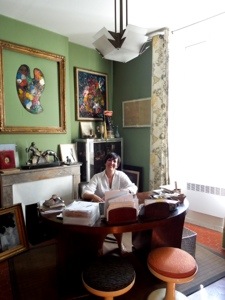 Bonne Shopping!
The Antiques Diva ®
Toma Clark Haines is a Global Tastemaker, Speaker, Writer & Entrepreneur; and founder and CEO The Antiques Diva® & Co, Europe, Asia and America's largest Antiques Sourcing & Touring Company.
Latest posts by Toma Clark Haines (see all)