Let's Meet at
High Point Market!
I will be at Pandora de Balthazár's Suite at High Point on Sunday, April 23, from 3-6pm. To schedule a high-powered business meeting with me (in bed, bien sur!) email for an appointment: toma@antiquesdiva.com. 
The Art of Sleeping 
As someone who travels for both work and pleasure constantly, I find myself in many different time zones, often sleeping on planes, trains, or automobiles – hopefully not while I'm at the wheel but rather curled up in the passenger seat of the car! When I have the luxury of sleeping in my own bed, I want to enjoy every single second of it! 
Becoming Brand Ambassador for Pandora de Balthazár has changed my life because she has taught me so much about the art of sleeping. Yes, it is an art! From selecting the right linens, to making the bed, to actually getting into bed and calming your body as it prepares to sleep, Pandora is an expert on getting the most out of the 1/3 of your life you spend under the covers. To help people achieve a light, soft, yet crisp sleep experience, she's developed something called The Timeless Bed.
The Timeless Bed is the complete infrastructure that enhances the sleeper's comfort due to its architecture of support and insulation, which assists in regulating temperature, allowing the body to breathe. How many times have you climbed into bed on a cold night, covering yourself from head to toe, only to awaken in the middle the night completely drenched in sweat? That is NOT a Diva-like experience! Hmm… Diva's glisten and glow, not sweat! Pandora's Timeless Bed addresses temperature issues by creating a soft fluffy feeling while also remaining airy so you rarely feel the need to toss the covers away. 
The Timeless Bed starts with a natural mattress protector filled with either cotton, wool, down or batten. The protector fits tightly and protects the sleeper from chemicals in most mattresses. Next, comes the down mattress pad. Unlike a traditional feather bed, this natural, machine-washable Hungarian down and feather mattress pad comes in an 80/20 ratio. Mattress companies have been trying to address top-of-bed issues such as temperature control without much success. The Timeless Bed's mattress pad creates a breathable corridor of air beneath the body, which is a critical element in Pandora's success. The down mattress pad is then topped with not one but two fitted deep-pocket sheets. Why two, you ask? The bottom fitted sheet protects the down mattress pad and keeps it clean, and the top one keeps all of the aforementioned substructure firmly in place. 
Next comes a flat bottom sheet of 600 to 1000 thread-count which should not be tucked in, but remain floating. These sheets are cool, crisp, and substantial. If desired, antique linens can be substituted for the bottom sheet. All of these layers are under the body, giving a cloud-like effect while remaining breathable. 
Over the body, a flat top sheet drapes, again untucked. On top of this sheet goes a very light sleeping duvet. Pandora's light duvets are the lightest on the market and are machine washable, which makes maintaining them a breeze. You could also use a heavier duvet based on personal preference. By adding Pandora's European Sleep System to The Timeless Bed, you will complete the perfect bed! 
Once this foundation is in place, it's time to add fun pieces such as antique pillow cases, blankets and other decorative items. Throw pillows made from decorative pieces of antique textiles are a great way to add personality to The Timeless Bed as well. 
Just like a fine antique French chest made from solid wood, then adorned with marquetry, ormolu, and beautiful hardware, The Timeless Bed begins with a firm foundation built for function and can be adorned to suit any taste. 
Sleep well,
Toma Clark Haines, The Antiques Diva®
Heirloom Linen Trousseau: A Treasured Tradition 
One of the reasons I love antiques is because they give a window into the soul of a country – it's like anthropology or sociology! We can study how people lived in the past through their furniture, jewelry and textiles. Many customs have evolved over the centuries – as technology advances, we no longer need certain items which once were of great importance. However, some things in life remain constant—the need for sleep being one of them.
In the past, brides-to-be would build a linen collection for their future homes, an ongoing task that involved much care and excitement as they dreamed of the big day. Building a trousseau could be likened to registering for china and silver today. The goal was to amass a collection of bedding, table linens, and other household textiles by the wedding day to last for many years of happy marriage. Though some modern brides-to-be still practice the custom of building a trousseau, the tradition rarely involves the attention to detail it once did. Is this any wonder with the mass-produced bedding available in big box stores? While it may seem easier to simply purchase off-the-rack linens, I've got a special source that can change the way you think—or dream—about bedding. As Brand Ambassador for Pandora de Balthazár, I want to share some insider tips with you on the importance of building your own trousseau and just how to go about doing it – and best of all, this is something you can do for yourself. It doesn't require a groom or bride. We spend 1/3 of our life in bed… should that time be spent with the most luxurious linens we can afford?
Collecting Beautiful Linens
Collecting beautiful linens in a meaningful way starts with knowing what your personal style is and what your needs are. Do you prefer sheets with delicate lace trim or are you a fan of a more minimal look? Are monograms your thing? While collectors can certainly value heirloom linens, anyone with a discerning eye and good taste can appreciate and use them. Many antique linens have been passed down for generations and can still be enjoyed today. Pandora de Balthazár happens to have one of the most notable collections of antique linens in the world, and is a wealth of knowledge when it comes to building your own trousseau. 
"In most European countries, and with a few American families, the preparation for a young bride's trousseau once began at birth and often before," she says. "Years  before her betrothal, the future bride amassed enough linens for her bedding and tables to sustain her family throughout their lifetime."
One thing to look for when considering longevity is a blue tint in antique linens.The bluing is usually in the thread and rarely fades, making these particular pieces highly sought after, as they are often ready to use. Trousseau Blue linens were especially a favorite for bridal bedding as only the best would do for the place where the bride and groom would consummate their marriage. 
Determine A Budget
When building your own trousseau, it's important to determine a budget first. This budget should include professional cleaning as well, since you want to maintain your antique linens. Next you want to decide what style fits your personality and home. From Victorian and Edwardian to Early American or even Asian linens, figuring out which style you love will help guide your future purchases. Speaking of future investments, it's a good idea to come up with an initial plan for how you plan to use your trousseau. What sizes of linens do you need? How many sets of sheets would you like? Write all of this information down and keep it with you when you shop. And remember: Pandora advises you change your linens frequently – up to several times a week – not just once a week or every other week!
Repurposing Linens
It's also wise to consider repurposing linens. Since sizes of antique linens are so varied, pieces that were once tablecloths may make ideal bedcovers with a bit of alteration. The key is to choose pieces you connect to. Touch the embroidery, lace, and appliqués. This will aid you in understanding your tactile personality. Remember it's not only about how pieces look, but also how they feel. 
Regardless of the size or style of your trousseau, building it should be fun. It's a great way to carry on a treasured tradition which will keep you in comfort for many years to come. Looking for an ideal place to start building your trousseau? Contact us at The Antiques Diva & Co and begin by perusing the inventory of Pandora de Balthazár. 
Toma Clark Haines, The Antiques Diva® 
How to Care for Vintage and Antique Linens
As we began 2017, I mentioned that one of my New Years resolutions was to get better quality sleep – and more of it! I've always been a Princess and the Pea kind of girl – meaning that a variety of things could interrupt my nights zzzz's however until I became Brand Ambassador for Pandora de Balthazár I didn't understand how much the quality of linens can enhance – or detract from – one's sleep. Pandora has one of the largest and most respected collections of antique linens on the market, many of which are museum-quality textiles. That's what makes this partnership between Pandora de Balthazár and The Antiques Diva so perfect – we're both big believers in using beautiful antiques that are also functional for everyday life.  
As with any antique, maintenance is an important part of keeping antique linens in top condition. I've picked up some fantastic tips from Pandora on how to care for vintage and antique linens. By following the expert advice of Pandora, you can extend the life of your pillows, duvets, sheets, and shams, allowing you to enjoy them for many years to come. 
Goose Down Pillows
Everyone cleans their sheets and mattress pads, but did you know that pillows need maintenance too? Each morning it's important to fluff goose down pillows to allow air to circulate between the feathers, helping the pillows keep their shape. It's also necessary to take pillows outdoors on a sunny day at least once every two-to-three months to let the sun's ultraviolet rays kill dust mites and keep pillows fresh between laundering. Making sure down pillows are fluffed and exposed to sunlight ensures that feathers in the pillows are freed from moisture that penetrates them while you sleep. 
Add another layer of protection by using pillow protectors under your pillow cases. Pillow protectors from Pandora de Balthazár are hypoallergenic and keep dust mites and allergens from building up as quickly. 
When it comes to killing allergens, down pillows need to be washed. Some people perspire more than others, but it's recommended to wash pillows at least once or twice a year! Do you wash your pillows! As I've begun discussing this with friends, clients and colleagues I was shocked by how many people didn't know to do this!!! If your pillows aren't fluffing as fully as they used to, that's probably due to dust mites and allergens which add weight to the feathers, making them less fleecy. That means it's time to wash them! Splish splash give them a bath!
Goose Down Duvets
As with down pillows, duvets and blankets filled with down benefit from daily fluffing and frequent exposure to sunlight. It's also important to change linens often – about every three days or so, especially if you use body lotion, perfume, and hair products. All of these products transfer from your body to your linens (which can lead to discoloration) and finally into the down itself. Frequent fluffing and washing can increase the longevity of your bedding. The more you wash the better they will be!
Steps for Laundering Down Bedding
To Wash:
• Use a large washing machine, front loader or top loader without center agitator
• Use warm water, set to delicate cycle and soak thoroughly, rinsing at least twice
• Use mild detergent and be sure it is properly diluted
To Dry:
• Air dry outside if possible or use low to medium heat in a large dryer
• Use dryer ball or clean tennis ball to help fluff the down, or it is ideal to remove and shake every 60 minutes
• Be sure it is completely dry inside and out—especially important for pillows
• Be prepared for an estimated drying time of 2 to 6 hours, depending upon the capacity of the dryer 
Sheet Sets
Most sheet sets and shams are easy to care for. Simply machine wash them on a delicate cycle in warm water. If you dry them in the dryer, be sure to use low heat, but the best option is to line-dry them. Diva Confession? I have my housekeeper iron ALL my linens!!! I thought this was normal… but am learning that not everyone irons their sheets!! For extra luxury, you want to smooth them out and iron them for a crisp hotel-like feeling!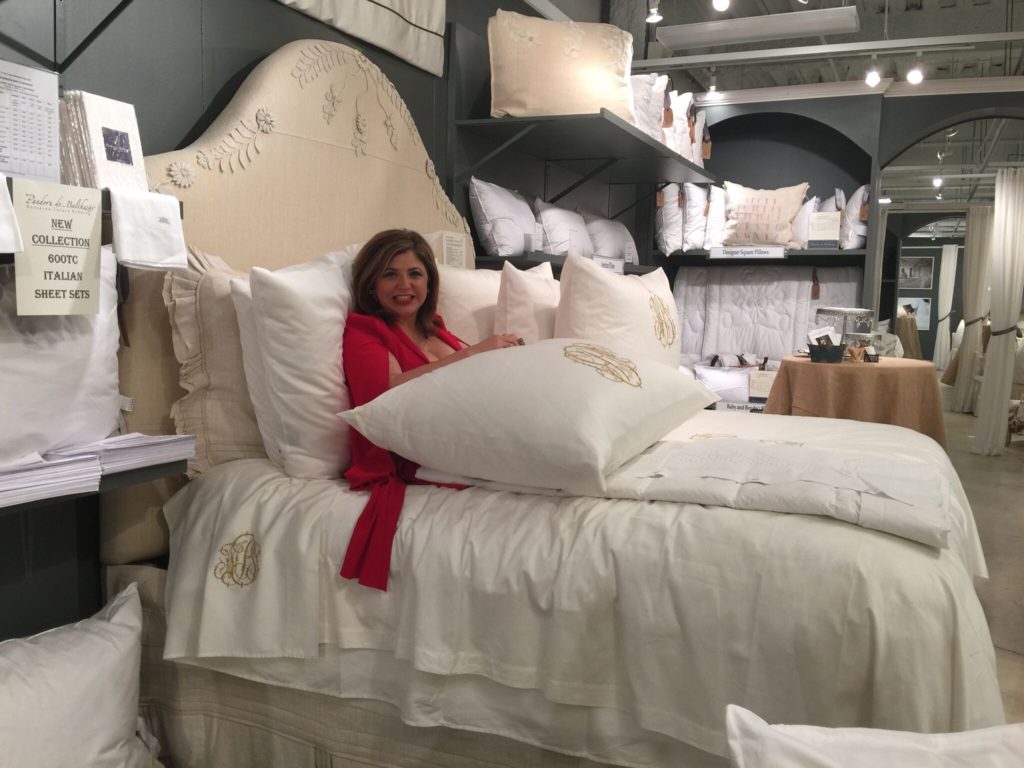 And here's a hint? In the morning when you wake and the sheets look a little wrinkled, spritz them with linen spray so they are slightly damp and smooth them with your hands… et voila, linens will pop back like they are freshly ironed. And smell fabulous too! 
Antique Linens and Lace
As with most antiques, linens and lace are meant to be used. Simply storing them away is not good for them, as dry rot could set in. Linens like to be handled regularly, as natural oils from your hands keep them flexible. It's the same with silver – the more you use your silver the less you have to polish them! Window treatments, antique shams, tablecloths with lace, and other delicate pieces should be washed at least once a year – even if they've only been in storage. This keeps them pliable! 
If you notice any damage on your linens, repair them immediately to avoid the damage becoming worse. If you're not sure how to repair your linens, Pandora de Balthazár offers hand-wash laundering services and repair/restoration services for all linens purchased through them. They can also examine linens that were not purchased through them, in order to advise you as to whether they can be repaired, or how they should be laundered.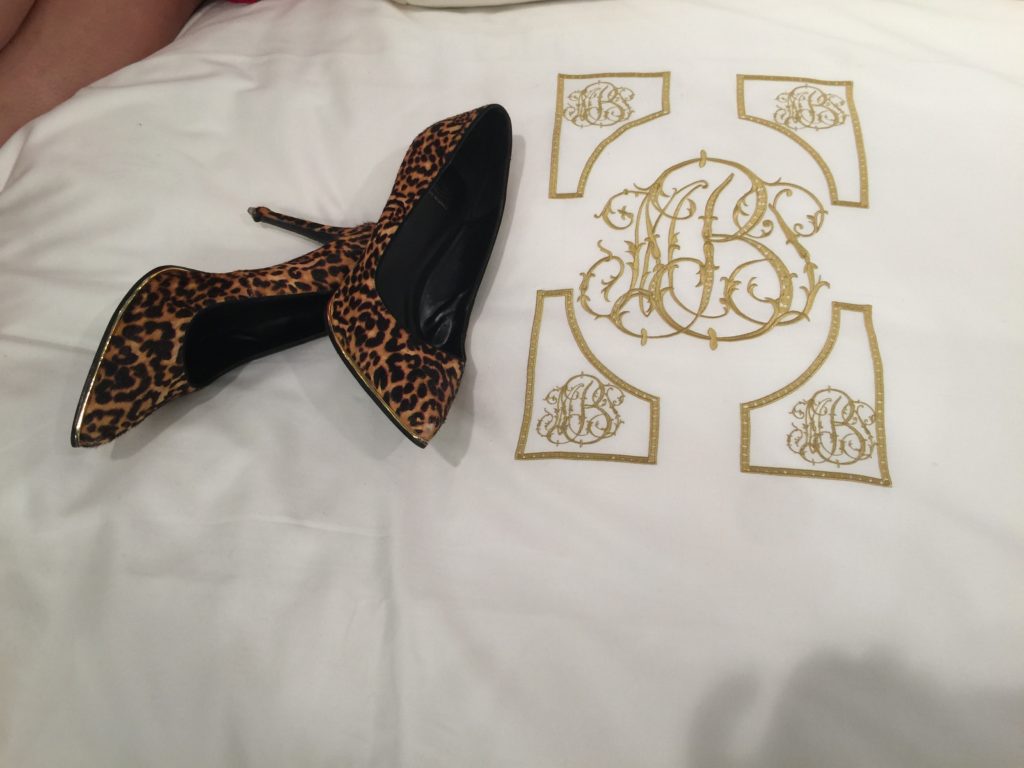 Storage
If you are planning to store your antique linens, do not iron them beforehand. Simply be sure they are thoroughly dry. never store linens in plastic bags or on wooden shelves. Store linens on hangers or roll them in old linen if storing in a chest or cedar cabinet to keep oil from penetrating them. Rolling them helps prevent them from becoming brittle. To maintain a crisp white color, soak linens every couple of months in Pandora de Balthazar's linen soak – a conditioning treatment that prevents yellowing. 
As with any investment, proper care and maintenance can help linens last for generations. The bed is a place we spend a significant amount of our lives in, so why not dress is with the best linens possible? With Pandora de Balthazár's products, sleep is more than just a necessity, it's luxury married with gorgeous design and the highest quality Hungarian goose down and Italian linen – the perfect ingredients for any Diva's bed!
Stay tuned for more fun as we discuss all things bedding, decorative textiles and restorative sleep here on the blog. We will be doing a series of blog posts about antique linens, teaching you all you need to know and sharing our insider tips on restoring your inner diva.
Toma Clark Haines, The Antiques Diva®