How To Shop For Vintage & Antiques at French Flea Markets
Marché aux Puces and Brocantes

In France, flea markets are known as marché aux puces or simply, les puce, (the fleas). But googling "brocante" will take you off the beaten path to traveling flea markets that are only held a few weekends a year. They can be held anywhere from 1 day to a full 2 weeks. Bigger traveling flea markets in France will have billboards all over town advertising them – so when you see a sign stuck to a lamp post or a giant poster in the metro with the word brocante highlighted, get ready to shop! Brocantes attract vendors from all over France, selling everything from high-end antiques to vintage pieces and simply second-hand junk. Prices here are usually better and take you into neighborhoods you might never have reason to visit on your own. A great website for finding brocantes is www.brocabrac.fr. While the Paris Flea Market is a personal favorite and must-do (and The Antiques Diva & Co are the only official tour guides of Paul Bert Serpette at the Paris Flea Market), visiting other French flea markets in Paris and across France is ideal to shop for antiques and vintage pieces. Here are my top 3 brocantes in Paris – and my all-time favorite French flea market starts next week!!
tip: Check out our Antiques and Design Markets and Fairs 2017 Calendar for flea markets in France and across Europe!
While there is nothing more fabulous than getting lost in France and discovering some place (or something) magical, shoppers in the know research where to go before traveling overseas. We suggest you book an Antiques Diva tour so you can shop on the arm of a local who knows the area like the back of their hands – plus more importantly – has relationships with the vendors which allows you to get the best prices possible when negotiating. But if you decide to give it a go on your own, be prepared and do your research. Google the cities where you're planning to antique, using keywords for the antiques and vintage pieces you want to buy.  
Vide-Greniers
On brocabrac.fr you will also find vide-greniers – essentially attic sales – set up in the center of town with anywhere from 50 to of 1000s of people participating. These aren't professional vendors, but instead they private people wanting to sell their goods – think of it as a town-wide garage sale where anything and everything is for sale. While you'll have to dig through second-hand clothes and used toys you can also find gorgeous antiques going for a song!
Salon des Antiquaires
If you're looking for high-end antiques you want to go to a salon des antiquaires – a step up from a flea market or brocante – which can have second-hand and decorative objects. This will be more high brow and have higher quality pieces – but don't let that phrase scare you – there are still bargains to be had. Remember French antiques are often 3 to 5 times less expensive in France than they are in America or Australia. Something selling for 2,000 Euro in the North of France might go for $6-10K in the USA. You have to spend money to save $$$!
Key French Shopping Phrases
Now that you know where to go whether it's a puce, brocante, vide-grenier or salon des antiquaires you should know a few key phrases in French to get the ball rolling! Even if you don't speak French, learning some basic vocabulary is worth it's weight in golden Louis 15th antiques.
Always start the conversation with a simple, Bonjour Madame or to catch the vendors attention try S'il vous plaît  (SVP) Monsieur.
Point then to the item you are interested in and ask how much it costs: C'est combien, SVP? or try Vous voulez combien?
Ask how old it is? Quel âge a cette chaise?  Ça date de quand?  What wood it is? C'est quel type de bois? And where it comes from:  Quelle est sa provenance?
Don't be shy – negotiation is expected. Ask for a good deal. Vous pouvez  faire un meilleur prix? Will you make a better price? or C'est votre meilleur prix? or Vous pour faire mieux? Is that your best price? It's best to ask the Vendor to tell you their best price BEFORE you offer a number – because sometimes they offer you more of a discount than you would have expected. If the piece is 100E and you ask for a best price, the vendor might come back and say 80E. You can then continue the negotiation – Will you take $70? Prenez Vous 70E? If said this way, the vendor might compromise on 75E. 25% is a reasonable amount to expect for a discount.
Be willing to walk away in order to get a discount.  Leaving then returning to the piece helps with negotiation… but beware… you might just return and find your item SOLD to someone else!
Verify they are giving you the export price – C'est le prix pour exportation? Is it too expensive? C'est trop cher!  (said while batting your eyes!) A good deal? C'est bon marché – C'est un bon prix – C'est raisonnable.  I'll take it! Je le prends!
And don't forget to say Merci! Au Revoir!
Bon Shopping! 
Toma Clark Haines, The Antiques Diva
Dear Diva Readers,
Our lovely Antiques Diva Guide in Provence is Caren. Today she's sharing a bit about why antiquing is so much more exciting than simply shopping big box stores—especially in Provence where markets have constantly changing inventory! She even shares some of her favorite places to score antiques.
Diva Guide Caren writes:
"Antiquing… it's so much more exciting than just shopping. It's like looking for hidden treasure. You're never sure what you will find and it's often not in plain view, but when you discover the right piece, you know it's a keeper. For most of us, shopping is a chore. Not so with antiquing. In a world where so many of the stores pump out the same old, same old, it is a breath of refreshing air to be in Provence with daily possibility of shopping at a market.
And remember, nowadays, even top fashion houses are looking to combine shabby with chic. When you're antiquing you won't see the same brand names that are found in high streets, airports and shopping malls the world over. The French markets are a daily and weekly delight, brimming with fresh local produce and handicrafts.
If you're looking for a bargain or something that won't be found in any of the high street shops, it's the Puce or Flea markets, the Brocante (Second Hand goods) and the Vide-Greniers (literally, Empty Attics,) which are the ones to seek out.
Some Flea Markets take place on a regular basis and the stallholders are mostly professional dealers, but the Brocante and Vide-Greniers sales tend to be held only occasionally. Vide-Greniers normally attract private sellers who in the UK might attend a Car Boot Sale or in the US would hold a Yard Sale. Really big Vide-Greniers may attract hundreds of sellers and thousands of bargain hunters. This is the place to find collectables or pick up a bargain— something that you won't find at any chain store.
The great news is, that if you're in Provence, there's a flea market to be found every day of the week. Here's a list of some of the Antique markets.
Saturday: Villeneuve les Avignon.
One of my favorites is held every Saturday morning across the Rhone from Avignon. Moderate in size, it is held in the car park underneath the ancient fortress of Villeneuve. Between 80 and 100 vendors set up here, offering a wide range of items, many with a focus on Provence. Buyers who own shops in the near-by Isle sur la Sorgue come here in search of a bargain.  Provençal ceramics, pots, linens, agricultural tools and clocks.  A great market where you might well make an interesting discovery, and at a reasonable price.
Sunday: Carpentras – parking des Platanes
Carpentras is approximately 30 km north of Avignon.  Late on a Sunday mornings a delightful flea market unfolds in a lovely tree-lined parking area– parking des Platanes.  It starts around 10.00 am and it's a preferred meeting place for some of the more serious collectors: those who a happy to do their own digging. Here you often have to rummage through boxes and crates to find your treasure. Between  130 to 150 vendors set up and often, they are selling their own belongings, which fall more into the category of "second-hand" than "collectable". The variety in terms of wares and prices is huge, with an emphasis on the rustic and every day, rather than on up market decorative objects. If you are looking for something really unusual and surprising, this is one of the best places to find it, though you will have to expend some energy in the process.
This is the perfect flea market for someone to dig around and hunt for something special and affordable!
Also on Sunday…
Aubagne: Antique market: last Sunday of every month at the Marche de Gros, quartier de la Tourtelle
Isle sur-la-Sorgue: Antique and flea market: every Sunday all along the avenue des 4 Otages, in the village centre
Monday:  Nice – Cours Saleya
There are about 200 vendors here until to mid-afternoon. Cours Saleya is just behind the Promenade des Anglais and it's a great place to rummage.  The market is mostly high quality, but treasure hunters can often find a special something. Many items have also found their way here from across the Italian border which makes for an interesting mélange and some vendors speak English, as well as Italian.  Lots of silver, vintage clothing, posters, nautical and travel items and ceramics.
Tuesday and Thursday: Aix en Provence, Place Verdun in the mornings
Wednesday : Pernes les Fontains
Antique market in the morning in the car-park at the centre of the village
Friday: Toulon
A Brocante market at Place du Théâtre in the morning
If you would like more information on an Antiques Diva Provence Tour, email us at info@antiquesdiva.com.
Au revoir et Bonne Shopping!
The Antiques Diva® 
Dear Diva Readers,
You know summer in Paris is officially underway when the brocante at St Sulpice comes to town.  Ending on June 23, the market is held in the Place Saint Sulpice, named after the famous eglise which flanks its eastern side.   Don't worry if you missed the fair this year – you can always plan a trip next June as the fair comes to Paris each summer like clockwork.   Movie buffs might recognize the name of this square as well – it played prominently in The Da Vinci Code. And, if you're a French flick fan, you might be excited to know that the French actress Catherine Deneuve lives in a gorgeous flat overlooking the square.  She's often seen shopping in the neighborhood (and on more than one occasion we've bumped into her shopping this antiques and flea market).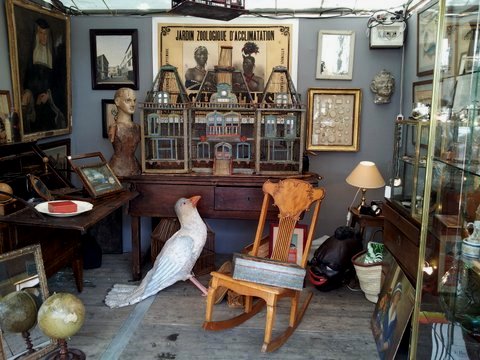 The square, built in 1754 as a tranquil garden in the Latin Quarter of the 6th arrondissement of Paris, is just as lovely today as it was 250 years ago.  In fact, at the flea market (held this year from June 13 to 23) relics from the past remind us what life was like during those days of yesteryear.
Antiques Diva Paris Shopping Guide Danielle snapped a few pics while shopping the market last week and we had to share this glimpse into Paris antiquing with you!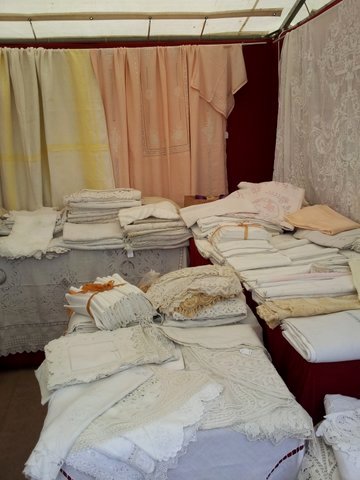 To book your Paris Brocante and Flea Market Tour email info@antiquesdiva.com for more information.   Don't forget to ask to tour with Danielle to go off the beaten path into Paris' best neighborhoods and brocantes.
Bonne Shopping!
The Antiques Diva® & Co