France
France Tours Overview
There is no better place to start a European Tour than in Paris or Provence!  It is as if one of the Louis' cast a spell on French finery so future generations would be drawn to the treasures of la Republique.  From the famous Paris Flea Markets to brocantes off the beaten path, Paris Antique Shopping Tours are a Diva's Dream Come True!   Raise your paddle at the Hotel Drouot or walk in Mademoiselle's shoes going vintage Chanel shopping.   Pop along the leafy boulevards, browsing the brocantes in Provence or visit the world's largest antiques town.  Shop on the arm of an expert who will translate, negotiate and help you ship your purchases around the world, maison sweet maison.  
Available Tours include (see detailed descriptions below):
-  The Original Paris Flea Market Tour
-  Paris Flea Market and Porte de Vanves Tour
-  Off the Beaten Path in Paris
-  Paris Antique Shopping Tour of the Marais
-  Behind the Scenes at the Paris Auction House Hotel Drouot
-  The National Fair of the Flea Market and Ham Tour Paris Suburbs
-  Vintage Chanel Tour in Paris
-  Vintage Fashion Tour in Paris
-  French Fabrics & Frills Tour in Paris
-  Custom-made Paris Tour
-  Multi-day Paris Tour + Loire Valley
-  Trade-only Antiques Buying Tour in Provence
-  NEW!  Antiquing in Versailles
Provence Tours include:
-  L'Isle-sur-la-Sorgue
-  Aix-en-Provence
-  Avignon
-  Marseille and Aubagne
-  Cannes and Nice
Inquire about our special "Trade Only Tours" for dealer / designer extra exclusives not available to the public.
As seen in Travel + Leisure, The New York Times and Washington Post!

~ ~ ~ ~ ~
The Original Paris Flea Market Tour 
Available Saturday and Sunday 10am – 6pm
Full Day Tour
Half-Day Tour – available upon request

Let The Antiques Diva® & Co whisk you away to the famed Puce de Paris St Ouen (Paris Flea Market), well-organized permanent structures housing millions of euro of inventory complete with 13 districts, 2,000 vendors and 7 miles of alleyways! It's easy for one to get lost in the maze of alleyways and streets, but with The Antiques Diva® & Co Guides by your side, we'll weave into nooks and crannies you'd never find on your own.   As seen in Delta Air Lines SKY Magazine:  Paris – 1 City, 5 ways
 
~ ~ ~ ~ ~
Paris Flea Market & Porte de Vanves Tour 
Available Saturday and Sunday  9am-5pm 
Full-Day Tour
Start the day at "The Other Paris Flea Market", Porte de Vanves, to pick up some perfectly-packable treasures.  Before your tour, we scour our insider's sources to find local brocantes, antiquities markets and vide greniers in order to visit special 1-day-only markets typically only known by the locals. After visiting an attic-sale or flea market, we hop on the metro and head to the pièce de la résistance, the famed Puce de Paris St Ouen (Paris Flea Market), well-organized permanent structures housing millions of euro of inventory complete with 13 districts, 2,000 vendors and 7 miles of alleyways! It's easy for one to get lost in the maze of alleyways and streets, but with The Antiques Diva® & Co Guides by your side, we'll weave into nooks and crannies you'd never find on your own.  Frequent stops during the day for coffee and to rest and we cap off the day with a glass of champagne / wine!  A day made in Diva Heaven!  Read a Roaming by Design review of this Diva Tour!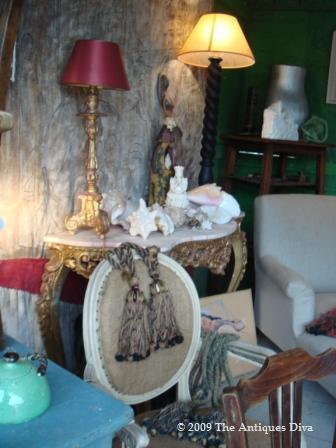 ~ ~ ~ ~ ~
Off the Beaten Path Brocantes in Paris
Available Saturday and Sundays depending upon Brocante Schedule, 10am – 2pm

While a trip to the famed Paris Flea Markets are a cultural must-do and offers the best inventory in all of Europe, when you're looking for bargain buys in Paris the best place to find them is by scavenging the brocantes  – traveling flea markets – and vide greniers – attic sales – in and around Paris.  Join The Antiques Diva® & Co as we take you under our wing on special weekend events to secret sources only locals know about.  From the back alleys of the Paris suburbs to the chic enclaves where the "bon chic, bon genre" live in the 16th, 17th and 7th arrondisements, to the "bourgeois bohemians" in St Germain des Pres, the Marais, Bastille and well beyond we'll peruse our calander to create a custom tour on your travel dates based upon the best 1-day and 2-day French Flea Markets going on while you're in town.  Tours are subject to Brocante schedule.
~ ~ ~ ~ ~
Paris Antique Shopping Tour of the Marais 
Available Wednesday through Friday
Half-Day Tour
Dig deeper into the real antiques and vintage scene behind one of Paris' poshest neighborhoods – the Marais.  Hidden courtyards are overflowing with great antique shops, vintage stores and decor sources usually only visited by interior designers.  Go beyond the Place de Vosges, visiting antique and art galleries, jewelry boutiques and vintage clothing stores and learn about the neighborhood.  Whether you're looking for antique Belgian enamel, gorgeous 18th C French armories, gilt, gilt and more gilt, hand-made lamp shades or last season's Chanel castoffs and Marc Jacob sunglasses, this tour offers a taste of the true Paris, combining the Diva Lifestyle with the Antiques World!  You'll discover why some of Paris' hippest residents call the Marais home!  This tour pairs perfectly with the Behind The Scenes at The Paris Auction House Tour for a full day of Diva Fun!
 ~ ~ ~ ~ ~
Behind the Scenes at the Paris Auction House – Hôtel Drouot 
Available Monday – Saturday depending on auction schedule
Half-Day Tour
Going, going, gone! Imagine fast and furious French floating around you as the best bargains in Paris are being purchased.  Why simply shop at the Paris Flea Market when you can cut out the middle man and buy direct from their supplier?  Auctions go on nearly every day at the famed Paris Auction House – Hôtel Drouot – selling antiques, furniture, jewelery, art and more.  Entering an auction in your native tongue can be intimidating enough but add a foreign language into the equation and it is down-right daunting.  But with an Antiques Diva® & Co Guide on your arm, you'll breeze through the process, learning the ins and outs of the auction world, gathering catalogs and registering so you can take part in future auctions online!  You'll learn the history of this locale, hear about famous sales which have taken place in its hallowed halls and learn about the hidden fees.  Equipped with new-found knowledge, you'll shop with paddle in hand, buying straight from Paris' premier antiques source.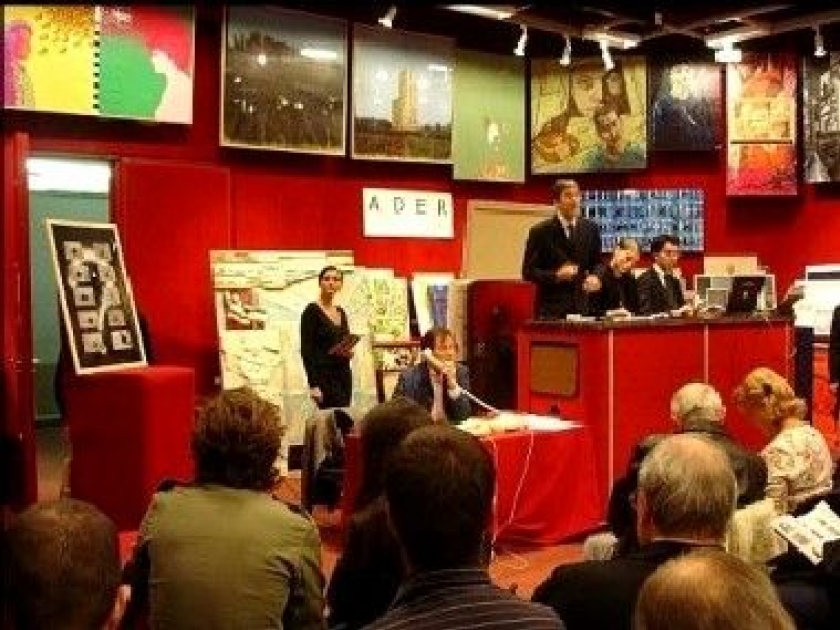 ~ ~ ~ ~ ~
The National Fair of the Flea Market and Ham Tour
Available March & September
Full-Day Tour and Multi-Day Tour
Held only twice a year in March & September, you have the opportunity to join The Antiques Diva® & Co as we shop our favorite flea market in Europe -  La Foire Nationale à la Brocante et aux Jambons!  This National Fair of the Flea Market and Ham has been going on annually in the Parisian suburb since the Middle Ages and today is the largest antiques and gourmet fair in France!  Over 800 vendors from toute la France bring the best assortment of antiques and plunk them into the middle of a ham festival.  But why Ham + Antiques?  In the Middle Ages, during Holy Week, pork butchers came to Paris selling their products. One year an enterprising butcher decided that he wanted to "bring home more bacon" so he started selling not only braised ham but the equipment for making it as well!  The other vendors caught on to the idea and started bringing more items, focusing on specialties from their region, namely furniture, pottery and antiques. Before they knew it, a festival celebrating both the flea market and ham was born.  From €3 hand-painted Russian trays to €75 fox fur stoles and  €2000 18th century bergères, Ham Fair purchases dictate Diva Decor!   As seen on Lonely Planet.com!
~ ~ ~ ~ ~
Vintage Chanel Tour
Available Thursday, Friday and Saturday
Full-Day Tour
Walk in the shoes of Mademoiselle in this special Vintage Chanel Shopping Tour.  Meander past Coco's favorite places, pausing at Angelina's for African Chocolate and relaxing in the Ritz.  Catch a hint of #5 in the air when you exit the very door Coco used daily to cross from her apartment in the Ritz to her Rue Cambon offices where Chanel is still headquartered today.  We'll visit the flagship Chanel store where your Diva Guide will show you the "best bargain at Chanel"  then we'll hit our favorite vintage fashion boutiques as we zig zag across Coco's hometown, shopping for vintage Chanel purses, jewelry, jackets and more.  A true Diva's Day Out!
~ ~ ~ ~ ~
Vintage Fashion Tour in Paris
Available Tuesday – Saturday 10am – 5pm
Shopping in Paris provides a particular pleasure, but none-more-so than when you can pick up a unique-find in one of Paris' many depot ventes, concept stores and second-hand clothing stores scoring French Fashions you won't find "on the rack" anywhere else.  Dressing in vintage clothing and accessorizing with antique, vintage and  second-hand pieces  allows you to express your diva-style, showing that you've got personality with a capital "P" – and that would be a "P" as in "Paris"!  Join us as we tour across the city of light, shopping for haute couture and funky French finds from the 16th arrondisement to the charming shops on both Right and Left Banks.
~ ~ ~ ~ ~
Available Tuesday through Saturday
We have a slew of tours offered specifically for crafters looking to source French fabrics and frills!  We take clients by the hand to the best ateliers and shops specializing in fabrics, ribbon, buttons and bows.  From vintage lace to last season's Pierre Frey fabric, from Paris' famous Marche St Pierre fabric district to the bustling area around Chatelet, we'll help you source French treasures to create your own "Made in Paris" designs!  Ask us about Fabric Shopping Tours and European Needlepoint Tours specifically for Knitters and Embroiderers!
~ ~ ~ ~ ~
Versailles Antiques Tours Overview
Available Friday, Saturday and Sunday 9.30am – 6pm
Full Day Tour
Half Day starting at 2pm, available on request
Antique in Diva Style in Versailles in this splendid day tour on the arm of a local French guide.  You'll start the day with a bit of culture touring the castle gardens before dedicating the afternoon to antiquing at the largest antiques district in the western suburbs of Paris.  Located in a former jail or baliff's quarters, you'll  explore a variety of stores from small specialized booths to much larger spaces  finding  jewels, paintings, glass wares, furniture, old picture frames, antique "Toiles de Jouy", Chinese antiques, and some of the most beautiful 18th century furniture you can find anywhere in the world! 
 ~ ~ ~ ~ ~
Custom-Made Paris Tours
Available Upon Request
Antique Dealers and mere shopping mortals with serious lists of treasures that they're searching for should consider our Custom-Made Diva Tours whereby we create customized itineraries for one-day and multi-day antique shopping tours based upon your shopping list and diva-desires. Past Parisian Customized Tour Itineraries have covered everything from searching for a specific list of architectural salvage finds for a house that was being renovated to creating a Macaroon Taste Testing Tour of Paris whereby the client shopped her way from macaroon to macaroon deciding which famous Parisian Patisserie Shop she preferred while picking up vintage jewelry between tastings.  Whether you'd like us to source diamonds for your engagement ring, help you score antique garden gnomes (as one Swiss client requested) or take your teenage daughter to some age-appropriate budget-conscisous vintage sources – The Antiques Diva® & Co is happy to customize a tour taking your interests and considerations into mind!  Whether you're an Interior Designer shopping with a list of purchases for a client, seeking out French finds for your own home, or merely looking to have a good time, at The Antiques Diva® & Co we're happy to help you shop til you drop. And, if  we don't have the source for you, we usually know someone who does – and we're happy to use our little black book of diva-worthy addresses to connect you to the Parisians you need to know!  To inquire for a customized tour give us your shopping list, plus a list of your hobbies and interests and we let us choreograph a tour suited to your taste buds!
~ ~ ~ ~ ~
Multi-Day Paris Tours + Loire Valley
Wednesday – Sunday (5 Days/4 nights)
Join The Antiques Diva® & Co for a special 5 Day/4 night tour that not only explores the best of Paris antique shopping, but also enjoys a side trip to visit the chateaux of the Loire Valley!  From the moment your pretty feet touch the ground in Paris you'll be pampered in Diva Style as we meet you with a private airport transfer to transport you from CDG to your chic hotel.  During your 5 Day Tour your Diva Guide will become your best friend in Paris as she escorts you from chic shop to chic shop, booking the best restaurants for your time abroad so you can enjoy a meal out at Paris' poshest places.  In addition to touring Saint Germain des Pres and the Marias, you'll shop for French fabrics and frills at the Marche St Pierre – the famous Paris fabric district, following in the well-tred footsteps of some of the worlds most famous designers.  And then you'll hit the main attraction shopping the weekend at both "The Other Paris Flea Market", the Porte de Vanves, and THE famed Paris flea market "les Puce de Paris".   And while antique shopping is reason enough to come to Paris, we couldn't let you miss out on living a bit of the life of Madamoiselle.  After enjoying a cookery course at the Ritz Hotel, we'll take you to visit the flagship Chanel store where you'll discover one of the best bargains in Paris and educate your eyes before hitting the Depot Ventes shopping for vintage Chanel, Louis Vuitton and Hermes.  Time your visit right and we'll visit a local brocante or antiques fair adding more antique shopping into your itinerary.  And if that's not enough, we'll hop on the train and head to the countryside to explore the Loire Valley visiting the chateaux!  Special clients can even visit a Parisian apartment, enjoying a cocktail party with locals so you meet some vrai Parisians and see the interior of a gorgeously decorated Haussmanian apartment!  This tour is the tour to end all Paris tours – as we do Paris Diva Style in a personal tour – that is scheduled to suit your travel agenda, taking your dates and wishes into consideration!
 ~ ~ ~ ~ ~
Trade Only Antiques Buying Tour in Provence

If you're an Antiques Dealer wanting to start buying antiques abroad in France, our "To The Trade Only" Antiques Fairs in Provence happens to be one of the best addresses to foray into French antique shopping.   On the arm of your Diva Guide, a native-speaking French antiques courier,  you'll gain access to a slew of bottom dollar, er make that euro,  priced French antiques, vintage, and more whilst rubbing shoulders with some of the top dealers around the world.  I must confess I like the fair for the people watching as much as I do for the shopping as it's a veritable who's who of antiquing.  Shopping these trade fairs is NOT for the faint of heart.  You need to queue before the fair opens and the doors open for the event at 8am on the nose!  Elbows fly as dealers push and shove to get first dibs on buying antiques in Provence.  It's a mad house and one that I personally don't brave without French reinforcements – but it is some of the most exciting antiquing in France!  Don't worry about getting the goods home, we'll liaise you with international shippers ready to pack and carry!  We've got the dates on tap for 2013 so you can start planning your travels this year!
Monday, 18 February 2013
Wednesday, 13 March 2013
Monday, 15 April 2013
Monday, 3 June 2013
Monday, 1 July 2013
Wednesday,  18 September, 2013
Monday, 4 November, 2013
Monday, 9 December 2013
Multi-day Tours Are coordinated the weekend preceding the date listed.