Dear Diva Readers,
top: 5px; float: left; color: white; background: #781300; border: 1px solid darkkhaki; font-size: 60px; line-height: 50px; padding-top: 1px; padding-right: 5px; font-family: times;">As we begin 2016, I've been asked what I think the design trends will be this year. I believe that more consumers will say, "Forget the trend," and opt for one-of-a-kind finds that reflect their personalities. Antiques and hand-made goods will dominate the interior design scene allowing consumers to express their unique sense of style.
tore-Sottsass.jpg">
tore-Sottsass-235×300.jpg" alt="2016 Trend Forecast Ettore-Sottsass" width="235″ height="300″ />
Mid-century modern a la Don Draper has been done to death. In its place, vintage finds from the 1980's are coming back to the future and challenging the status quo. Bold Italian designers such as Ettore Sottsass and Michele De Lucchi's shocking geometric motifs are reappearing on furniture, textiles, tabletop decor, ceramics and even jewelry.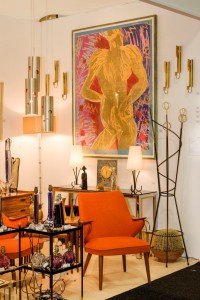 Clients are clamoring for color. Fearless color and form combine in a display of zany artistry. The more intense the better! Fuchsia, orange, and azure rule the scene. While we've always seen upholstered pieces get facelifts with color, case goods are now being lacquered in bright hues. Like a handkerchief peeking from a tailored jacket, interiors of drawers and cabinets are being given shocking flashes of color—sort of like the classic mullet— it's all business on the outside but a party on the inside.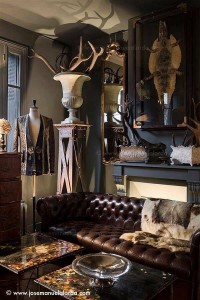 "Mantiques," Grand Tour, and country house accessories are hot. Chunky leather-clad pieces from the 1930's to 70's, vintage trunks, globes, maps, and vintage cartography are giving homes a collected, evolved, and well traveled feel.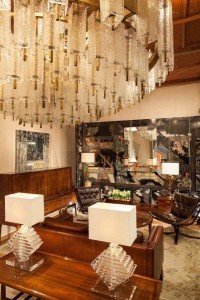 I hate to break it to you, but size matters. In 2016, bigger is better especially when it comes to lighting. Vintage Italian Murano chandeliers (pieces from the 1970's and 80's) which are often reclaimed from hotels are all the rage from New York to LA and Miami to Chicago.
Another theme I see appearing as we enter 2016 is that less is more. One of the biggest trends in antiques has nothing to do with style, but quality. Clients want period pieces with provenance and they are willing to sacrifice and make these purchases. Investing in one quality piece instead of several lower end reproductions is what people are doing now.
When it comes to furniture, brown is the new black. For the last decade whitewashed woods and shabby chic has dominated the interior design scene. In 2016 discerning buyers are picking up highly polished pieces. You'll see clean lined Empire commodes as a back drop in more interior design magazines, as they add a weight to otherwise airy rooms.
And there you have it- my predictions for what we'll see in the next year! I hope that you'll all continue to join me here on the blog and on social media as I travel the globe searching for antiques and style in 2016!
Cheers,
The Antiques Diva®