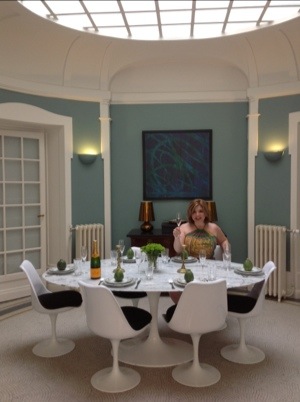 Dear Diva Readers,
top: 5px; float: left; color: white; background: #781300; border: 1px solid darkkhaki; font-size: 80px; line-height: 70px; padding-top: 1px; padding-right: 5px; font-family: times;">This week in Paris I hosted a special luncheon for my Parisian Antiques Shopping Tour Guides to say "Merci Merci". These amazing ladies – Kim, Jennifer, Danielle and Laila – are in the trenches shopping the Paris Flea Market with our day tours in Paris, leading clients week in and week out. They know the market like the back of their hand – and that is no easy feat with 13 districts and over 7 miles of antique filled alleyways. When a client asks for something obscure, they know just where to take them, honing in on the part of the market most suited for their diva desires.
For the luncheon I wanted to do something special because I could not do what I do without them! They are the bones of my company, helping me to share the Diva lifestyle in Paris for more clients than I could serve on my own! And each of them brings their own unique talents, eye for style and perspective on Paris.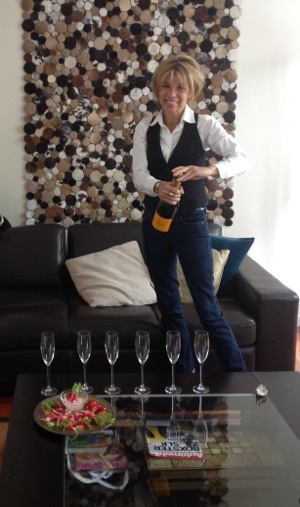 For planning the fete, I started by choosing an amazing venue. Why do a restaurant when you can do a private residence? I asked tres popular blogger La Mom if she would let me host the fete in her phenomenal Parisian abode. I was the chef for the fete, preparing some secret dishes and my darling niece Kyrra who is spending the summer with me in Europe was the sous chef. Just call Kyrra "La Petite Diva" as she is a Diva in Training and is helping me behind the scenes this summer.
Then it was time to choose the menu.
First Course: Green Gazpacho served in round zuchinni balls
Second Course: Eggplant Parmesean
Third Course: Cod pan-fried in Salty Butter and served with Belgian Shrimp and Lettuce
Dessert: Fresh Strawberries, Lady Fingers and Cream
All in all, it was a delicious time! We kicked off the luncheon with a bottle of Veuve Cliquout before moving onto a divine white wine from Cheverny.
Et voila!  Your Paris Diva Guides:  Danielle, Kim, Toma, Jennifer and Laila!
Bon Appetite!   And Merci to my Parisian Diva Guides!!!!
The Antiques Diva®
tons/follow-me-on-pinterest-button.png" alt="Follow Me on Pinterest" width="210″ height="28″ />
tons.sociableblog.com/images/FB5.png" alt="" width="210″ height="40″ border="0″ />
tons.sociableblog.com/images/FMT6.png" alt="" width="210″ height="40″ border="0″ />