I'm presently flying from Bangkok en route to Oklahoma (don't you love in-flight WiFi?) to spend Thanksgiving with my family for a too-short but so much needed holiday weekend. After visiting my workshop in Thailand to finalize my TCH Collection: Couture Jewelry before our official January 17, 2018, Paris launch; I'm heading back to the US for a speaking engagement in Jacksonville, FL: London Calling: 2017 Art and Antiques Show. Then I'm off to Berlin to pack up my apartment and the movers arrive to transport everything I own to my new life in Venice…. Imagine moving all your possessions via boat down the Grand Canal!
YES! I'm moving to Venice! It's official. I'm becoming Venetian. I'll start off 2018 with a new home in Italy! And I'm fortunate to already have a slew of friends in Venice – in fact, last November I celebrated with locals as well as friends and colleagues who traveled to Venice specifically to come to my fête! 
Thanksgiving in Venice 
Just like back home, the day before Thanksgiving starts with a last-minute run to the market. Of course when you're in Venice that means shopping in one of the many open-air markets to get your vegetables! (hmm… they even had a nice selection of Thanksgiving seafood!) We forgot to order our turkey – and were saved by the local supermarket who actually had just one turkey in stock!
So many decisions…
The crab looks fresh, antipasti perhaps? When dining at friends' houses I'm often asked to bring my stuffed mushrooms… Could I do crab stuffed mushrooms for a Venetian twist on my classic?
Now to find my gondola in the parking lot…
T'was the Night Before Thanksgiving… 
My dear friends Derrick Ricketts, VP of Dallas Market Center, and John Cohn flew in from Texas to celebrate Derrick's Birthday Weekend (you know they were not about to miss this Thanksgiving meal!). In the middle of the night before Thanksgiving I heard such a clutter, I arose to see what was the matter! With me in my cap (and Derrick in his kerchief), we dashed the down the stairs to discover that John had jetlag and decided to prep the turkey.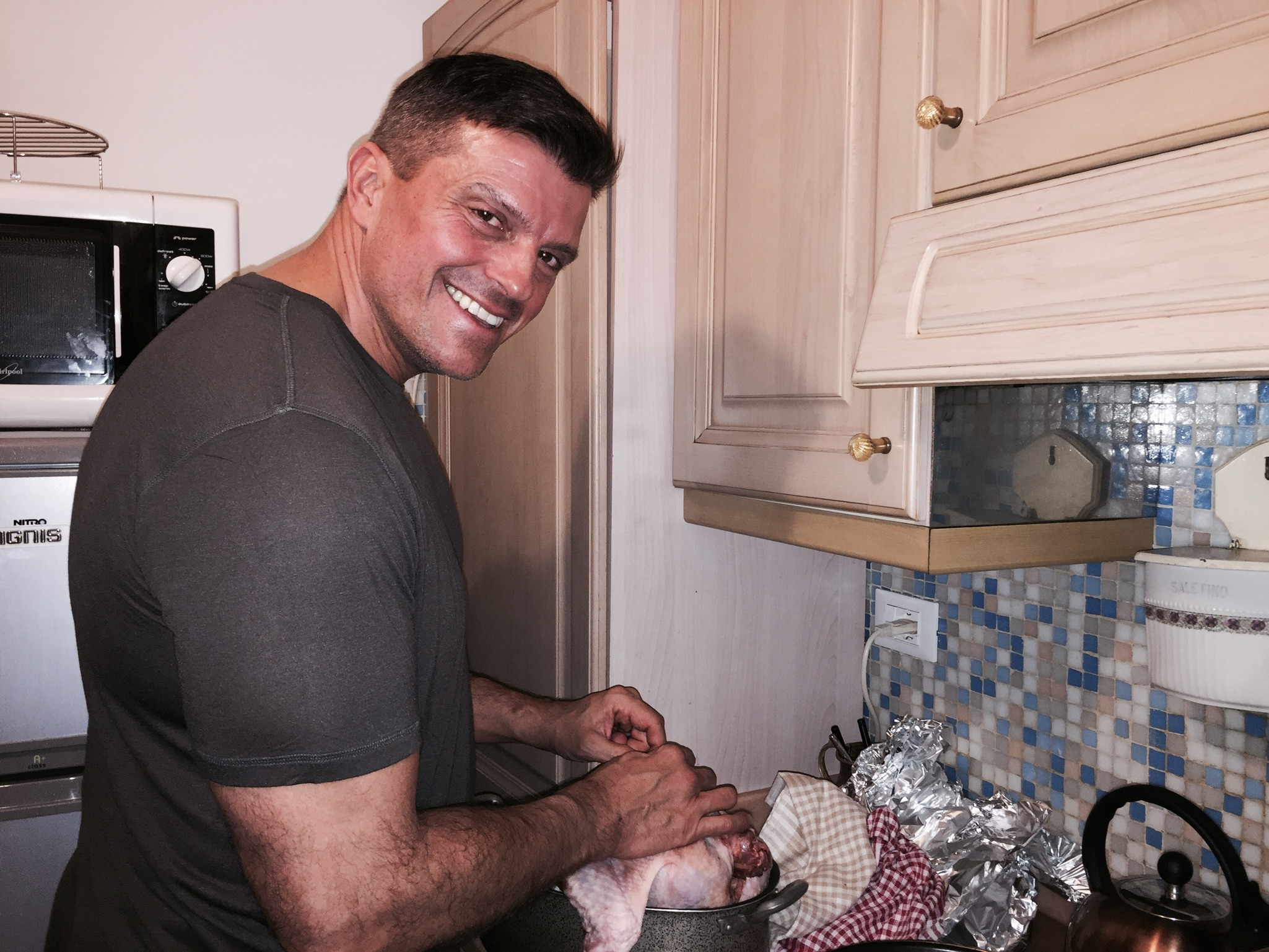 The next morning we spent the day rearranging the Venetian sunroom to accommodate our dinner party. Our guest list was only 8 – but knowing this is Italy and Italian friends always bring friends, we sat 4 extra chairs for guests. Meanwhile just as we're seeing if we can squeeze in one more seat… I got a phone call from Georgina – the head chef for Currey & Co – she's seen on Facebook that I'm celebrating in Venice! "My son is in Florence for university – and we're so sad he's missing his first Thanksgiving while living abroad." Needless to say, I made room for an extra seat so Max could take the train in from Florence and join last minute! Isn't that the spirit of Thanksgiving – opening your home to friends and those in need of a warm meal? We found room for Max to stay the night sleeping on the couch after our unorthodox Thanksgiving dinner! 
The house where we stayed in is an Airbnb property, and previously was the residence of the mother of Diva Guide Orseola.  
And speaking of Diva Guides – Diva Guide Gail our UK Agent flew in from her home in Bath, England, for her first Thanksgiving meal!
Everyone pitched in to help! This was all about community effort! And in fact, isn't that what Thanksgiving is all about? Community!
Venetian Diva Guides Chiara and Orseolo guaranteed that the vino sampling started early… and lasted until late!  In Venice, they have a saying. "Water rots the wood." Naturally, that means you have to drink Prosecco!
The tacchino needs more basting, then back in the oven!
The contorni are underway,
Ready for the main course with a turkey platter!  But this isn't just any turkey platter – this is a turkey platter that Antiques Roadshow Host Steven Moore brought me as a present from Burleigh pottery where he is the Creative Director. I'm not allowed to tell about the platters royal lineage… but let's just say our turkey was served on a platter with pedigree. While Steven lives in England he's practically Venetian royalty himself. He's here in town whenever he gets the chance having declared himself an honorary Venetian.
Our Thanksgiving in Venice buffet.
Thanksgiving dinner by candlelight.
And of course, this Oklahoma-bred Diva insisted on starting with her Mama's deviled eggs! After all, it's not Thanksgiving without deviled eggs!
In case you're wondering what we did with that crab? We had crab pasta for lunch early in the day! When in Italy, do as the Italians do!
A traditional turkey dinner, with all the trimmings.
Saluti! From our FriendsGiving in Venice; thank you to my circle of friends …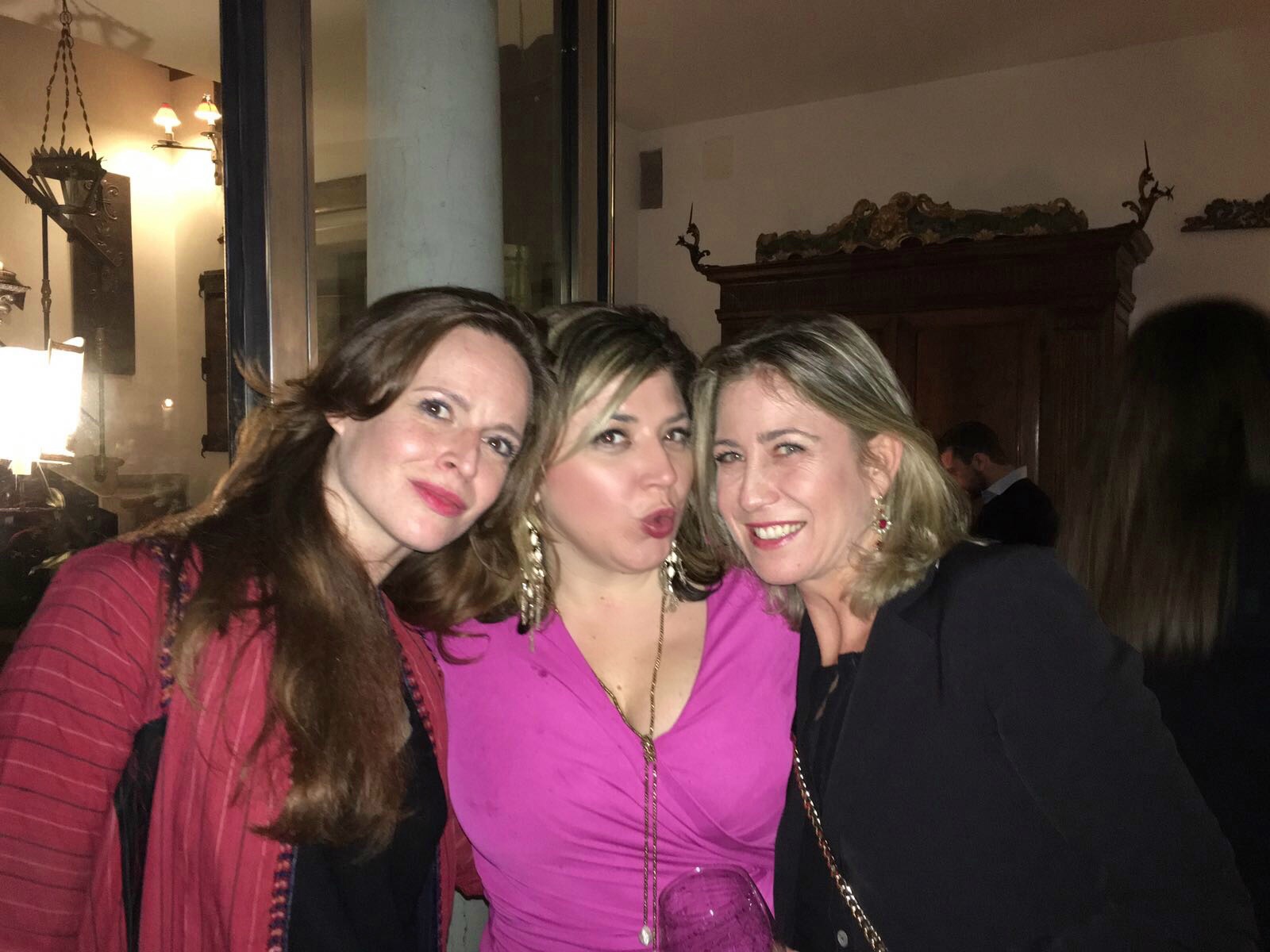 In all, we ended up with 12 at the table – a combination of Americans, Venetians, Brits even our Belgian AD&CO Logistics team!
Our Venetian Thanksgiving ends with taxis to the airport.
Wishing you the happiest Thanksgiving with family, or FriendsGiving with the family you've created, from my house to yours, Happy Thanksgiving! 
Toma – The Antiques Diva