Dear Diva Readers,
top: 5px; float: left; color: white; background: #781300; border: 1px solid darkkhaki; font-size: 50px; line-height: 40px; padding-top: 1px; padding-right: 5px; font-family: times;">I f there's one thing a Diva needs, it's her jewels! And of course, being The Antiques Diva I prefer antique jewels! And there happens to be a source in Amsterdam that has some of the most stunning jewelry including antique Dutch regional pieces—you know, the type that the Queen of the Netherlands wears!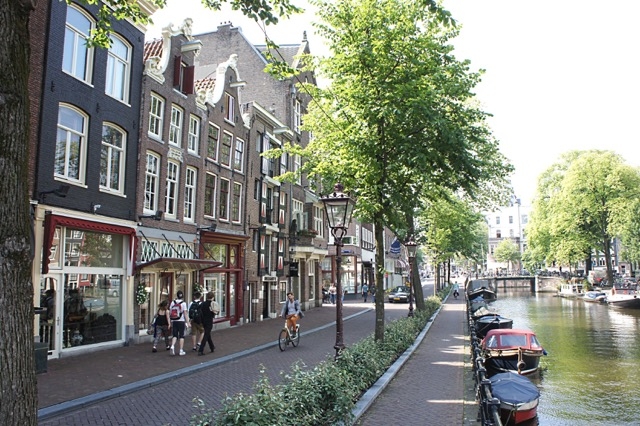 When walking in Amsterdam, from the Rijksmuseum towards the antiques district of Spiegelstraat, the first antique jeweler on the right is Dekker Antiquairs, and this is where you will find some of the best museum quality inventory. Ron and Dick Verburg-Dekker's collection includes earrings, brooches, necklaces, rings, and watches that are sure to be coveted by those with discerning taste. Here are a few of my favorite drool-worthy pieces!
1. Antique Dutch jewelry – Queen Máxima's earrings
Dekker Antiquairs has a collection of antique Dutch jewellery, mostly 19th century. These jewels were worn by the farmers' and fishermen's wives, but nowadays Queen Máxima of the Netherlands wears these glamorous earrings that were not bought at Dekker Antiquairs, but are indeed from this collection. When these type of earrings were made in the mid to late 19th century, there wasn't much money to purchase expensive gemstones, so the goldsmith would instead spend much time in working the gold. The result is filigrain that looks like golden lace, another status symbol at the time. The limitation in materials brings out the creativity of the goldsmith, who would create intricate patterns. Queen Máxima of the Netherlands, who is Argentinean born, showed her style and sense of history in wearing these earrings: she premiered them in the province where they are from, and the second time in India, a very appropriate country for wearing intricate gold jewelry. It's lovely that the Argentinian born Queen of the Netherlands has reminded the world of the beauty of these antique Dutch jewels.
For more on Queen Máxima's earrings, read this in-depth article by Erik Schoonhoven. At €2.750 these gorgeous earrings would be a lovely addition to one's collection!
2. Watches
Watches are a speciality of Dekker, i.e. Dick Verburg specifically. This Art Nouveau lady's pendant watch is a stunning piece. Made in America c.1900-1930, it is adorned with diamonds, rubies, fashionable green demantoid and pearls. Signed Bailey Banks & Biddle means it comes from America's oldest jeweler and also America's leading luxury jeweler, with more branches from coast to coast than any other.
Are you a watch collector? Check out this ultra-rare 1954 platinum and diamond Patek Philippe wristwatch that just came in.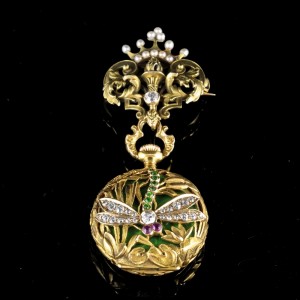 3. Gautrait bracelet
The great jewellers from 19th century Paris is another speciality of Dekker, for example this bracelet by Gautrait which is 18ct gold made up of alternating links both with a jour guirlande motifs decorated with white enamel and chased gold. The delicate design of the bracelet makes it extremely feminine and the detail is just breathtaking!
4. 19th century gold, diamond and pearl necklace
This French antique 18ct gold necklace from the 19th century is adorned with natural pearls and diamonds. It reflects the opulent glamour of the time, but would make a perfect statement piece of work today. What makes it extra special is that the brooch/pendant is detachable! How fun is that?
5. 19th century French bird of paradise brooch
How sweet is this French Paradise bird brooch? Comprised of 18k gold, decorated with polychrome translucent enamel and set with rose-cut diamonds, the bird holds a natural pearl.
Another very special piece that is so Diva-worthy is this 1625 clothing rosette. Dating back to the Renaissance period, this brooch is made of rare jewels from the beginning of the 17th century. Rosettes like this were sown onto garments and into the hair. What's extra special in this rosette are the chiffre cut diamonds, which have a flat bottom surface and three triangular facets on the top. This produces the optical illusion of 9 facets, while in reality it is only 3.
If you find yourself in Amsterdam, I certainly recommend stopping into Dekker Antiquairs to take a look at the rest of their impeccable collection. I'm saving my euros in hopes of adding to my own collection soon! For more information on how you can take an Antiques Diva Jewelry Buying Tour, email us at info@antiquesdiva.com.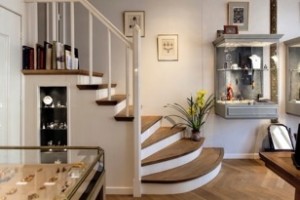 Have a stylish day,
The Antiques Diva®