Dear Diva Readers,
top: 5px; float: left; color: white; background: #781300; border: 1px solid darkkhaki; font-size: 60px; line-height: 50px; padding-top: 1px; padding-right: 5px; font-family: times;">Because we offer Antique Buying Tours for tourists as well as trade professionals, many of our clients are interior designers or antique store owners who want to stock their stores. Having these trade clients on tour allows us to have a glimpse into what styles are trendy now and what pieces remain classic in the world of interior decorating.  Tapestries are among the classic pieces since they have been around for centuries and continue to be used in homes across the world.
Tapestries weren't originally just decorative items. People of the ancient world would hang large textiles on their walls to keep the cold air out of their homes. As with most utilitarian aspects of the home, people began adding decorative elements to tapestries and eventually they became works of art in and of themselves. The weaving process became more intricate and certain weavers would create their own trademarks that they became known for. In fact, one way to identify the manufacturer of a tapestry is to look at its border. Different weavers would use unique border styles sort of as a signature to their tapestries.
Countries like Italy, England Belgium and France became specialists in this art form, offering wealthy clients custom designed tapestries, perhaps depicting important people or commemorating important events. As with anything, tapestries were a way to show status and wealth. In Paris, high-class clients would have gold threads incorporated into their tapestries.
By the 16th century, the jacquard loom was developed in Flanders which made tapestries more accessible to the masses. However the skill of hand weavers cannot be matched and therefore the older and more intricate tapestries are often harder to find and more expensive.
If you're looking to purchase an antique tapestry, here are a few things to look for— see if there is a border on the tapestry. Often times the border is the first part of the tapestry to be destroyed, cut or deteriorate. Also observe the coloring—has the dye faded? Are the colors rich? Another thing to look at is the subject matter. Usually older tapestries depict Roman scenes while later tapestries incorporate hunts and other activities the noble class would have partaken in. Also ask the dealer if they know any history about the tapestry. Finding out where it came from and who owned it will not only be interesting but may lead to a discovery of an important historic provenance.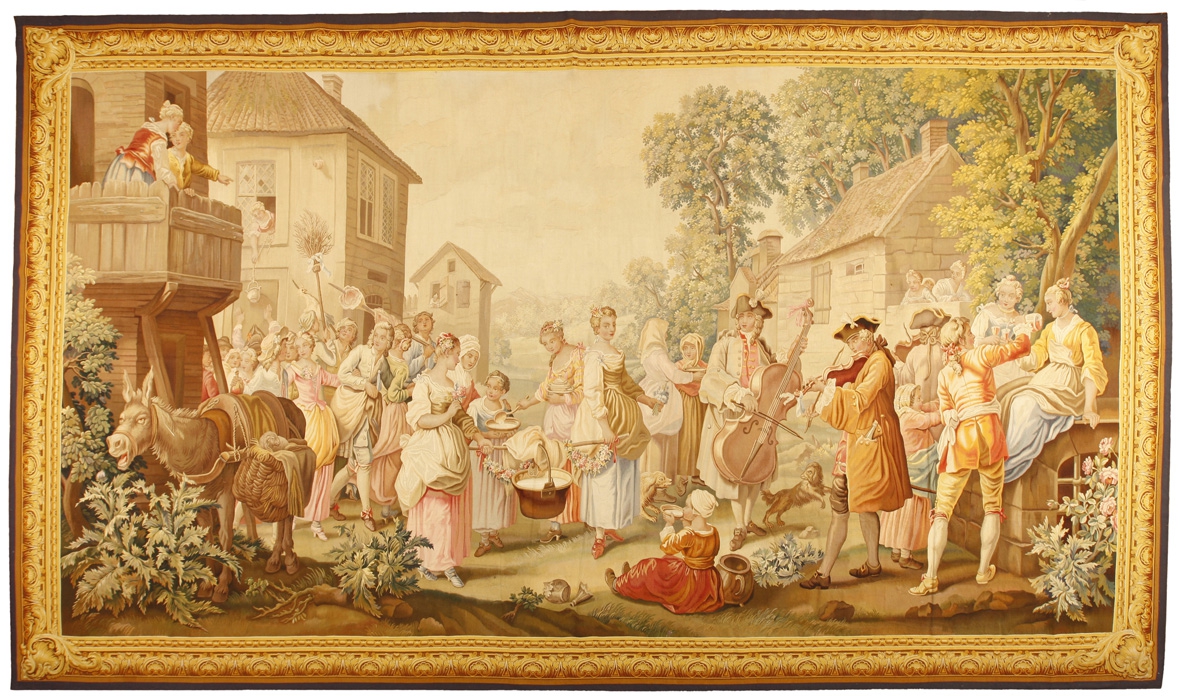 If you would like us to help you source an antique tapestry or if you'd like to take one of our Antique Buying Tours, email us at to:info@antiquesdiva.com">info@antiquesdiva.com.  We'd love to share our knowledge with you!
The Antiques Diva®