Dear Diva Readers,
top: 5px; float: left; color: white; background: #781300; border: 1px solid darkkhaki; font-size: 60px; line-height: 50px; padding-top: 1px; padding-right: 5px; font-family: times;">O ne thing I love about antiques is the fact that they connect us to the past. And while some pieces of furniture are no longer necessary due to today's technology, they are still beautiful and can be adapted for new uses in modern life.Take for example the Amadia, an Italian piece of furniture that once graced the kitchens of every Tuscan home, great and small. Originally it was pressed into service while preparing dough for bread-making—a daily activity in each household 100 years ago. Today you can still see amadias in Tuscan country kitchens, but more often than not, they are used for storage rather than a place to store and knead dough.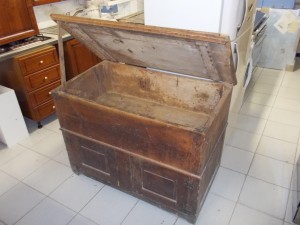 Bread is a staple food in all cultures, and has been for centuries. Each corner of the world seems to have its own take on this ever present food, offering diverse shapes and flavors. The preparation of dough was once a common task that relied heavily on traditional methods, always involving water, flour, yeast, and of course strong hands to knead the mixture. Today as you travel in India and Asia you often still see this bread making ritual a part of daily life in their households. If you've ever tasted Tuscan bread you'll know it's unique in the fact that it is prepared without salt. Legend has it that around the year 1100, the salt trade was interrupted due to a war between Pisa and Florence, resulting in a very high cost for salt. In turn, Florentines adapted by making bread without salt, gradually adjusting to this new taste, referred to as "sciocco," (without salt), and thus what should have only been a temporary fix has evolved into tradition. (Plus it happens to taste fabulous when dipped in Olive Oil with fat salt and fresh pepper!)
Prepared once or twice a week, Tuscan bread would be made with locally produced flour, and once baked, would keep for about a week. Every kitchen would have had an amadia, a sort of dough trough, where the dough was kneaded. The amadia was equipped with a board to grind the flour, a rolling pin to roll out the dough, and a storage area. Once the dough had risen, breads were placed on a prepared canvas, the fabric making a fold between each loaf. In the mean time a fire would be made in the oven, and once its flames had died down, the embers would be set aside while most of the ash was removed.  Then came the time to bake the bread! Of course, if there was stale bread still left in the amadia after a week, it would not go to waste. Instead it would be used to prepare a list of exquisite dishes which utilized stale bread such as ribollita, panzanella, aqua cotta, pappa al pomodoro, fettunta, and black cabbage soup.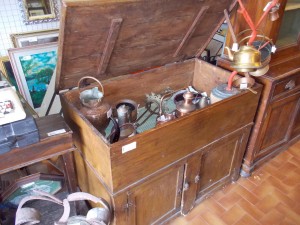 Today you can find several different styles of amadias dating from the 19th century up to the 1950's, each with their own unique patina and style. Clients that take our Antiques Diva Tuscany Tour often remark on these pieces, as they can be found in second hand stores, antique shops, and warehouses. And while their function is no longer necessary, they can still add to the look of a kitchen and act as extra storage or prep space, proving that objects from the past can still be made relevant, even in new ways!
If you'd like more information on taking an Antiques Diva Tour in any of our 8 tour countries—Italy, France, UK, Sweden, Denmark, Germany, Belgium, or The Netherlands— email us at info@antiquesdiva.com.
Ciao,
The Antiques Diva®