The Paris Flea Market – Paul Bert Serpette – Names The Antiques Diva© & Co Exclusive Market Guide
PARIS, FRANCE (PRWEB) JUNE 30, 2016
Marché Paul Bert Serpette at the Paris Flea Market – celebrating its 70th anniversary this year – names American-owned company The Antiques Diva© & Co– Europe's largest antiques touring company – as their Exclusive Flea Market Tour Guides as part of their rejuvenation project at the "puce."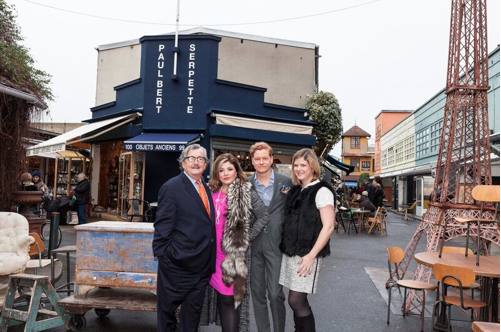 "I am thrilled to congratulate Paul Bert Serpette on 70 years as an innovator in the international antiques market. It's a dream come true and honor for my company to be named the exclusive and only tour guide of the Paris Flea Market Paul Bert Serpette" says American expat Toma Clark Haines, CEO and founder of The Antiques Diva & Co. "For years buyers seeking to source antiques abroad at the Paris Flea Market or in anyone of one of our 8 tour countries found buying abroad on their own unattainable. They didn't know where to go, how to negotiate, or how to get their purchases home.  I've built a company to help people source antiques abroad doing everything from custom planning antique buying tours to translating, negotiating and even shipping purchases home sweet home across the pond! Perhaps our most popular antique buying tour is our Paris Flea Market tour and the jewel in the crown of the puce is Marché Paul Bert Serpette."
Marché Paul Bert Serpette is the flagship entity of the Puces de Paris Saint-Ouen. Globally renowned, the Paris Flea Market is the single largest antiques market in the world attracting nearly 5,000 visitors every weekend. The Marché has become a destination for collectors and dealers from around the world, including celebrity collectors, for its vast array of furniture, silver, design, vintage clothing and antiquity from every era. Traffic at the famous Marché aux Puces has increased in part through use of antiques buying guides such as The Antiques Diva© & Co. Toma Clark Haines has been shopping the Paris Flea Market for over twenty years and has watched the Marché evolve from when she first visited the market until today when The Antiques Diva & Co has become the largest antiques touring company in Europe working with a team of 21 locally based antiques buying tour guides.
Insider Access
"We could not be more delighted and enthused by the work of The Antiques Diva© & Co which brings an influential international clientele to the market. Their passion and energy each time they visit us at Marché Paul Bert Serpette invigorates buyers as well as our vendors," says Marion DuFranc, the Market Director. "It's all about relationships. It's a symbiotic dance – The Antiques Diva & Co gives our clients insider access and we supply clients with quality unparalleled inventory."
"The Marché's climate has changed significantly since I began shopping the market nearly 20 years ago." says Clark Haines. "The increasing trend of mixing modern with antiques as well as eclecticism in décor means that today there is not only a greater variety of objects to sift through, but a greater enthusiasm among a new generation of collectors, dealers, designers and everyday tourists alike. The market encompasses an area of over 7 square miles – navigating the puce can be an overwhelming experience. At The Antiques Diva© & Co our team of local flea market guides know the market like the back of their hand. Our job is to help clients find the exact area of the market that has what they are looking for – maximizing their time, translating, negotiating and liaising with an international shipper to simplify the process of buying abroad. We save our clients time and money by custom planning their visit to the Paris Flea Market, and helping negotiate their purchases."
Marché Paul Bert Serpette changed hands in 2014 when the Duke of Westminster sold the recently renovated market to Jean-Cyrille Boutmy, CEO and founder of Studyrama. Since Boutmy's takeover, the Marché has modernized and rebranded with added services and accessibility, as well as enhanced marketing and communication initiatives. The educational component has also been a focus, drawing younger collectors to St-Ouen.
Antique Matchmakers
Clark Haines jokes, "We are in essence 'Antique Matchmakers' – bring together the love of antiques and commerce." Marion DuFranc concludes, "With a long history of attracting collectors to this chaotic jungle in the north of Paris, the Marché Paul Bert Serpette is excited to have Haines on board. Our successful growth is contingent on having experts like The Antiques Diva in our midst as our exclusive guide. We're excited for this relationship and our future together, particularly this year as we celebrate the 70th year of the market!"
tour-guides-at-Paris-Flea-Market-Paul-Bert-Serpette.png" alt="Toma Clark Haines CEO of The Antiques Diva & Co, exclusive official tour guides at Paris Flea Market Paul Bert Serpette" width="191″ height="285″ />
Toma Clark Haines is The Antiques Diva® – Chief Executive Diva of The Antiques Diva® & Co, Europe's Largest Antiques Touring Company.  When this tastemaker is not on a buying tour, Toma is also a freelance travel and design writer, an international public speaker, an interior decorator and social media guru.  She is a champagne connoisseur, a vintage Chanel addict and her hobbies include driving fast cars and gourmet cooking.  Traveling extensively for work, she divides her time between her home in Berlin, Germany and traveling in each of her company's tour countries. Follow her antiquing abroad travels on Facebook at The Antiques Diva® & Co or on Twitter @TheAntiquesDiva. Her blog The Antiques Diva was recently voted Top 100 Interior Design blogs by Modenus.