Dear Diva Readers,
Last week I wrote to you telling you about the Americans In Paris Party held during Design Week – this week I have to tell you about my own Antiques Diva Party held at our favorite French antique vendors shop – Un Singe en Hiver!!!
When the invitation reads "Join me at the Paris Flea Market…" you know the party is going to be good.  Throw in a guest list that includes 200 of the top American interior designers, a brunch buffet that reads as "France on a Plate" and copious quantities of champagne – all before noon – and the party is a sure-fire recipe for glamour. To close out the last day of Design Week in Paris, I  invited my clients and blog readers to join me for a Party at the Puce de Paris on the last day of Design Week during Maison Objet and Deco Off.  Following the fete  my guides and I  took clients on complimentary afternoon antique buying tours.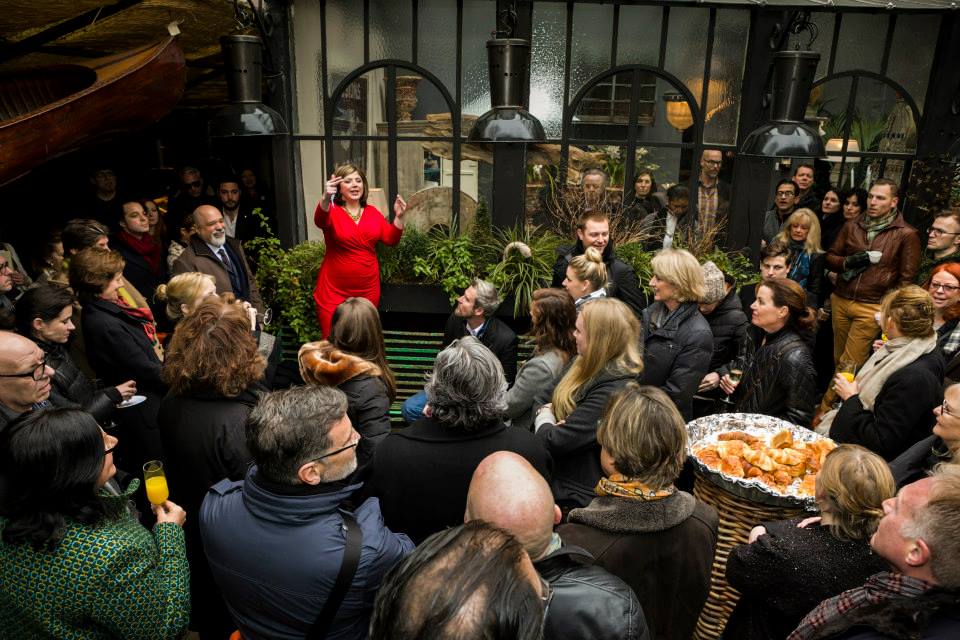 to her guests at The Antiques Diva Paris Flea Market Fête" width="576″ height="384″ />
When asked the ingredient for the perfect party, my answer is simple.  Champagne!  For this special occasion I had my own Antiques Diva label created specifically for the fete!  When hosting a brunch party in Paris you don't have to look far for the perfect ingredients – croissants, pain au chocolat and pain aux raisins.
To prepare for the fete I pillaged the markets for fromage and charcuterie and served it on 18th C ironstone platters and cutting boards – all for sale at our hosts shop Un Singe Un Hiver – and picked up some flowers and put them in 19th C urns.  Et Voila you've got a party – diva style!
Of course in Paris every day feels like a fete!  What I loved about planning this particular party – is that it was  easy yet elegant entertaining.  The French make everything seem effortless.  Living in Europe for 13  years has taught me that elegance boils down to simplicity.
If you missed the party – have no fear – we'll be hosting it again next year during Deco Off and Maison Objet.  This is sure to become an annual Parisian tradition during Design Week!
tor-at-Large.jpg">
tor-at-Large.jpg" alt="Editor at Large" width="309″ height="206″ />
Of course you don't have to wait until next year to toratlarge.com/editortv/designers-fuel-up-at-the-antiques-diva-s-champagne-breakfast-before-shopping-at-le-marche-aux-puces/280″ target="_blank">SEE FOOTAGE FROM THE FETE – Editor at Large TV was there to cover the event!
For More Photos of this Fete – Visit The Antiques Diva® & Co Facebook Page
Au Revoir!
The Antiques Diva®
(seen below with part of our my Antiques Diva Team)
Diva Guide Danielle, my publicist Andrew Joseph, Diva Guide Katie, Diva Guide Jennifer, Diva Guide Debbi, and Diva Guide Susan (our Tuscan Diva)
All Photos are by Spanish Architecture/Interior Photographer José Manuel Alorda – WATCH this SPACE for exciting news on an upcoming project The Antiques Diva & Co is doing with this leading European photographer.