Dear Diva Readers,
top: 5px; float: left; color: white; background: #781300; border: 1px solid darkkhaki; font-size: 60px; line-height: 50px; padding-top: 1px; padding-right: 5px; font-family: times;">While at The Antiques Diva & Co we're known for our customized private antique buying tours throughout Europe – our contacts go beyond "just antiques".  Our local Diva Guides are our greatest assets because they know their regions like the back of their hand… and they have contacts beyond your wildest dreams! Many of our clients are interior designers, which means finding antiques is just one thing on their long to-do list to finish their projects.  In Italy our local Diva Guide Susan has not only antique sources but so much more! Her little black book of artisans and skilled craftsmen is bulging with brilliant ideas.  In addition to sourcing antiques we can also help with new custom Italian furniture either from reclaimed or new materials that can match or coordinate with your antiques.
Locally based Tuscan Diva Susan explains, "We know that being a decorator or buying for your private home is very different to being an antiques dealer. How often does one look at a piece and say, 'If only it was a little shorter, a smidgen wider…' Sometimes the European measurements just don't match up. Or perhaps you found the perfect table but need twelve chairs instead of just four. With this in mind, it occurred to us on our travels that for you as a designer, maybe we can help with this dilemma."
Over the years we have gotten to know and become friends with lots of interesting artisans – Italy is famed for its design, taste, and talented craftsmen. Albeit this latter category is a rare and dying breed so we have traveled far and wide to seek out the best small family-run businesses that have been passed down from generation to generation to ensure our clients find the artisans for which they are looking. Passion and pride play a fundamental role in their dedication and success.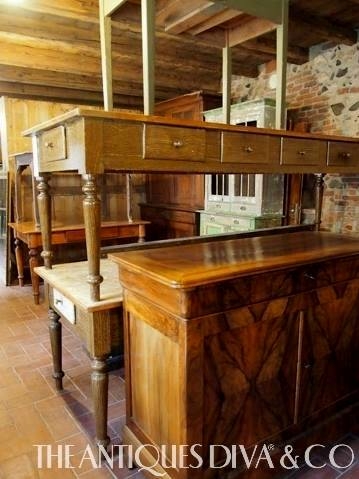 Traditional Elements
We have a source that is fantastic at making high-quality 'antiqued' furniture. In particular they have a beautiful range of marquetry dining tables, chairs, and cabinetry and will make bespoke pieces just for you. This eliminates your problems with length, width, height, and style of legs or finish. And better still, we know from past clients that their prices are a fraction of those in the USA.
Painted Pieces
The father & son business we work with specializes in painted furniture of fine artisan quality. You'd be forgiven for mistaking it for old! The furniture consists of Italian style chests, buffets, cupboards, as well as sconces and chandeliers. The plus is that you can choose the color and the hardware. They use Farrow & Ball, so you will know exactly how the color will turn out, and their standards are high.
Forged Iron
Tuscany in particular is well known for its ironwork. Our blacksmiths—and truly they are much more than that— are a family of 3 brothers, their father, and nephew. Together they are quite a force, designing and creating some of the most handsome hand-forged wrought iron around, many taken from centuries old designs, but others surprisingly contemporary. They also love to make original and unique pieces of furniture using old wood and adapting older pieces.
These are just a few of our friends to whet your appetite. We have many, many more sources throughout Europe that can customize, restore or even build pieces to your specification. In fact, we have connections that can customize centuries-old fireplaces or even help you adapt antique staircases, gates, and fountains for your projects! We guarantee that your clients will be delighted with the end result because we have worked with these craftsmen for years.
If you would like more information on taking an Antiques Diva Buying Tour in any of our 8 tour countries, email us at to:info@antiquesdiva.com">info@antiquesdiva.com and we'd be happy to answer any questions you may have.
Yours truly,
The Antiques Diva®