A Day With Elizabeth Baer
Dear Diva Readers,
We recently took The HighBoy on a whirlwind VIP tour of England—and when I say whirlwind, I mean it! We were constantly jetting from one antiques fair to another, working our way from London to Wiltshire and back, stopping off at secret sources and private houses in between. Our UK Diva Agent, Gail McLeod, set the agenda and added in a very special stop near Bath. She arranged for us to spend an afternoon with renowned antique textiles dealer Elizabeth Baer at her lovely home.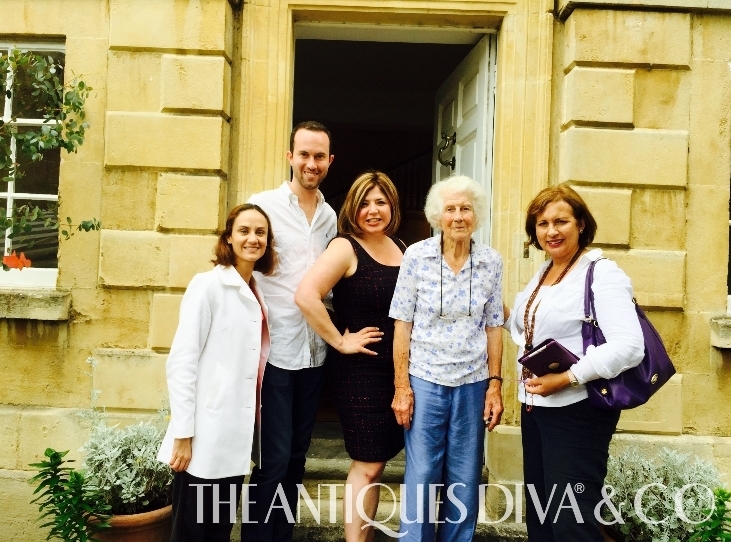 Gail has been involved in the Bath Decorative Fair for years and that is where she first met Mrs. Baer in 1989 where she was a vendor. As a star attraction at this and other fairs, Mrs. Baer would sell textiles like hot cakes, often to top U.S. dealers who would wait in line to see her. She's sold to just about every Hollywood name and supplied textiles and costumes for countless films – I was completely smitten by the fact that Anna Wintour has been a long-term client. Now in her late 80's, Mrs. Baer is still active in the trade and sells inventory by appointment only in her gorgeous house, which is a "miniature" Georgian manor house in the heart of Bradford on Avon.
As you would expect, this quintessential English lady has a beautiful garden which welcomed us when we arrived. Seeing the large, heavy front door open, we knocked and made ourselves known, and seconds later the lovely Elizabeth appeared from around the corner. She greeted us warmly and asked us to come inside the spacious foyer, where a few bolts of fabric lay on the entry table, hinting at what was in store for us.
A tour through her home revealed generously proportioned rooms, one connecting to the next, filled with antique furniture, textiles, and special bits and bobs, all telling the story of a life well lived. When in the living room, she noted the relating color palates of a painted antique blanket chest and two pair of curtain panels. "Rather than try to invent new color combinations, look for old color recipes that work. They've been around a long time for a reason," Elizabeth advised. As we made out way to the sitting room, decorated in mostly pink hues, she informed us that every piece of furniture was upholstered in old curtain fabric. While stroking a velvet cushion, she shared another wise piece of advice. "The key is to enjoy what you've got and not be envious of what anyone else has got."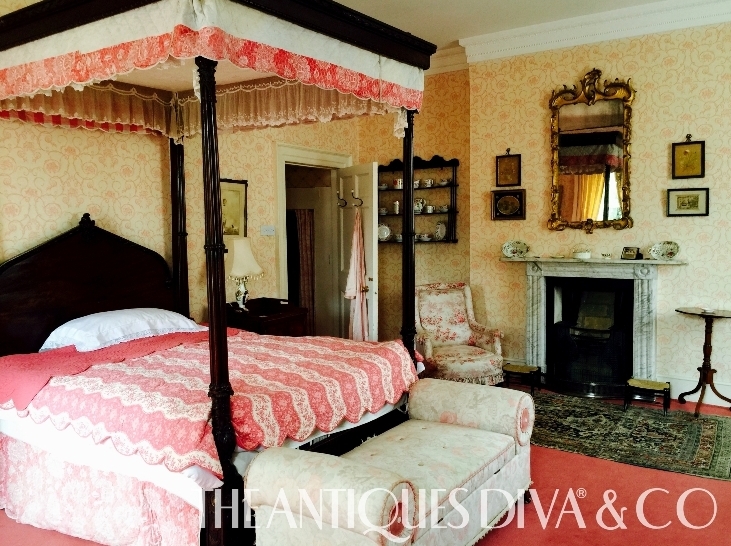 Climbing the stairs, we got a peek into the private life of this stylish lady as she invited us to see her bedroom and extremely chic bath/dressing room. The use of antique textiles was perfection—the bed canopy, the yards and yards of drapery panels, the upholstered furniture just begging to be lounged on—all gorgeous. We even got to see her small work room where she makes everything from totes and cushions to padded hangers and basket liners—always with bits of remnant fabric and trim.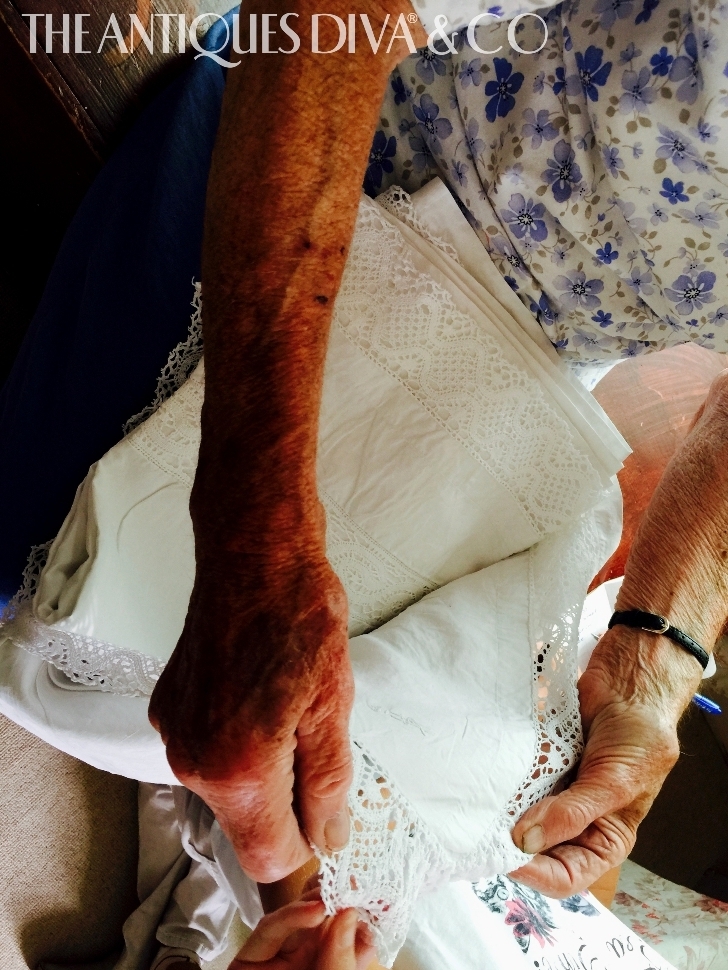 To end the afternoon, we went to the lower level of the house where she keeps her stock for sale. After being served coffee on a tray—she is, after all, a gracious hostess—we perused shelves of fabric, trims, and remnants. We settled on a few table cloths and tea towels, finding that one was not enough according to Elizabeth, "You must have one on the table and one in the wash."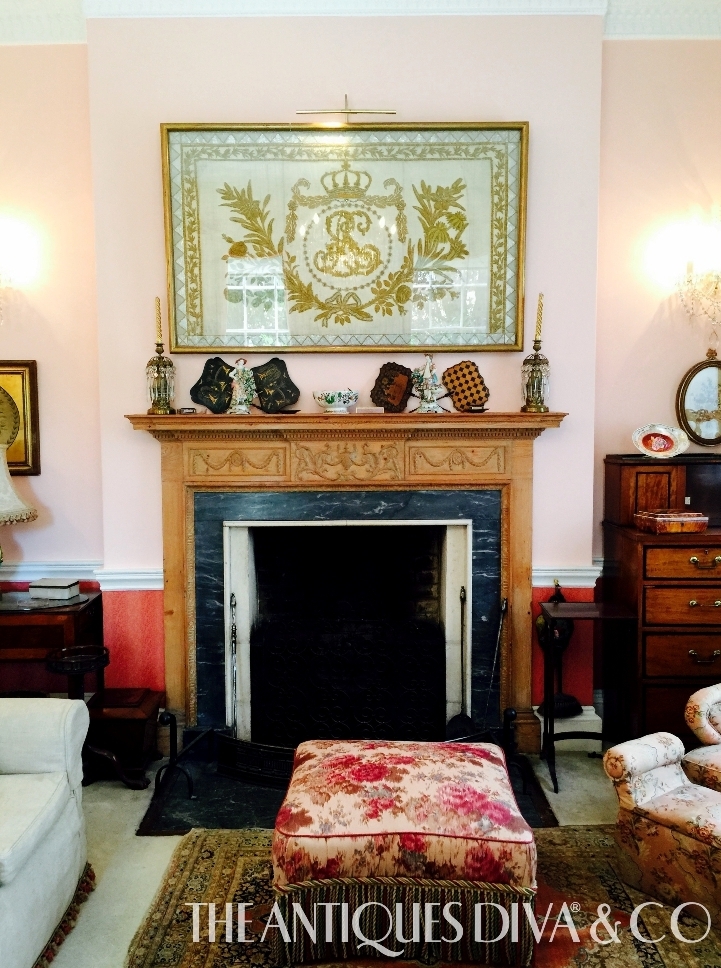 If you're interested in antique textiles, you must check out her blog. She tells stories of her business ventures, offers up worthwhile advice and entertaining anecdotes that are sure to leave you inspired. For more information on our English Antique Buying Tours or Antique Textile Tours in general email us at info@antiquesdiva.com.
Cheers,
The Antiques Diva® 
Comments are closed