Andrew Skipper Styles My Terrace
Dear Diva Readers,
Everyone knows that I have a taste for the good things in life—fashion, jewelry, shoes, fast cars, champagne, and, of course, gorgeous antiques! I also adore decorating my home and rooftop terrace. But I have a confession to make… I simply don't have a green thumb. I kill every plant I come in contact with! So when it comes time to get my hands dirty and plant all the planters on my terrace, I avoid it at all costs. Luckily my colleague Andrew Skipper of Andrew Skipper Everyday loves to garden. And since he's here in Berlin working with me this spring, I asked if he'd be interested in helping make my balcony look its best! I'm so pleased with the result that I asked Andrew to write a guest post for the blog, sharing some tips for creating a beautiful outdoor space.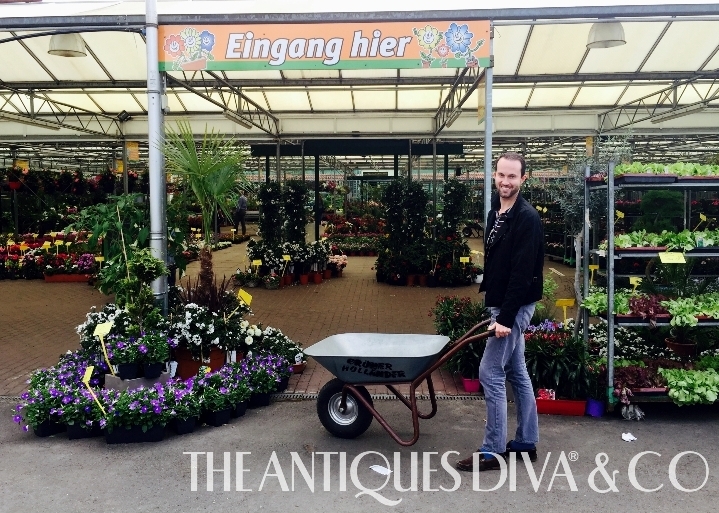 Andrew Skipper writes:
"As an interior decorator, I love taking a room and helping it realize its highest potential. The entire process from inspiration to installation thrills me! I've often had clients ask me to help them create outdoor spaces that can be extensions of their homes. At my own home in the USA, you can often find me puttering in the garden on a warm afternoon or entertaining friends with a dinner al fresco. When Toma (yes, The Antiques Diva does actually have a first name!) asked if I could help with her balcony, my reply was a resounding, "Yes!"
Her terrace has great bones to begin with. She's got a fantastic French marble-topped butcher's table in the center that is often used for dining or doing fabulous apertivo Italian style next to her cyprus trees. The charming bistro chairs that Toma purchased in Paris direct from the famous Cafe Les Deux Magots certainly enhance the European feel of the space but we also wanted to create a place to relax, perhaps with a glass of wine and a stack of magazines.  The two lounges with black cushions which flank the table are the perfects spots for an afternoon nap in the sun.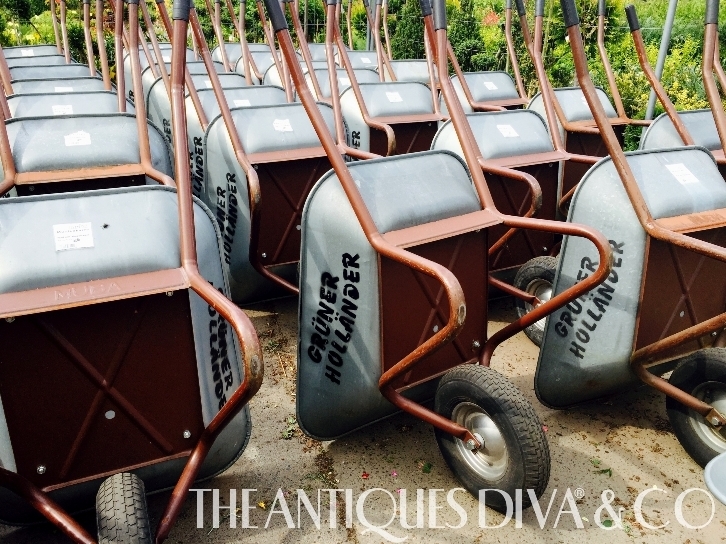 With five window-type openings facing the courtyard, I wanted to plant window boxes that would look attractive from the interior of the balcony as well as from the ground below. Since the terrace is open to the living room, we took our color-cues from Toma's interior decor – so chic, you would swoon if you saw the official Antiques Diva Showhouse – and decided pink and white would complement the overall scheme nicely. With our color pallet in mind, we set out to the garden center to select our plants.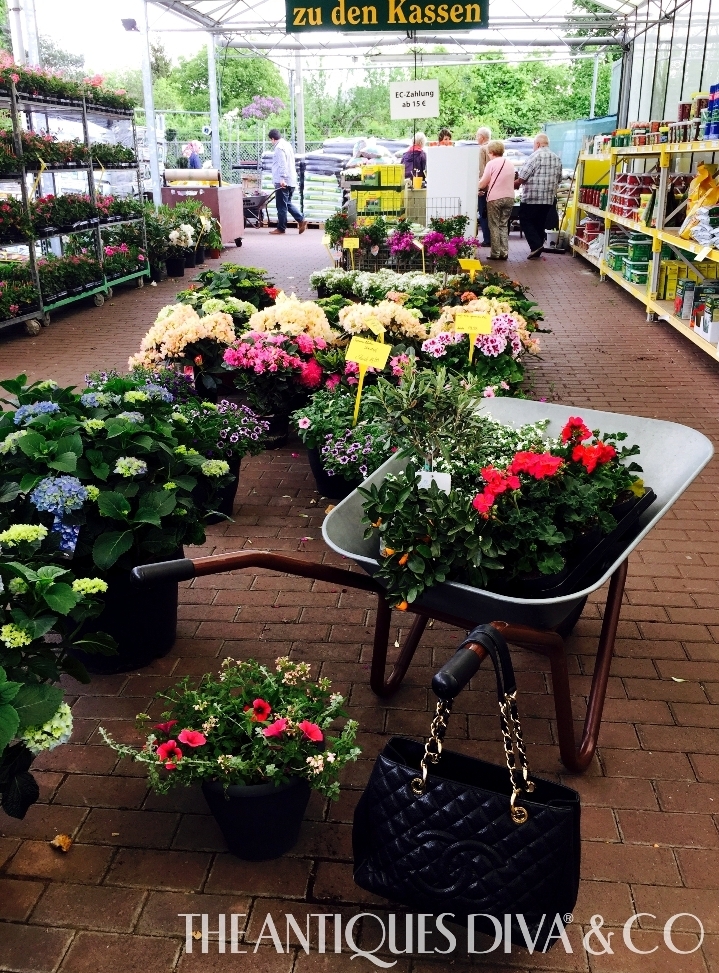 Bright pink geraniums greeted us upon arriving at the garden center and we just knew these would be perfect for a bright pop of color. We also wanted to add in different textures and a bit of height. A pair of small olive tree topiaries would be the perfect way to bring height and a bit of something special to the flower boxes. We also spotted a tiny orange tree and both immediately went for it! I instantly pictured this sweet tree in one of Toma's Chinese blue and white pots. Since Toma entertains on the terrace, (she's famous for her house cocktails) we added in some mint plants to use for cocktail garnishes.   The pair of topiary cyprus are an homage to her in laws, given to Toma by friends when her mother and father in law passed away two consecutive years.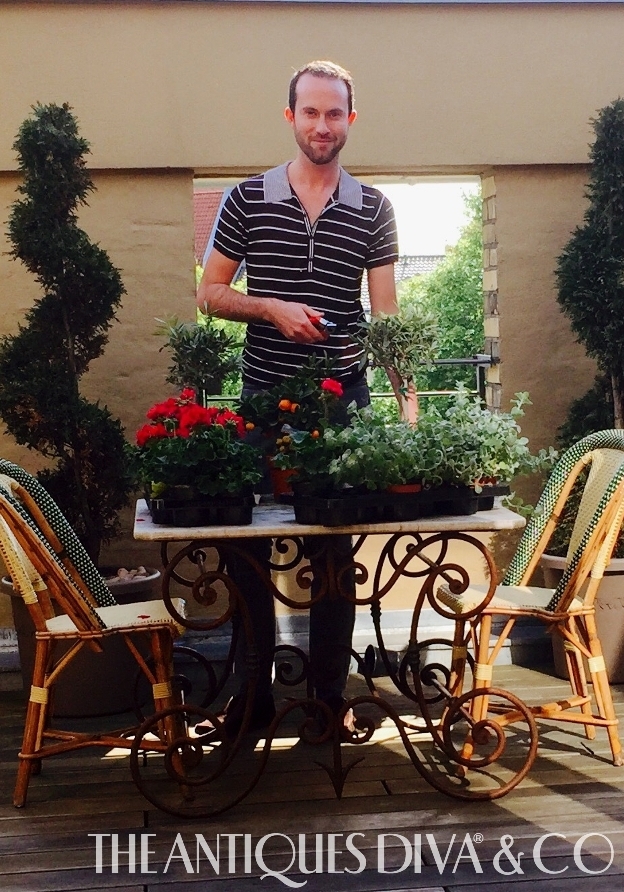 The result is a beautiful European-style enclosed roof top terrace that's fit for relaxing and entertaining. I can't wait for the first party she throws this summer! Is that a cork I hear popping?"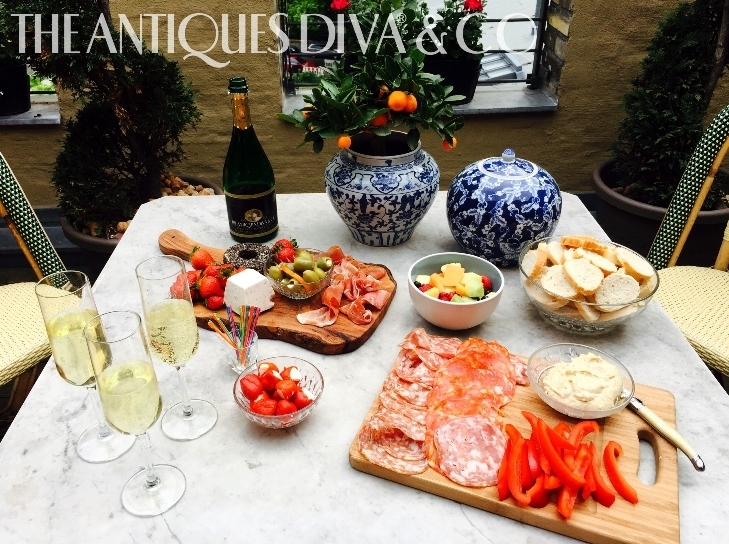 Ciao,
Andrew Skipper and The Antiques Diva®