Announcing our new Antiques Diva Portobello Market Tours!
Dear Diva Readers,
I'm so excited to announce that The Antiques Diva & Co will now be offering tours of the Portobello Flea Market in London!  We've just finished mapping out our tour with new Diva Guide Alys Dobbie (watch this space for an upcoming blog all about Alys).  Alys has been in the antique industry for over 11 years and brings her knowledge of the London markets to lucky Antiques Diva & Co clients, taking them hand in white glove hand through London's most popular flea market.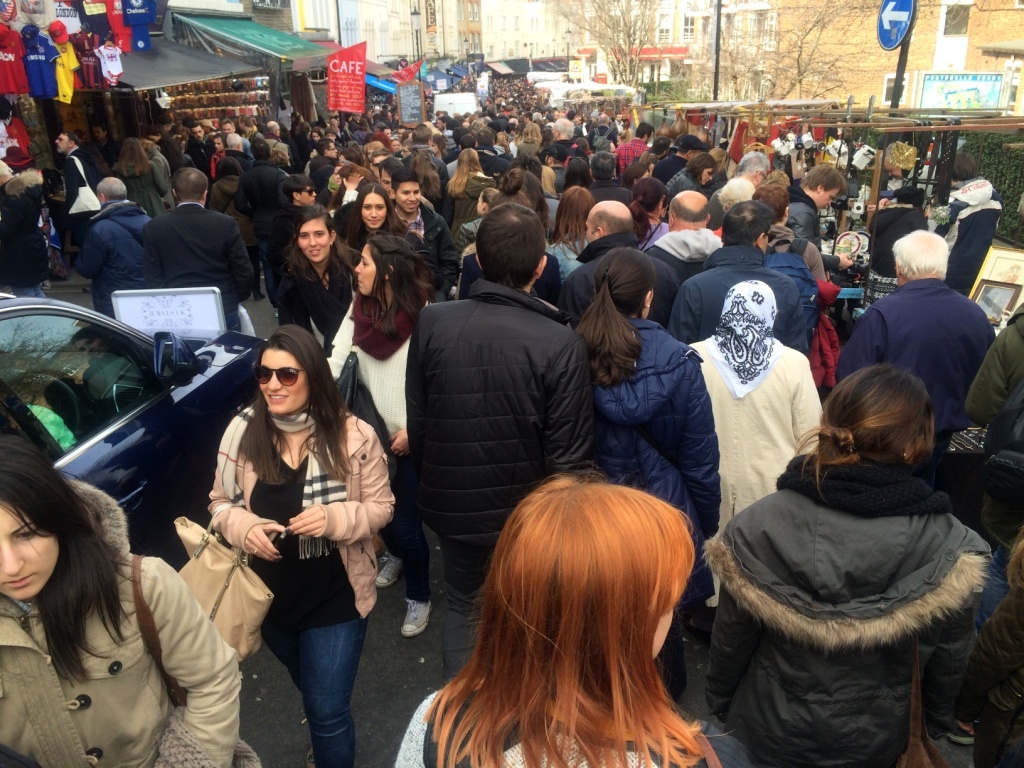 The Portobello Road Market calls itself "the world's largest antiques market" with over 1,000 dealers selling every kind of vintage and collectible item imaginable.   It's a bustling street in Notting Hill full of shoppers hunting for the perfect treasure.  Composed of street vendors and shops, there is a wide variety of items available.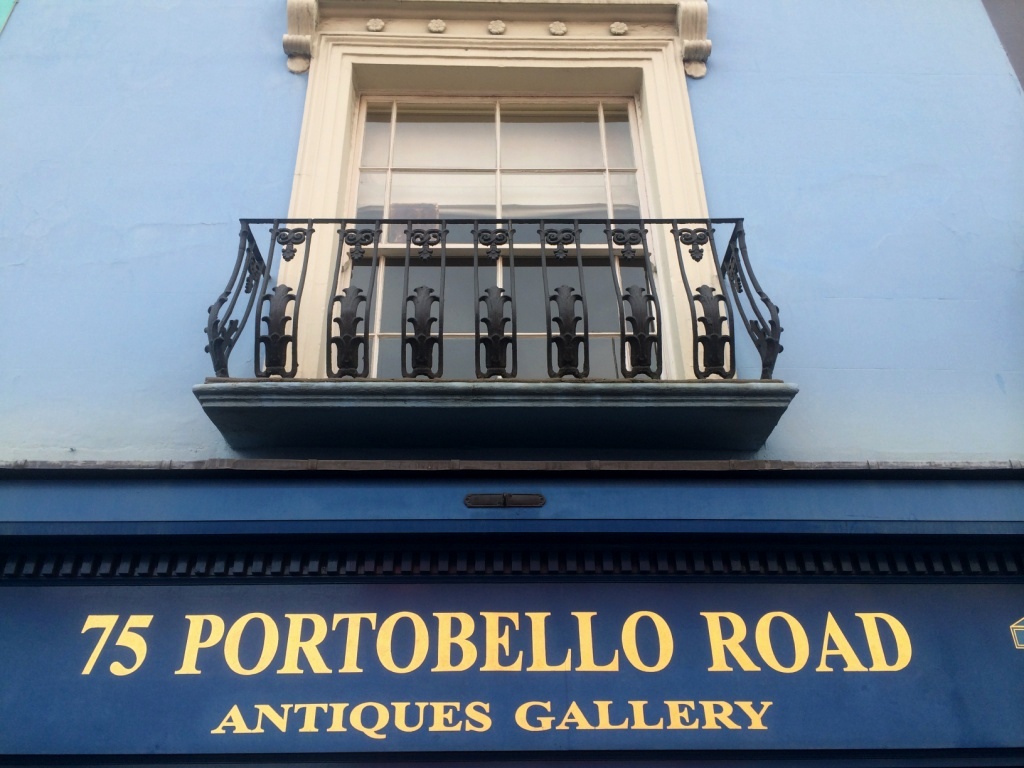 At The AD&Co we love the market for the vintage clothing options as well as purses and shoes.  From Versace to lesser known designers, there are many pieces to choose from.  And speaking of fashion, the jewelry options are amazing at Portobello!  If I've found one piece of jewelry I've wanted I've found a thousand!
On Portobello Road there is definitely a "thrill of the hunt" feel when scouring through cabinet after cabinet, looking for just the right piece.  You'll find a wide range of silver, silver plate, pewter, and brass merchandise available.  Antique china and tea cups are in abundance and the prices are phenomenal!
Portobello is the place to find a deal on vintage finds.  While the occasional high brow antiques mix in with the bric-a-brac this is a market to come to if you're looking for unique small pieces for your home.  Here you'll find those perfectly packables that fit in your suitcase, commemorating your trip abroad.
We believe antiques and vintage finds should be used in every room in your house and when you buy antiques while traveling abroad these pieces replace the proverbial t-shirt as your travel souvenirs.  One of our recent Portobello finds is this onyx lidded jar.   It's going home with our client to hold cotton balls in the powder room or to be used as a stamp container on their desk.  Priced at 18GBP it's a great example of these perfectly packable travel souvenirs found at Portobello that allow you to take a piece of London home.  Each time you see it you'll remember that day you spent shopping with The Antiques Diva & Co in London's most beloved market.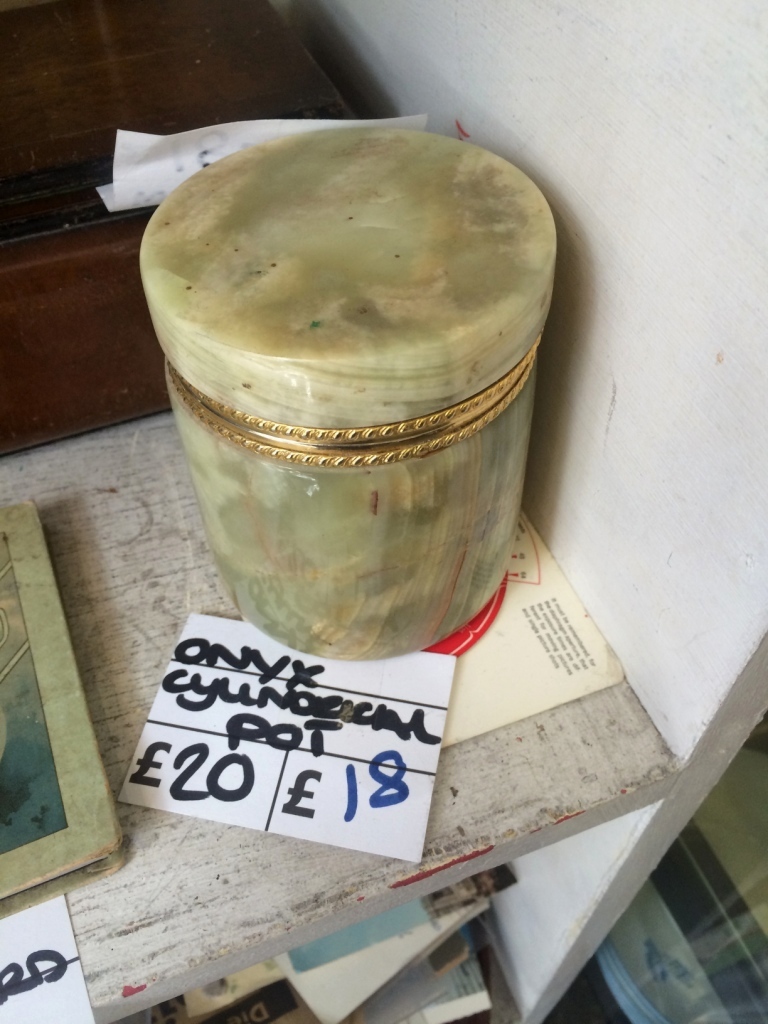 Our Diva Guide Alys knows what different vendors specialize in, so before arriving the market you tell her what makes you tick and she'll custom plan a route that guides you through the hoards of people (the crowds are unbelievable) to find just what you're looking for! Having someone who knows the lay of the land really does help it seem not so overwhelming when navigating these crowds!  Moreover – because Alys is a member of the antiques trade – she'll ask for a trade discount to help you score better prices than you could on your own.
While Portobello Road is known as a tourist's haven there are some true gems to be found hidden in the halls if you know where to go to avoid the reproductions and tourist tack.  Not only does Alys know these secret sources she also knows where to get away from the crowds to shop nearby areas off the tourist path.  And when your bellies start rumbling she can whiz you away from the crowds to get a quintessentially English meal at a nearby pub.  Steak and ale pie?  It's just what this diva needed to refuel after my last Portobello Road shopping trip!
To book a Portobello Flea Market Tour in London, email info@antiquesdiva.com.
Best day to book a Portobello Road tour is Saturday!  Though we also offer special vintage fashion tours in London Wednesday through Friday!
Let the shopping commence!
Cheers,
The Antiques Diva ®
PS:  To book an Antiques Diva Tour or inquire about our Buying Services so you can source antiques abroad virtually, email info@antiquesdiva.com