Boros Collection in Berlin
Dear Diva Readers,
While I now live in Pankow – the far North East of Berlin – I lived in Mitte for 4 years when I first moved to Germany.   Just a few steps from my back door was the giant, friendly neighborhood bunker – a remnant left behind of World World II.
By happenstance shortly after I moved into my alt bau I read an article in Elle Decor on Christian Boros – featuring his penthouse apartment at the top of the bunker in my neighborhood.  Christian bought the building to house his art collection – and built a chic pad as the jewel in the crown at the top of this building.  Evenings walking home from dinner I'd see swank soirees going on in the well-lit top floor and I was always intrigued to see what was inside this building.  Rumor had it, it housed a private art collection only available by appointment.  Recently with a group of friends from Internations I had the opportunity to break through those fortress doors and tour the property.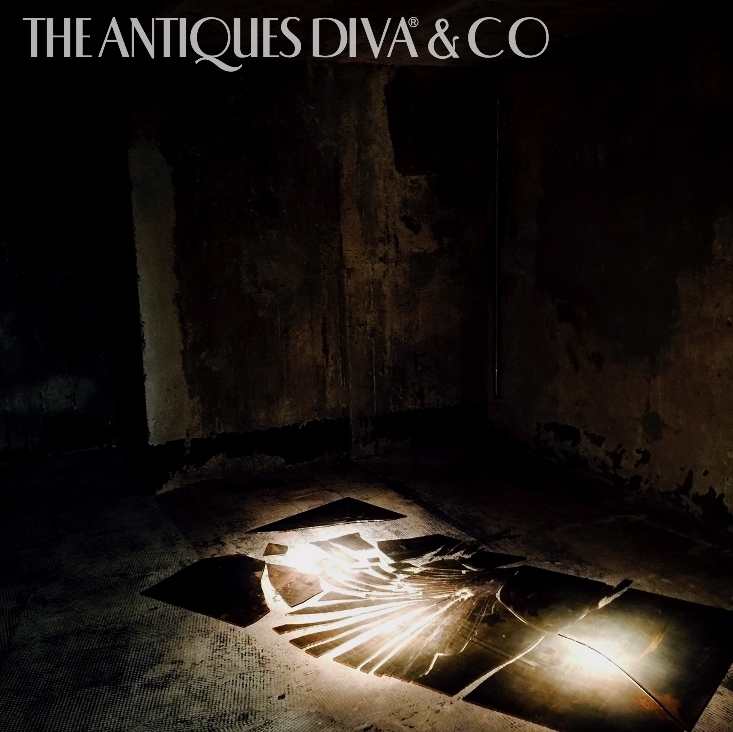 Originally used as a war air raid shelter during World War II, the concrete bunker was built in 1942. While it is an imposing structure, lacking in ornamentation, you can't help but think of it as a haven, sheltering innocent civilians from bullets — markings of which you can still see in the building as it has bullet holes from air attacks. The building, with its two meter thick walls, could hold up to 3,000 people, many of which would come from the nearby Friedrichstrasse railway station.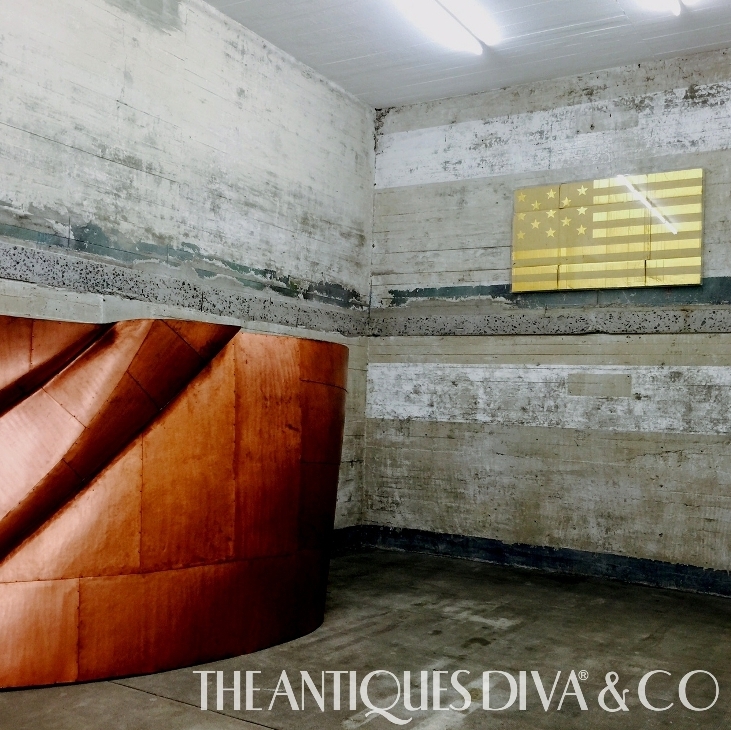 As with most buildings, its use has been adapted over time. It has been used as a prisoner of war camp, a textile warehouse, a techno club, and finally the residence of art collector Christian Boros and his wife Karen in 2003. At that point in time, the couple hired Berlin-based architect Jens Casper to alter the interiors of the entire building so the collector could display his vast art collection and also live in a penthouse flat.
Today, visitors who book a tour in advance enter a more open concept space, designed to showcase the modern art that makes up the Boros Collection. A series of 80 rooms house art which has been installed by the artists themselves – art which sometimes makes you question – WHAT IS ART?  I love when I'm challenged in my thinking. It's easy to see a canvas on a wall and consider it art. Broken glass on the floor? Gorgeous. Like diamonds shimmering… but is it art?  What about a trash can mounted to the wall… I accidentally threw my gum away – only to discover after tossing my Big Red into the bin that I had inadvertently devalued the art.  The fact is that there is beauty in the every day – in my own home my boxing gloves lay on a white mink throw which is carelessly scattered across a Louis 15th Chaise Longue.   A friend the other day saw this is in my home and commented… "Everything you do in your home is like art."  I'm a firm believer in the beauty of the everyday – and a fan of abstract art in general – and found myself simultaneously challenged and inspired by the Boros Collection.
Groups of work by international artists reside in the bunker, and have been open to the public since 2008. However, if you wish to visit the bunker, you'll want to make a reservation well in advance. Due to safety regulations, the bunker can only be visited in groups of 12 or less and all tours are led by an in-house guide. The tours are offered Thursday to Sunday and begin on the hour (in German) and on the half hour (in English). If you're coming to Berlin – and want to get off the tourist path – yet see something truly historical and spectacular I strong encourage a vista.
Whether your interest is in modern art or World War II history, the bunker is certainly a fascinating place to tour, offering a glimpse into historical and modern Berlin. This city never ceases to amaze me with its many juxtapositions and the Boros Collection is certainly no exception!
The Antiques Diva®   
Comments are closed