Bunny Williams On Garden Style
Dear Diva Readers,
I was so fortunate to take Jackson McCard of Treillage & Darcy Fulton of John Rosselli on a special VIP tour in Italy earlier this year. It is always so inspiring to take any tastemaker on a buying tour because I get a chance to see what pieces excite them – what turns them on – but it was even more fascinating than normal to see what these managers from these two iconic companies would buy. When it comes to decorating our homes, Bunny Williams (and her husband John) has been a huge influence in the way we live and she continues to push the bar of style.
But what I love about Bunny is that she takes those interior design principles and applies them to what she calls "outdoor rooms."   Her sadly now closed shop, Treillage, had one of the most charming inner courtyards I've ever seen in the Big Apple.  One of our top requests for tours at The Antiques Diva & Co is architectural salvage and garden antique tours. Clients are constantly looking for antique garden statues, urns & planters, gates from old estates, and even paving stones to use in modern gardens. Bunny's new book, "Bunny Williams On Garden Style," has so many wonderful tips for anyone who is looking to enhance their outdoor space.  In fact, what caught my eye immediately was her extensive use of antique garden pieces.   If you're interested in garden antiques like the majority of our clients, I consider this book an Antiques Diva Essential Read!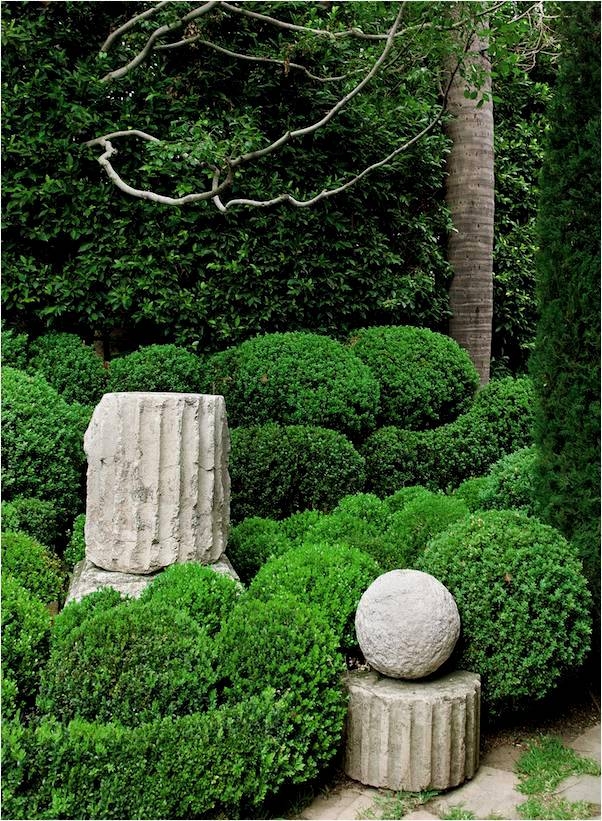 While I am not a gardener myself—after all I do only have a rooftop terrace in Berlin, not a sprawling estate in New England— I can certainly appreciate beautifully laid out gardens, be they formal or more relaxed. Sourcing antique garden pieces all over Europe means that I am exposed to the creme de la creme of antique garden inventory on the market. In fact, Bunny refers to a few of the same sources we use on our AD&CO Tours!  Bunny's book is a great way to teach the eye to spot quality and provenance.
Perhaps the reason I enjoy this book more than other garden-focussed books is because it doesn't deal so much with actual horticulture—after all, I kill any plant I come in contact with! This book talks more of the structure of a garden—likening it to a room. The focus is on the floor, overhead elements, creating walls, and utilizing ornaments (often antique garden elements) and structural pieces to form the bones of an outdoor room. The actual flowers and plants that grow within these outdoor spaces are not as touched upon, as these can change from region to region based upon climate. Rather, the mood and atmosphere of a garden are defined by the elements that remain in all seasons—the pergolas, columns, gazebos, urns, statues, and layout of the garden.
From interior design to gardening, Bunny has a way of dissecting the elements which make any space comfortable, impressive, and simply dreamy. While her shop Treillage is closing at the end of this month, rumor has it her online store is going to be BETTER THAN EVER! As for me today, I think I'm going to skip antiquing and take a day to lounge on my terrace reading On Garden Style and dreaming of someday possessing a green thumb.  Hmmm… Chanel has started doing nail polish in modern colors, haven't they?
The Antiques Diva®