Guten Tag Oktoberfest
Dear Diva Readers,
Prost! Cue the clinking of beer steins…. Tomorrow is the official beginning of Oktoberfest in Munich! What better way to commemorate the… er… beer season than to talk about antique beer steins?
German beer steins tend to be made of stoneware or earthenware but you'll also find them in pewter, porcelain, silver and glass. Mentally when I think of beer steins I envision a buxom, dirndle-clad frauen carrying handfuls of steins artfully in front of her…. These steins you see in the Beer Halls of Munich tend to be open at the top.  But when shopping the market you'll find some donning pewter lids which has an added benefit of keeping the flies out of the beer when drinking alfresco in a beer garden!  But originally these lids were implemented as a caution against spreading disease such as the bubonic plague.
You find steins in half liter and full liter sizes (a friend told me the half liter is for girls and the full stein for the boys).  It is thought that the original area of beer stein production is Kannenbäckerland in the Westerwald region in Germany. Potters have been making beer steins in this area for centuries.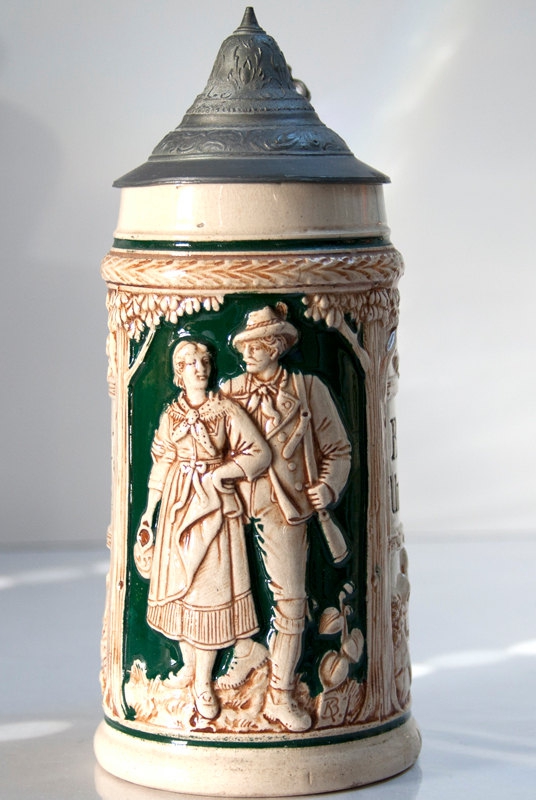 Perhaps the most interesting aspect of beer steins is their décor.  Often nostalgic in nature they typically depict scenes from Germany or, more specifically, Bavaria and often have historical significance. There may be battle scenes on a Regimental stein and in this case, check to see if there is a rank and last name of the original owner. Whether they are simply painted on or carved as a relief, the scenes are usually detailed and elaborate.
While the first German beer steins were made as early as the 14th century, antique Oktoberfest German beer steins were first produced in the early 18th century when the first beer drinking party was held. If you can find one of these beautifully rustic steins, snatch it up and enjoy a cold beer as the Germans do! And if you're like me – and NOT a beer drinker (yes, this is practically blasephemy to confess as I live in Germany) – you can always order a Radler:  half beer- half lemonade.
Prost!
The Antiques Diva®