How To Ship Antiques From Abroad
Dear Diva Readers,
When you're traveling overseas and shopping for antiques you have a few options on how to ship antiques home from abroad:
The first option is to only buy what you can pack in your suitcase.  This costs nothing and is perfect if you're looking to buy a few trinkets or smaller items – but what if you're really wanting to buy a lot when you're overseas?
The second option? Buy an extra suitcase. When you're at the Paris Flea Market they actually have stalls with suitcases for sale. Pick up an extra suitcase and fill it to your heart's content. (It's not a bad idea to bring a hand-held luggage scale with you on holiday to make sure you're within the weight limit).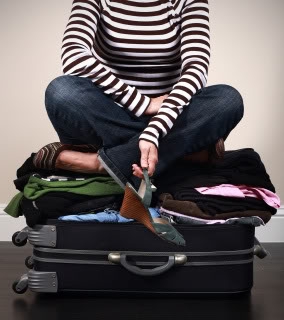 But what if you're buying porcelain or other breakables? Do you really want to risk putting that in your suitcase? I didn't think so.
Your third option? Then we're talking either the local post office or FedEx – hint: the post office in Europe is always much cheaper than FedEx. Plus at the post office you can buy the box for packing your purchases. Investigate if the town you're traveling to has a Mail Boxes, Etc. I often pay to have Mail Boxes, Etc pack my breakables for me. When Mail Boxes, Etc finds out that I'm using the post office to mail my box instead of them, they often offer a discount off their services. They are faster than the local post office so if you can get a bargain it's worth paying a little more for special handling to go this route.
Now – you may not know this – but if you want to get a bargain in Europe – RARELY will you get that bargain on smalls. The smaller, the more perfectly packable it is, the more expensive the price tends to be when comparing it with American standards. On the other hand, if you fall in love with an armoire it's likely to be 1/3 the price you'd pay stateside. As I always say "Go Big or Go Home."  The bigger the antique the better the price. But if you want to ship an armoire what's a girl to do?  Hire an international shipper! They will give you a cubic meter price – an estimate on the cost of shipping the item. You'll want to ask them for a door-to-door quote and specify that they include insurance on the delivery. The price they give you may not be exact – it'll probably be an estimate. You'll have the option to air freight the item or to put it in a consolidated container to ship home on the slow boat. Find out the price difference between the two methods. Be aware that delivery ALWAYS takes more time than you're expecting.
Introducing your fourth option: For help with how to ship antiques home, contact The Antiques Diva & Co. Our white glove art and antiques international shipping service (AD&CO Logistics) is ideal to ship home antiques that you purchase in Europe. Our shipping service is available even if you're not on an Antiques Diva Buying Tour. At AD&CO we can also liaise you with some of our preferred international shippers. We're always happy to help you get antiques home sweet home across the pond.
Happy Shipping!
Toma, The Antiques Diva®