Maison et Objet
Dear Diva Readers,
I've just finished a fantastic Antiques Diva Tour in Paris! While there, we attended Maison et Objet which is a summit for all things design. I was there with Lori Lassen of At Home Berlin who sells high-end real estate for private clients and investors in Berlin often with complete fitouts and interiors. I was also accompanied by Christian Lemke and Justyna Walzcak of Re-Vamp.de  which provides interior design solutions working with developers, owners and investors. Before leaving Berlin, I gave them all a few tips on making our arrival at Maison seamless. I think it would be helpful for anyone attending this show for the first time so I thought I'd share my tips on the blog!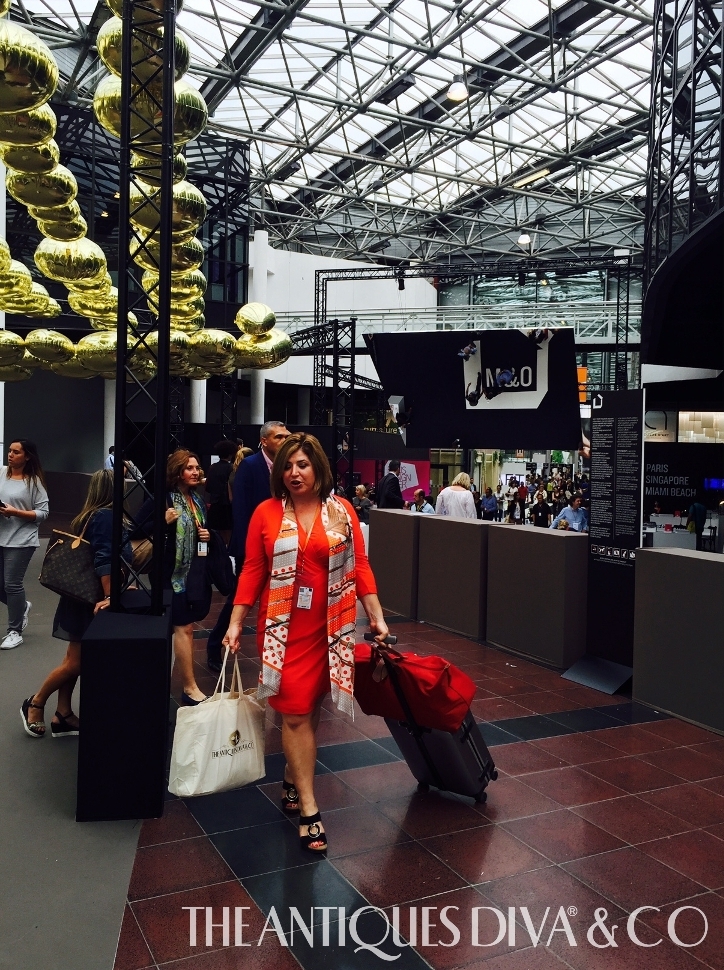 First things first, be sure to buy your passes for Maison Objet before attending the fair. If you print your badges at home and bring them with you, you can avoid the long lines at the fair! You can find all necessary information at Maison Objet.
Upon landing in Paris, there is a free shuttle that goes to Villepinte (Maison Objet) from all 3 terminals at Paris Charles de Gaulle airport every 30 minutes from 8:30 AM to 11:30 AM. Once you arrive at Maison, you can leave your luggage at the Salon in the cloakroom for about 3 or 4 Euro a piece—well worth it! Then all you need to do is shop shop shop! From Maison Objet there are free buses that run to Porte Maillot Direct. A taxi will cost about 50 Euro so the free shuttle service provided by the fair is a good option.
Try not to be overwhelmed when shopping the fair. "What Disneyland is to kids, Maison Objet is to interior designers," says Christian Lemke of Re-vamp.de. "Whenever you thought you've seen it all, Maison Objet guarantees to prove you wrong. There are always new amazing brands, designs, and ideas to discover," echoes Justyna Walczak of Re-vamp.de.
After attending day 1 of the fair, Lori says, "I've traveled and shopped the world and seen design around the globe, but here at Maison Objet it was as if the world came to me. The frustration of global shopping is 'how do I get it home?' but with The Antiques Diva & Co I found the solution." And in fact, these three have some tips to offer first time attendees.
TIPS from  Lori, Toma, Jusytna and Christian:
  Do wear comfortable shoes.
  Don't let your senses get overloaded. FOCUS & be determined.
  Don't forget to enjoy yourself.  This is France, have a glass of champagne and sit down and enjoy…. BUT save the wine for last or you
won't last very long at Maison Objet.
  Do Hydrate. Water. Water. Water.
  Don't forget your business cards!
Any time you attend a design show or center, it should be fun. But that doesn't mean that it's not a lot of work! By keeping everything in balance and remembering a few key tips about being prepared, you are on the right path to having a successful shopping trip! See you at Maison Objet this coming January!
Ciao,
The Antiques Diva®   
Comments are closed