The Antiques Diva Shops Venice
Dear Diva Readers,
Mamma Mia… When an assignment to go to Venice to write about the local antiques scene arose, I thought I'd died and gone to heaven. And while I was looking forward to my trip  – who wouldn't be? – what I didn't expect was the arsenal of antiques that awaited me. I was surprised to discover a varied inventory, ranging from museum quality antiques, statues and paintings to 16th, 17th and 18th C painted furniture, Venetian chandeliers and mirrors as well as gorgeous antique jewelry and antique textiles.  And the kicker? I didn't just find tourist prices.  These pieces were selling at market value when you entered with a local. I shopped in private palazzos and in by-appointment-only antique stores deep on back canals and calles I'd never heard of in districts where you found quiet spots the tourists hadn't discovered or wandered off the beaten path.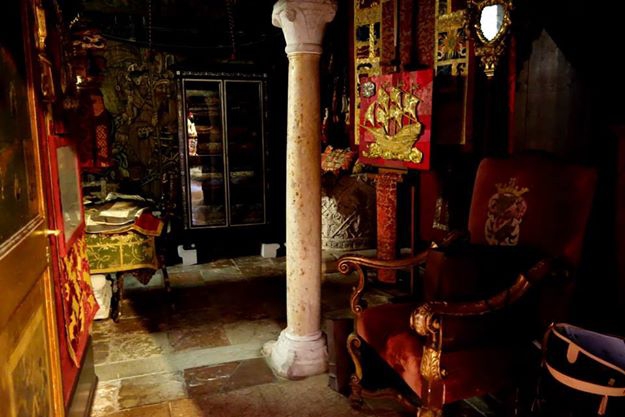 On the arm of 2 local antiques dealers – Chiara and Orseola, the latter of whom happens to be from one of the 6 noble families in Venice (and an ancestor of the doges) – I visited local antique dealers, friends of her family and was invited in as if I, too, were a friend of the family. I found myself surprised at every corner that this is not a city just for the tourists to shop – but that some of the top dealers in the world are sourcing at antique shops you'd never discover without an insider making an introduction.  (Between you and me I'm utterly convinced I found more than one of Axel Vervoordt's secret sources though the dealers had complete discretion).
While these ladies were helping me rediscover Venice for an article I was writing, I realized this discovery was too big for simply a magazine feature with a word count limited at 1000.  This was my 6th trip to Venice – yet I had never felt so embraced by the city as I did when I visited it with insiders.   I wanted to be able to share what Chiara and Orseola  had taught me. It wasn't just about sharing the antique address… but was about giving insider access to the Venice only a local knows about.  Plus, when antiquing, Chiara and Orseola give the kind of access that happens when a local calls instead of one of the millions of tourists who come each year.  You will show up in a tiny shop and be invited to the vendor's home on the nearby campo to see more of the collections. Only a small part of the inventory in Venice is kept in store fronts where the space is limited.
After antiquing in Venice several days with Chiara and Orseola I asked these ladies – the dealers who choreograph the amazing collection at O&C Antiques – to join my team as our newest The Antiques Diva & Co Guides leading antique buying tours in Venice and to my great pleasure they said "Si! Si! Si!", delighted by the opportunity to share their world.
Thanks to a partnership between The Antiques Diva & Co and O&C Antiques, Venice – The Queen of the Adriatic – has just become Antiques Diva Territory!  Stay tuned for more details as along with Chiara and Orseola we share more details on how you can bring Venetian Antiques home.
Ciao Bella!
The Antiques Diva®