Dear Diva Readers,
top: 5px; float: left; color: white; background: #781300; border: 1px solid darkkhaki; font-size: 50px; line-height: 40px; padding-top: 1px; padding-right: 5px; font-family: times;">M amma Mia! If Heaven were a place on earth, I'm certain it would look like a Tuscany! Who hasn't dreamed of taking a trip to Tuscany? From sipping gorgeous Tuscan reds to soaking in the vistas and villas – it sounds like perfection! Add hunting for antiques into the mix and you've got the recipe for the perfect holiday! But if you're want to find vintage and antiques treasures where should you focus your energies to find diva worthy treasures and what sorts of pieces will you find once you get there? Our Tuscan Diva Guide Susan gives us her top 5 types of places to go antiquing in Italy!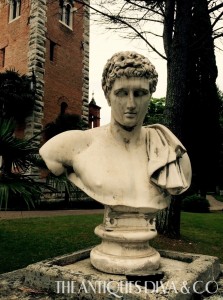 1. Architectural Salvage
With so many large and lovely villas set in sprawling parks and gardens coupled with abandoned Tuscan farmhouses dotted across the landscape, it's little wonder that there is a wealth of Architectural Salvage materials to be found. Regal marble bathtubs and delicately carved sinks (just perfect for a powder room), old weather worn barn doors… still complete with original locks and hardware, soft grey 'pietra serena' stone fireplaces impregnated with decades, if not centuries of smoke, garden statuary, terracotta tiles and worn stair treads… each piece has a story to tell.
tore" src="https://antiquesdiva.com/wp-content/uploads/2015/05/unnamed-2-225×300.jpg" alt="unnamed-2″ width="225″ height="300″ />
2. The consignment stores
For the die hard flea marketer and bargain hunter there is no better place than the consignment stores. The thrill of uncovering hidden treasure and the satisfaction of getting a bargain to tuck into your suitcase is exhilarating. Often old estates are cleared and you can really find some gems buried under the clutter; from signed oil paintings and watercolours for less than €50, mid century glass going for a song, crystal drop chandeliers (as well as extra crystals so no need to worry when you find a great pieces with missing ones) and furniture too. Once we had someone find the most delightful 'Murphy bed' that folded out of a gorgeous carved wood cabinet… it weighed a ton!
3. Little stores along the road
Of course the beautifully decorated antique stores filled with elegant pieces of 17th century furniture, old master paintings and richly gilded mirrors are intoxicating, but we like to get off the beaten track and explore the Tuscan countryside, climbing ladders in barns stacked sky high, picking our way through private collections and visiting restorers who always seem to have something hidden away. We've unearthered some real treasures; huge terracotta oil urns, bread chests (every home should have one!) and rustic painted furniture… just to whet the appetite.
4. Flea markets
The weekend flea markets are a must, usually held once a month, each falling on a different weekend, old books, textiles, religious artefacts and great agricultural pieces to repurpose. Depending on weekend we might hit Lucca, Florence or Arezzo. It's fun meeting all the characters and really are the perfect place to find small pieces too to take home to friends as unique gifts or to keep and use as house gifts, though I have to confess we have found some pretty big ones too… a 5 foot high shield for one.
5. Florence
… it's impossible not to have it on the list, a renaissance city with precious works of art and fine antiques. But really what I enjoy are the vintage stores full of designer fashion, Gucci, Ferragamo, Pucci to name just a few. But perhaps rather unexpectedly it's also a great source for mid century pieces with amazing prices as it's still not fully appreciated in Tuscany. There's nothing better than spending an afternoon in the Oltrarno browsing… and trying hard to be restrained at the irresistible.
If you would like information on taking an Antiques Diva Buying Tour in Italy, email us at info@antiquesdiva.com. We'd love to help you source antiques in Tuscany!
Ciao,
The Antiques Diva® with help from her locally-based Tuscan Guide La Dolce Diva – Susan!