Asia Antiques Buying & Sourcing in 6 countries:

Thailand, Myanmar, Laos, Vietnam, Cambodia and Indonesia 
At The Antiques Diva & Co, I always say our role is to be antiques matchmakers: and I've extended our matchmaking service to Asia! We take buyers and sellers and matchmake them so it's love at first sight! As the largest company in Europe offering one-on-one customized antique buying tours in 8 countries, launching in Asia was the logical next step.
Our goal is to provide you with a turnkey solution for global sourcing. Whether you're looking to buy one specific piece or wanting to fill an entire container, our Asia antique buying guides are prepared to share their vast knowledge of secret sources to take you to all the right places. Whether that means in the jungles of Burma, the busy streets of Bangkok, the back roads of Bali or beyond. I'm completely crushing on Hanoi, gobsmacked by the design inspiration there… and Chaing Mai? It's hands-down the best wholesale antiquing in South East Asia. Laos is lovely for textiles and Phnom Penh feels like a new frontier…  And you can do it all with The Antiques Diva & Co.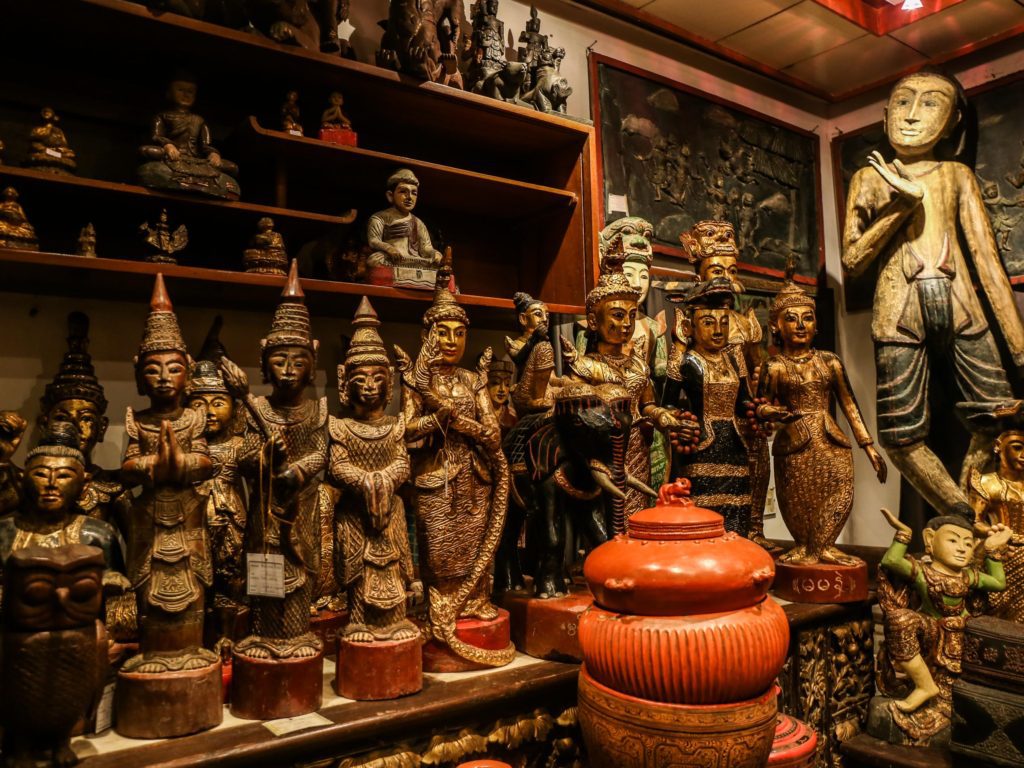 AD&CO is the only global antiques touring company offering one-stop, turnkey antiques shopping services: from personally choreographing your private buying tour to translating, negotiating and shipping antiques.
Modern interior design is all about the global mix.
The Antiques Diva offers a unique global perspective
to integrate Asian and European antiques for a fresh, modern look.
~ Bobby Berk, Celebrity Designer
AD&CO Asia Antiques Services
Asia Antiques Buying Tours: The Antiques Diva offers private, custom antiques buying tours to 6 countries in Asia under the leadership of our local, expert antique guides. I have found a team of local antiques experts. Our Chief Asia Diva Guide is Angela Somwaiya, a Chicago native who has lived in Bangkok more than 2 decades. She runs one of the most respected antiques shops in Thailand, Paul's Antiques, and has over 20 years expertise sourcing Asian antiques.
Clients coming on buying tours get the unique advantage of sourcing in some of the same venues where she stocks her store. Angela is also an expert guide to sourcing Asian bespoke furniture makers. And she happens to have a gourmet tongue…  she orders better in restaurants than anyone I know!!!
Custom Tours for Trade and Public
AD&CO trade tours are custom curated for interior designers, antiques dealers, furniture manufacturers, landscape designers and architects; customized design inspiration tours and shopping tours are also available to the public. Our Antiques Tours Guides will custom plan an Asian antiques buying tour for you whether you're looking to purchase antique furniture, textiles, decorative accessories, handicrafts and artisanal creations or architectural salvage. We will also help maximize your time and money by translating and negotiating on your behalf, and finally liaising you with an international shipper.
The time for Asian antiques is now: they mix so well and lend a fresh, modern note to any decor. My designs are never defined by any one era, style or approach. I draw from my own experiences, travels and global insight.
~  Robert Passal, Award Winning Top 20 Interior Designer
Asia Antique Sourcing Services: When you're too busy to travel, The Antiques Diva offers antiques sourcing and buying services in Asia. As you know, the best antiques sources simply are not online. You have to go out into the field to find them. Based on your requirements, AD&CO will assemble a lookbook of pieces that meet your specifications and budget. After your approval, we will purchase, complete all paperwork and coordinate your shipment.
I just returned from a 3 country Antiques Diva Design Inspiration Tour: Thailand, Indonesia and Cambodia. This is the new frontier for sourcing antiques. No one else is doing what The Antiques Diva & Co does; where you can source both Asian and European antiques to create a global chic lifestyle whether for your home, your store or your next interior design project.
~ Derrick Ricketts, Dallas Market Center
I'd love to chat with you about global sourcing and our Asian tours,
and help you design a custom Asia antiques shopping tour!
Email me at toma@antiquesdiva.com.
Sawatdee,
Toma – The Antiques Diva