Dear Diva Readers,
top: 5px; float: left; color: white; background: #781300; border: 1px solid darkkhaki; font-size: 80px; line-height: 70px; padding-top: 1px; padding-right: 5px; font-family: times;">Extra, extra read all about it… If you're an Antiques Dealer wanting to start buying antiques abroad in France this secret, To The Trade Only Antiques Fairs in Provence happens to be one of the best addresses to do so!  On the arm of your Diva Guide, a native-speaking French antiques courier,  you'll gain access to a slew of bottom dollar, er make that euro,  priced French antiques, vintage, and more whilst rubbing shoulders with some of the top dealers around the world.  I must confess I like the fair for the people watching as much as I do for the shopping as it's a veritable who's who of antiquing.
tours" width="470″ height="323″ data-jpibfi-indexer="1″ />
Shopping these trade fairs is NOT for the faint of heart.  You need to queue before the fair opens and the doors open for the event at 8am on the nose!  Elbows fly as dealers push and shove to get first dibs on buying antiques in Provence.  It's a mad house and one that I personally don't brave without French reinforcements – but it is some of the most exciting antiquing in France!   Don't worry about getting the goods home, we'll liaise you with international shippers ready to pack and carry!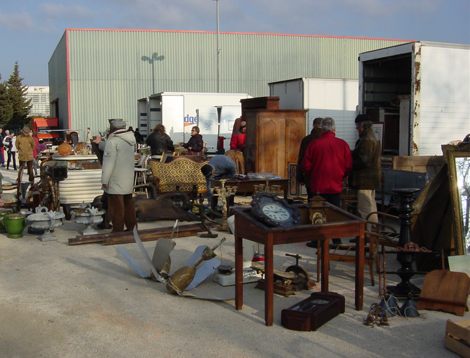 But I'm sooo sorry – if you're a mere shopping mortal and not an antiques dealer or interior designer this fair is not the fair for you!! It's reserved only for professional traders on presentation of your pre-approved trade card.
This is the tour for antique dealers who want to source antiques abroad stocking their store with the best French antiques and vintage finds. Our Guide picks you up at your hotel and takes you to this trade only fair where you'll buy wholesale antiques in Europe, giving you access to the best priced French antiques, vintage and more. This trade fair is for serious buyers and is available only through pre-registration. Plan on queuing early before the fair opens. Let your Antiques Guide clear the way as she translates and negotiates on your behalf. This is a fast and furious antiques fair and can be overwhelming. As always, we'll liaise you with a preferred shipper.
Below are the 2015 dates for the Avignon Trade Fair:
Monday 9 Feb, 2015
Monday 9 March, 2015
Monday 20 April 2015
Monday 18 May 2015
Monday 29 June 2015
NO TRADE FAIR IN JULY OR AUGUST
Wednesday 16 September 2015
Monday 26 October 2015
Monday 30 November 2015
Want to learn more about how you shop like the pros?  Email info@antiquesdiva.com
The Antiques Diva ®