Dear Diva Readers,
top: 5px; float: left; color: white; background: #781300; border: 1px solid darkkhaki; font-size: 100px; line-height: 90px; padding-top: 1px; padding-right: 5px; font-family: times;">A few days ago I mentioned that Becca Gauldie was going to be at the tor.html" target="_blank">Decorative Antiques & Textile Fair in London's Battersea Park and today I want to introduce you to another sensational dealer – Roderic Haugh who trades regularly at Core One Antiques. In addition to selling in this Fulham antiques collective, Roderic also takes clients by appointment in London or Norwich where he has his workshops. In addition to selling art and antiques, he offers a restoration service for all types of antique furniture.
Today I want to share with you a few fun finds on the Roderic Haugh Antiques website (his site is chocked full of interesting finds) to whet your appetite before you attend next week's London Fair!  Get ready to shop til you drop because I promise you Battersea is going to be good this Fall!
tor.html" target="_blank">September 27 – October 2nd – Decorative Antiques & Textile Fair – Battersea Park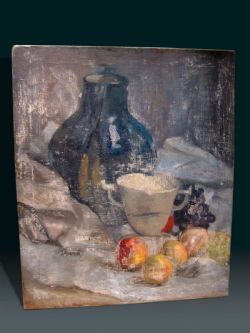 This 1920's Still Life is a Bargain at £590 – I'm utterly smitten by the colors and composition!
Anything Chinoserie is swoon-worthy in my mind and this George I Chinoserie Chest on a Stand for £3,600 is no exception.   Propping this in your living room says DIVA! 
This French Country Refectory Table (circa 1870) £2,600 is exceptionally wide and would make a great dining table for a casual country kitchen.  I've been looking for something similar for years… and the price on this one is just right.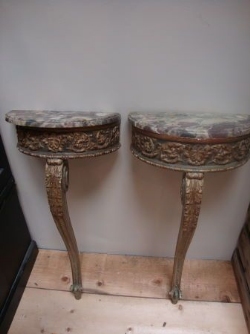 Rats!  I was too slow in pulling my buying trigger – this Pair of Italian Giltwood Consol Tables is SOLD!  Tant pis pour moi!
What a gorgeous collection for great decorative appeal – 4 Bottles for £690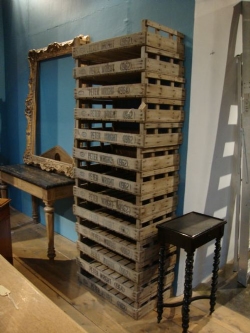 This collection of vintage Horticultural trays, priced each at £18, could be positively darling decorating a a sunroom or enclosed back porch
These are just a few of Roderic Haugh Antiques fun finds!   A decorative dealer since 1963 dealing in 18th, 19th and 20th Century furniture and objects with a difference, Roderic Haugh is one of the dazzling dealers at London's famous Core One  (one of my favorite stops in London).  This antiques collective has 9 dealers, each with their own unique style, selling beautiful furniture and objects available to both private clients and trade!  This year at Battersea Core One Antiques will have a good showing of dealers exhibiting at Battersea! In addition to Roderic Haugh, you'll find  Annabella Rothery and topheedwards.com/" target="_blank">Christophe Edwards.
to-the-Decorative-Antiques-Fair-20111.jpg">
to-the-Decorative-Antiques-Fair-2011″ src="https://antiquesdiva.com/wp-content/uploads/2011/09/Autumn-Invitation-to-the-Decorative-Antiques-Fair-20111.jpg" alt="" width="518″ height="341″ />
Don't forget to visit Roderic Haugh at The Decorative Antiques & Textiles Fair, Battersea this September 27 to October 2, 2011.
Happy Shopping,
The Antiques Diva®