On the first day of the Scorpion calendar, I celebrated my birthday.  It wasn't a significant birthday. In fact, it was the type of birthday you don't typically have a party for. The year didn't end in a 5 or a Zero. But with the turn of a page on the calendar, I found myself suddenly – as if by surprise – looking at 50 on the horizon. And the sun was low in the sky. In 4 short years, I will celebrate living half a century. I'm actually already planning a bucket list voyage for my 50th across Africa, chartering a small plane in Tanzania with my friend Dee as she turns 60 one month prior to my half centennial; visiting the foothills of Kilimanjaro's sister mountain, Mount Meru, marveling at the magical tree houses in Tarangire and observing rare wildlife in the Ngorongoro Crater and Serengeti Plains. But first – 46. And Castle Brando – a medieval castle situated on a dolomite lime 1200 foot mountain 1,210 ft overlooking the village of Cison di Valmarino in Northern Italy.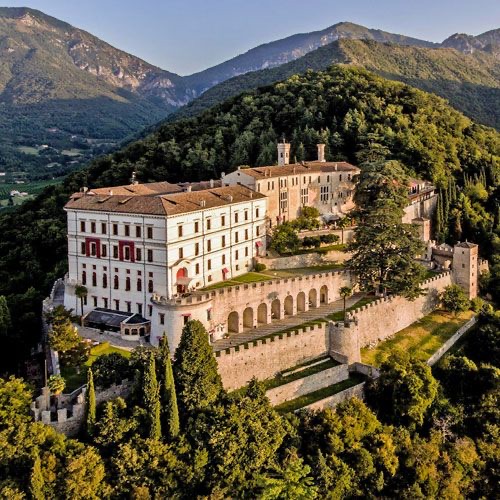 While growing older has never bothered me – this birthday I found myself contemplative. Whenever I need to think, I retreat from the world. These last few years I've needed this more than years previous. I go silent on social media. Friends text saying, "Where are you?" In this case, I had checked into the Brandolino family castle in the Treviso Hills to take time at the spa. There is no cure for aging like a variety of anti-aging treatments and a daily elixir of massage, facials and taking the waters. But I did something unique on this trip. I took a trip alone. Just me, myself and I. My room was in a wing of the castle dating to the 5th century. As I checked into my room I looked at the family crest hanging over the bed.  
Scorpions.  
The family crest was riddled on one side – 50% scorpions. And while perhaps not necessarily an ideal image for a peaceful night's sleep, it made me smile. Serendipity. I had been discussing my horoscope and what the future holds with a new friend the day before at Quadri on the Piazza San Marco in Venice. I had to laugh at the coincidence. I had come here to think about what I want out of life – and how to get it – and my zodiac sign was hanging overhead. As I lay down on the bed with a watchful eye on the Scorpions, hoping one didn't plop from the painting onto the coverlet beside me, I opened O Magazine.  
On the page was an article by Oprah's resident astrologer Chani Nicholas explaining that Scorpio Season is an invitation to honor the life lived thus far, to reflect and review, to better understand how we got where we are, to determine what to edit, and what to bring into the future.  
This past year I've taken a more active interest in blogging than I have in recent years – it's been my mission – to encourage you, my readers and clients, to make sure you are living a life that is satisfying, soulful, and on purpose.   
For a couple of years following my separation from my husband, I lost my voice. In fact, during that period I didn't write my blog at all. A member of my team stepped in to help during this period. I couldn't do it. The blog – and potentially even the business – would have died if I didn't ask for help.
Weekly as I struggle with this life/work balance I ask myself 3 questions I learned from money expert Kate Northup: 
Does it need to be done?

Does it need to be done now?

Does it need to be done by me?



What I learned is that when running a business – it takes a village. 
You can't do everything yourself. And even if you want to – you shouldn't.   
My company has grown from a one-woman firm to a global empire operating in 16 countries and on 3 continents offering one-on-one customized antique buying tours because I've learned to ask for help. Not only would my business not have survived the emotional aftermath of my divorce had I not asked for help – but it also would not have grown had I tried to do it all myself.  
I realized early on in running The Antiques Diva & Co that the best way I could serve our clients was by assembling a team of the most connected people in the antique industries. We work with local antique experts in France, Belgium, England, Sweden, Italy, Thailand, Indonesia, America and more to lead our tours as Diva Guides. 
And while I've been working with local antique tour guides practically since the beginning, I thought I couldn't afford employees to help at headquarters. For years I thought I had to do everything myself. And that limiting belief meant that I couldn't grow at a corporate level the way I needed to. And then I realized I could outsource certain things. 
My Team Is Your Team
And I'm here to tell you – so can you. Just like the saying goes, Mi Casa es Tu Casa, I'm also offering that my team is your team.   
Our Antiques Dealer Training Program doesn't just offer 1-on-1 coaching on learning to How To Be an Antiques Dealer – we also offer a variety of outsourced marketing services to help you manage and market your antique business. From setting up templates on MailChimp to teaching you how to become an Instagram sensation to offering copywriting services and training in branding or working with you to build your personalized Marketing & PR Plan – we are here with The Business of Antiques to make Antiques Modern, Sexy, Fun and – most importantly – Profitable.
One thing I've learned over the last several years is that I have to Be Intentional – both personally as well as professionally. I found myself chatting with a Greek Byzantine History Professor last week after seeing his tattoo – Omnia Causa Fuint. I asked the meaning of those words.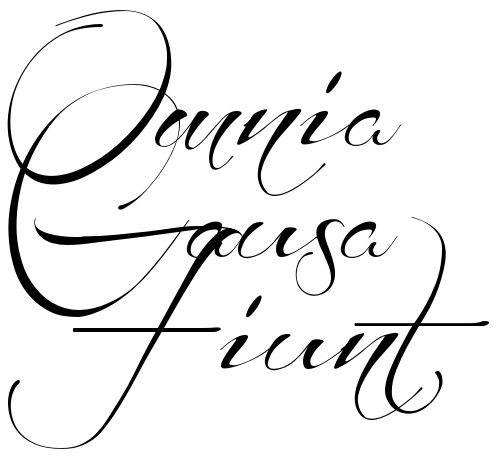 Everything happens for a reason.  
What reason do you have today for reading this blog?  
Maybe you've been dreaming about expanding your business and buying antiques abroad…
Or maybe, you think you're an old dog and you can't learn new tricks.  
The Business of Antiques
Our Antique Dealer Training Program isn't just for new dealers. We also mentor established dealers in new approaches to sales and marketing.   Every day on our new Instagram page I'm giving TIPS and advise on how to do so.  
Yesterday morning I received a phonecall from a well-known established dealer who said, "Okay. Your client set up a booth opposite me at…" (In order to keep his identity secret let's just say – at a well known antiques market where all the designers shop). He went on to say… "I think I have better inventory than her. I have better prices. But she outsold me. Every interior designer who walked through the hall knew who she was. Let's talk." 
He was right. 
He was being passed by.  
And he knew it.
And while this particular client who passed him by is a star pupil – she is bright and is quickly working her way up the foodchain of the antique industry –  this antique dealer had 26 years experience on her. And he was aware she would pass him by if he didn't belly up to the bar and change the way he had been doing things.   
Two years ago in a surreal moment, I was asked to speak at the House of Parliament at the LAPADA conference on selling to the American buyer. I started the talk by saying, If you want to compete in today's market – you have to be willing to change.
These aren't your Grandmother's Antiques – or perhaps rather I should say,  Successful Antique Dealers are NOT selling antiques the way your Grandmother would have. Perhaps no other person I know lives as intentionally as my client, and dear friend, Steven Favreau of the Favrealous Factory (and his partner Dennis Wyrzkowski – aka Dennis the Monk). Steven is a trailblazer. The is a Design Destination in the USA, mixing modern and antiques with pop culture and a flourish that only one man could have created – Steven Favreau. Graffitied walls and disco balls dancing beside a 17th C Flemish Armoire, anyone? Why yes, I think I will! Book your trip to Boston, to experience the place where Magic happens every day. 

While the Favreaulous Factory makes antiques modern – it also is worth a mention that if you think Millennials are not buying antiques – it's time to think again!!! House Beautiful broke the myth on what Millennials really think about buying antiques. 
In fact, mixing antiques with modern is in the Zeitgeist. I was thrilled to be quoted extensively in this article in I+D Magazine by Cara Gibbs on Modern Antiquity. The thing I've learned both in designing my own furniture collection – and in sourcing antiques – is that true style is timeless. This vein of thought is why I don't mind aging. While yes, I want to do what I can to prevent more of those tiny crow's feet from clawing at the corners of my eyes – I do treat my skin well. My #1 Beauty Secret is light-reflecting Yves Saint Laurent Touche Éclat Foundation. And just like I use a trip to the spa and frequent applications of SkinCeuticals (not to mention a stash of the French pharmaceutical phenomenon A313 as my personal pommade), on antiques you can also use lotions and potions. That's why I created my line of Antiques Care and Restoration Products.
I always joke with clients who expect an antique to be perfect that just as we get wrinkles as we get older, you can't expect an 18th C chest of drawers to be perfect. Patina on antiques is like the laugh lines I have in the corner of my eyes. In my own home, I have a gorgeous 17th C Spanish Secretaire which I slather with my lavender-scented Antiques Diva Wood Wax. I must confess… the only greater feeling I've had than polishing a piece of furniture in my home with my very own line of Antiques Diva Furniture Wax and Serum has been deciding where to place my Antiques Diva Collection Neo-Classical Console I designed for Aidan Gray or wearing my Republic of Toma jewelry. 
The Republic of Toma 
By the way – Did you know I changed the name of my jewelry line? When we launched the collection, we named it after me – The TCH Collection (The Toma Clark Haines Collection) – but I realized I made a mistake when the first press mentions began rolling in and we were referred to with transposed initials – the THC collection – the component in marijuana! A name change was essential. But what name? My team of content managers said Keep It Simple. Just Toma. You might say Toma Only (for those of you who read my recent blog of this title), but somehow that felt too personal to use only my first name. I wanted my other company to represent me. To be a glimpse into my world. Welcome to The Republic of Toma. 
The Business of Antiques Podcast 
I was interviewed recently on the Style Matters Podcast by Zandra Zuraw of The Little Yellow Couch. In this interview, I talk more openly perhaps than ever before about my personal journey and my mission in life and business. Speaking of podcasts – perhaps this is the most important thing for today's blog post…
DRUM ROLL PLEASE 
I just launched MY OWN PODCAST – The Business of Antiques! 

October was #NationalWomensSmallBusinessMonth and to celebrate and encourage other women and men to become successful entrepreneurs we launched my new podcast, The Business of Antiques Podcast. Episode 1 How to Start an Antique Business is now LIVE! 
On my podcast…
I'll tell you secrets learned in the field over the last decade – sharing my own personal experiences as well as interviewing some of the top names in the industry.

We'll talk to antique dealers and interior designers as well as antique fair coordinators, antique aggregator sites, international shippers and insurance agents.

If it relates to running an antique business we'll talk about it.
Is there anything you'd like me to discuss on The Business of Antiques Podcast? Just #AskToma and I'll try to answer your questions and discuss your interests in a future episode.
But I need your help to get my podcast found:
As we close I want to say Happy Thanksgiving. I'll be celebrating with friends in Berlin and doing some online shopping for my Christmas list!  Speaking of online shopping – I wanted to offer you a SPECIAL CYBER MONDAY sale!
Cyber Monday Sale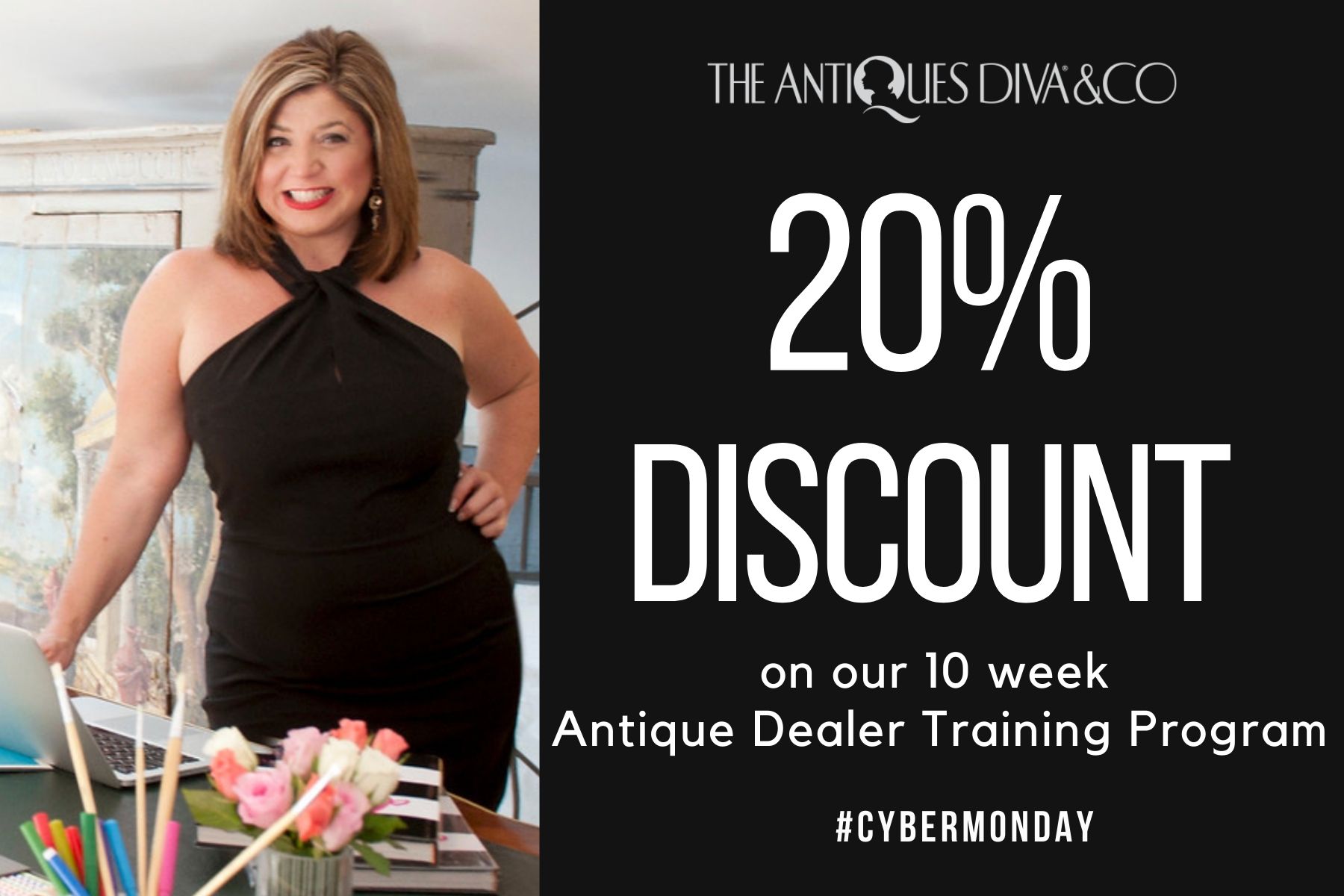 I am offering you a €1000 DISCOUNT ($1,100 USD)
on our €5000 ($5,500 USD)
10-week Antique Dealer Training  Program
This is the BIGGEST DISCOUNT we have offered all year and gets you into the program before the new January 2020 €6500 price goes into effect –
If you book our Antique Dealer Training Program by Monday, December 2, 2019, you can save €2500 off 2020 pricing!!! (That's $2,758 USD) For more information about, .
Speaking of things to book early… why don't you plan to join me in Miami for the 2020 Original Miami Beach Antique Show January 4-8, 2020.  Email me and #AskToma for details Toma@antiquesdiva.com.
Any other questions? Just
Happy Thanksgiving,
Toma, The Antiques Diva
PS. Save the Date: January 19, 2020, is our Annual Antiques Diva Paris Flea Market Brunch.