Dear Diva Readers,
top: 5px; float: left; color: white; background: #781300; border: 1px solid darkkhaki; font-size: 60px; line-height: 50px; padding-top: 1px; padding-right: 5px; font-family: times;">O ne of my favorite things to do in my down time is flip through design books. With inspiring photos and thoughtful text, these books not only keep me informed of what's happening in the design world, but they also give me fresh ideas about how I can decorate my own home. While I enjoy a variety of styles, the magic of "the mix" is what really resonates with me. When I come across a design book that mixes antique pieces with contemporary style, I'm immediately drawn in! A recent book that does just that is Carrier and Company Positively Chic Interiors by husband and wife duo Jess Carrier and Mara Miller.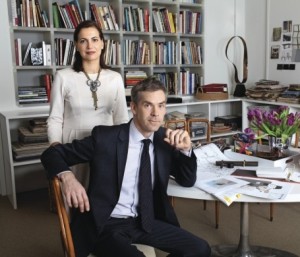 With a combined total of 30 years experience working with New York's premier design firms before opening their own in 2005, Carrier and Company boasts high profile clients including Anna Wintour – Vogue, Bob Pittman, Jane Rosenthal, Catie and Donald Marron, Jay Fielden – Town and Country, Jason Wu and Annie Leibovitz to name a few. Their work has been published in Elle Decor, The World of Interiors, Vogue, Traditional Home, Town and Country, W, and House Beautiful . I'd say this couple knows a thing or two about what people want when it comes to mixing styles to satisfy the way we live now!
Jesse and Mara touch on something that I completely agree with—in the book they explain that their goal is the "perfectly imperfect," meaning they want to achieve spaces that combine various elements that may not necessarily "go together" but that work harmoniously in a room. This mix allows for more freedom in design, and results in an interesting and beautiful place to live.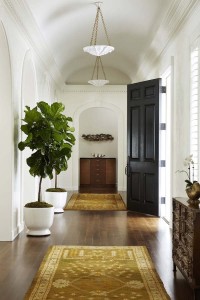 While it's evident that they use modern pieces in their projects, the team also takes on projects that lean on the traditional side. They honor the past but aren't bound by tradition. "Tradition for us is something of a loose fantasy, rather than a tight construct of provenance and period," they say. I couldn't agree more! When living with antiques, I always tell people to reimagine how to use them. While it's important to understand the function of a piece and how it may have been used in the past, it's also fun and exciting to pair it with modern objects and give it a whole new lease on life! Jesse and Mara certainly have an eye for mixing antiques and vintage finds with modern art and case pieces from sources like Restoration Hardware, proving that items from the past and present can mingle together in the same space to create a warm and inviting home—that's also functional!
This new book—and all of its gorgeous photos— shows why Carrier and Company are the chosen designers of so many clients with discriminating taste. They understand the art of mixing high and low, old and new, form and function, and ultimately achieving timeless interiors that reflect the way people want to live. If you haven't already, I highly recommend that you order this chic design book as I know it will inspire you!
Happy designing,
The Antiques Diva®