Dear Diva Readers,
tographies professionnelles C.Madamour" src="https://antiquesdiva.com/wp-content/uploads/2012/03/Poggenpohl_Kitchen_P7340_3-Ritz.jpg" alt="" width="546″ height="819″ />
top: 5px; float: left; color: white; background: #781300; border: 1px solid darkkhaki; font-size: 80px; line-height: 70px; padding-top: 1px; padding-right: 5px; font-family: times;">After last weekend's post on the Poggenpohl Porsche Designed Kitchen in the Imperial Suite in Paris, I'm got the Ritz on my mind!  In fact, do you want to know what dishes are stored within those gorgeous Poggenpohl cabinets?  Haviland's "Imperial China Collection".  This pattern with its 24-karet gold patterned rims, taking a cue from the decorations throughout the hotel, was created specifically for the Paris Ritz.   And believe it or not, the place settings – and all its accompaniments – are for sale online from the Ritz Boutiques in Paris!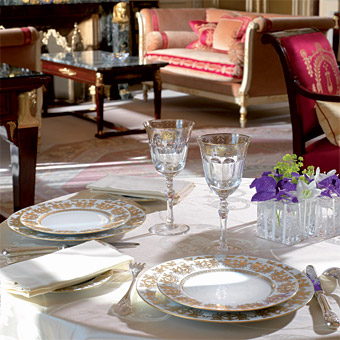 I love the idea of decorating my home with diva-style after the décor of the Ritz Hotel in Paris.   If it's good enough for the Ritz… then it's good enough for me!  But I couldn't consider buying those Haviland Ritz dishes without considering a cupboard worthy of storing them!  Lucky for me, not only are the Ritz dishes for the sale but the Ritz kitchens are also for sale!  You too can custom order your very own Poggenpohl kitchen just like the Ritz Paris!
My mouth is watering at the thought of someday installing a Poggenpohl kitchen in my own home and my husband is practically revving his engine at the thought of the Porsche Design.  
tour">
tour_nyc_250.png" alt="BlogTour 2012" width="250" height="228" />
Poggenpohl is the world's first kitchen manufacturer to use carbon fiber for styling cabinetry fronts. Laminated and applied to a glass front, the lightweight composite adds a three-dimensional appearance, is durable, temperature-resistant and widely used in aerospace and automotive engineering.  
All this has got me thinking… with our 16 year wedding anniversary just around the corner, perhaps we should order his & her Porsche's?? 
A Poggenpohl P'7340 kitchen for me and a Porsche Carrera GT for him!
Gute Fahrt & Gros Bisous! (Good Drive and Big Kisses)
The Antiques Diva®