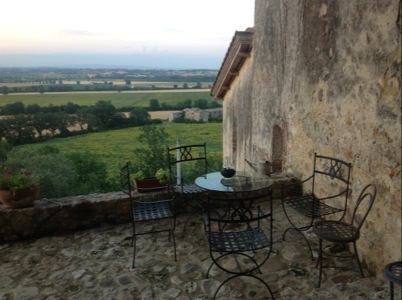 Dear Diva Readers,
top: 5px; float: left; color: white; background: #781300; border: 1px solid darkkhaki; font-size: 80px; line-height: 70px; padding-top: 1px; padding-right: 5px; font-family: times;">As I pulled up the long Cyprus lined road leading to my Italian Diva Guide's Tuscan villa arriving after a long drive alone on the road from Germany, I found myself humming "Buonasera signorina buonasera" a la Fred Buscaglione. I kissed Susan hello on each cheek and a glass of prosecco found its way into my hand, refreshing in the heat. I meandered out her door to a little nook beside the house, admiring the sunflower-filled fields before me, Sienna in the distance, a burnt orange smudge on the horizon. I smiled as I'm certain God did when he created Tuscany. "This is good." I sighed, "Molto Bene."
In an effortlessly elegant way Susan chatted with me as she chopped a mountainous pile of tomatoes, pulled apart pieces of mozzarella and tossed it all together casually in a bowl with al dente pasta, splashing it with extra virgin olive oil made from olives picked on her farm. Tucking a bottle of chianti under her arm and handing me a heavy bowl of arugula she wrapped her fingers around the stems of 2 wine glasses while opening the door.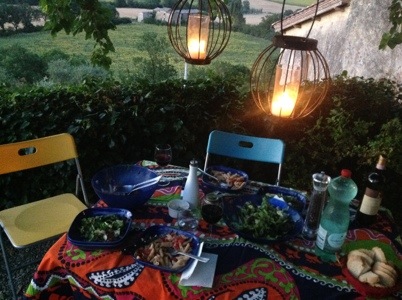 "Vieni con me!" she gestured, leading me outside to another seating area for us to have a casual dinner al fresco. This seating area was modern and peppy and yet so perfectly Susan – again I found myself sighing, "Bene", loving the blend of modern and Tuscan fun.
I had come to Tuscany to help Susan with a six day tours/italy/">Tuscan Tour for an interior designer client of ours. As we chatted long into the night outlining our antiquing plans with the clients I knew that this week together shopping with our clients was going to be good. "Bene, Bene Bene."
Buonasera Signorina Buonasera!
The Antiques Diva®
tons/follow-me-on-pinterest-button.png" alt="Follow Me on Pinterest" width="210″ height="28″ />
tons.sociableblog.com/images/FB5.png" alt="" width="210″ height="40″ border="0″ />
tons.sociableblog.com/images/FMT6.png" alt="" width="210″ height="40″ border="0″ />