In honor of October being National Women's Small Business Month today I recorded my first ever episode for my new podcast – The Business of Antiques. 
But I have a confession. I procrastinated for exactly one month on making this first recording. Now I am super excited about STARTING a Podcast – I have a million ideas I want to talk to you about and I am beyond excited to bring you interviews with antique dealers, antique fairs and interior designers as well as some of the people who operate behind the scenes in The Business of Antiques like insurance agents and shippers as well as a slew of global antique sources on where to stop, shop and drop some dough  – but I'm a perfectionist. And the reality is I knew that starting out my podcast I would not be perfect.  
The first rule to starting anything is simply accepting when you're a beginner – you won't be perfect.
To me starting a podcast host felt daunting. The fear of not knowing enough, of not being perfect, can hold us back when we start something new. But during this time – as I was procrastinating – I like to say I was procrastinating wisely. This sounds crazy – but for me procrastination is often an IMPORTANT part in my process of beginning something new.   As the 1st episode focuses on How to Start an Antiques Business I thought it ironic I was struggling with my own "getting started" issues and I share with you how you can use Procrastinating Wisely to propel your antiques business to success. I tend to be a leap without looking girl. And I'm never one to naturally want to sit down and write a business plan before taking action. But procrastination sometimes gives me the necessary time to do the leg work, to think through the necessary details so that when I leap I land safely back on the ground.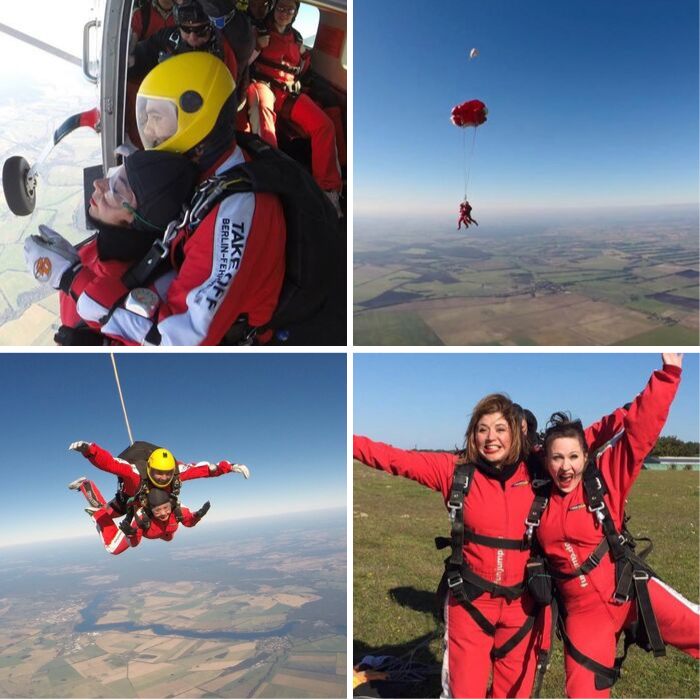 At The Antiques Diva & Co in many ways we act as your parachute, whether on one of our buying tours or in our Antiques Dealer Training and Mentoring program. It's the anniversary of when I first went skydiving for my birthday a few years ago when my friend Lori dared me. (In addition to October being National Women's Small Business Month – it's also my birthday month! I'm a Scorpio which probably  explains so much to you about me)! In last month's newsletter I talked about confronting your fears both professionally and personally. I'm terrified of heights and when Lori suggested we go skydiving I said "Oh Dear God No!" She said, "Why? Are you afraid?" Minutes earlier I had just boldly proclaimed, "I will no longer make any decisions in fear." Lori told me, "The second you jump you'll have a moment of clarity unlike any other moment in your entire life." 
What's the place in your antiques or interior design business where you need clarity? Did you know that often the things you want the most are the things that scare you the most??   
Mon Trésor Venise Fête de Puce
Speaking of scary things… I look like I'm being chased here at the Marché Biron at the Fête de Puce last month at the Paris Flea Market. The night was a NIGHT to remember – and an absolute ESSENTIAL for your Parisian Fall Plans this time next year. Its the one night of the year the Paris flea market opens in the evening with wine and food and festivities for all the best clients of the puce in a party to end all parties. If you're wanting an invite for the September 2020 event make sure to let us know and we'll get you on the guest list.  
Each market at the Marché aux Puces had their own theme for the festival, but without a doubt the Marché Biron took the ball with their theme Mon Trésor Venise where I was asked to be one of the judges of the Venetian Carnival costumed guests alongside lingerie designer Chantal Thomas and French journalist Tina Keiffer. The events at Marché Paul Bert Serpette and Marché Dauphine were equally delightful! In fact, I could have danced all night :). 
One of my favorite vendors at the flea market is Antiquites Rodriguez Decoration located just beyond Marché Paul Bert opposite Jules Valle.  Chatting with Rodriguez' colleague Deborah Calaudiere, we discussed the recent development in the neighborhood surrounding the flea market and the very REAL concern that the area surrounding the flea market will be overrun as the commercial markets expand. The only solution for guaranteeing the flea market stays safe is to get the entire area of Marché aux Puces, the alliance of the 12 antiques markets – certified as a Unesco World Heritage site. As the official guide of the Paris Flea Market we're joining the cause – and rallying our followers asking for your help to #SavetheFleas. One of the ways you can save it is simply by continuing to shop it. Show the vendors your support and make a trip to the Paris Flea Market part of your Paris plans when traveling internationally.
The Paris Flea Market without a doubt is the best flea market in the world.  
#HPMKT
October for me means High Point Market. I'm excited to announce that Aidan Gray Home – where I have my own furniture collection, The Antiques Diva Collection by Aidan Gray – is launching their next licensed collection this market. Enter Diane Keaton Stage Left. The Keaton Industries Collection of Industrial Chic Lighting. 
ton: Keaton Industries Collection of Industrial Chic Lighting for Aidan Gray Home  " width="700″ height="680″ /> Randal Weeks of Aidan Gray Home and Diane Keaton
I'm also excited to announce that Interior Designer David Santiago will be using The Antiques Diva Collection in his room at the High Point Junior League Showhouse. Stay tuned on The Antiques Diva & Co Facebook Page for a Facebook Live with me and David on Friday October 18th. 
One of the hot topics as Market approaches is the situation with China and the tariffs being imposed on imports. Last week I sat down with Furniture Lighting and Decor magazine to discuss the future of antiques (stay tuned for the article in the next issue) and I shared how more and more furniture showrooms are turning to me for sourcing antique accessories for their showrooms to help increase their profit margin. Across the furniture industry the discussion is that we are in a time of change. One of the ways contemporary furniture showrooms are confronting those tides of change is by bringing more experiences into their locations. Antiques inherently tell a story and take their buyers on a journey to other times and other places offering one of a kind goods that aren't accessible elsewhere in their Design Centers or Markets. A combination of new and old seems to fit the mood of the modern day buyer and I see more and more antique dealers also adding contemporary items into the mix of their inventory with candles and pillows leading the pack of items dealers are selling.

The Mix
My opinion is that ART Is leading the way for Antique Dealers looking to expand their inventory. Antiques Diva client Brooke Drake is doing an amazing job as she re-brands her store and re-launches her business. Her stall currently on display at Marburger Farm in Round Top is a fabulous example of the phrase "It's All About the Mix." She's doing a SPECIAL $500 Giveaway – make sure to contact Brooke for details. 
No where else do you find the Mix as well represented as you do in Asia. As I was chatting with Furniture Lighting and Decor magazine I told them the trend I see in antiques is that Mid-Century Modern is giving way to Art Deco, which works well with the paired down minimalist style that seems de rigeur at the moment. What I love is that Asian Antiques make perfect sense in these interiors to give an absolute sense of wanderlust and hint of global chicness to any home whether in Dallas or Detroit! I was texting the other night with Interior Designer Robert Passal about his new wallpaper collection (I'm considering either his circular black and white or gray marble for my kitchen) and we were discussing our upcoming trip to Miami for The Original Miami Beach Antique Show this January 4-8 #SaveTheDate to join me there – and what he doesn't yet know is that I am going to twist his arm to join me in 2020 in Thailand on an Antiques Diva Asian Tour. Robert has led the way for the last several years in designers using Asian accents in his interiors, and his projects have graced the pages of some of the most important publications in the interior design industry.

I heard on a marketing podcast one time that in business you shouldn't be too far ahead of the competition. In launching our Antiques Diva Tours in many ways were way ahead of the competition and the launch of the Asian Antiquing Tours has been a slow start. But do you want to know what's interesting? We don't get A LOT of clients on our Antiques Shopping Tours in Asia but we get the BEST clients on our Antiques Diva Asian Tours. It's quality vs quantity. And what this tells me is that this is the next trend coming in interiors. The LEADING names in the world of interiors are buying Asian antiques and accessories. And IF the pathmakers are buying Asian antiques what you will see more and more is shelter magazines publishing their works which means the crowds will follow. One of the advantages I have in my business is having my finger well poised over the path of interior trends as I watch what the forerunners in the industry are buying our on our antique buying tours.

With winter around the corner its the perfect time of year to start contemplating your trip to Thailand where you find the largest and best assortment of South East Asian Antiques. When you book both an Antiques Diva Tour in Bangkok and Chiang Mai this December, January or February we're offering a $500 discount if booked before November 1, 2019. Just mention you read this exclusive offer in our Antiques Diva Blog.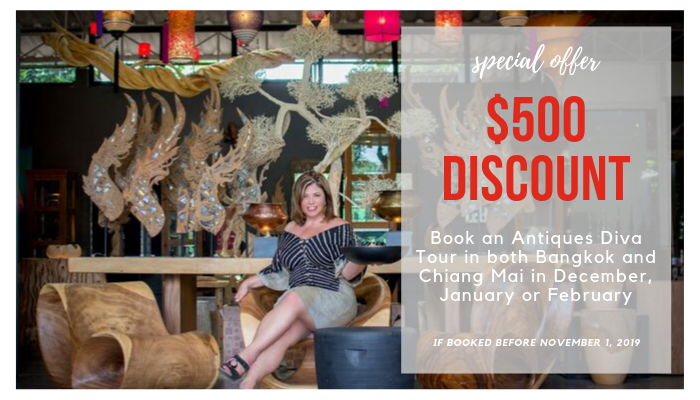 As for now, I need to dash. I am at my home in Venice and have a train waiting to take me to Parma to shop with interior designer Nancy Price and interior design marketing maven Chemin Taylor Smith for a VIP Mercanteinfiera Tour.   

Ciao Ciao for now. Follow my stories on Instagram to get the inside scoop on what's happening in Divaland. Trust me, there's never a dull moment.

Toma – The Antiques Diva