Dear Diva Readers,
The dust has barely settled from my recent trip to the USA speaking on buying antiques abroad followed by a quick jaunt to Venice for a Salon during the Architectural Biennale and then onto Antwerp sourcing antiques through our Buying Service for a client who didn't have time to come abroad…. And yet, I'm already scheduled again to hit the road this weekend going to England for the Grand Opening of a "new" Antiques Warehouse! Well, as they say… everything old is new again!
This new antiques store is the result of a marriage made in heaven – but quite an unusual union! Stuart Atkinson and Kiel Shaw owners of Fontaine Decorative and Martin Johnson and Paul Wong owners of Martin D Johnson Antiques have been friends for a long time, both trading in the coastal South of England counties of Kent and Sussex. Both businesses rank at the top of the decorative trade tree but each retains its own unique style and character, enough so that the boys all go buying together in the South of France without falling out! Based on this close relationship, synergy of business style and many 'planning meetings' in the restaurants and bars of England and France, they are trail blazing a new way to trade by opening a monumental warehouse together just outside Lewes, East Sussex, which opens to the public on Monday 13 June 2016.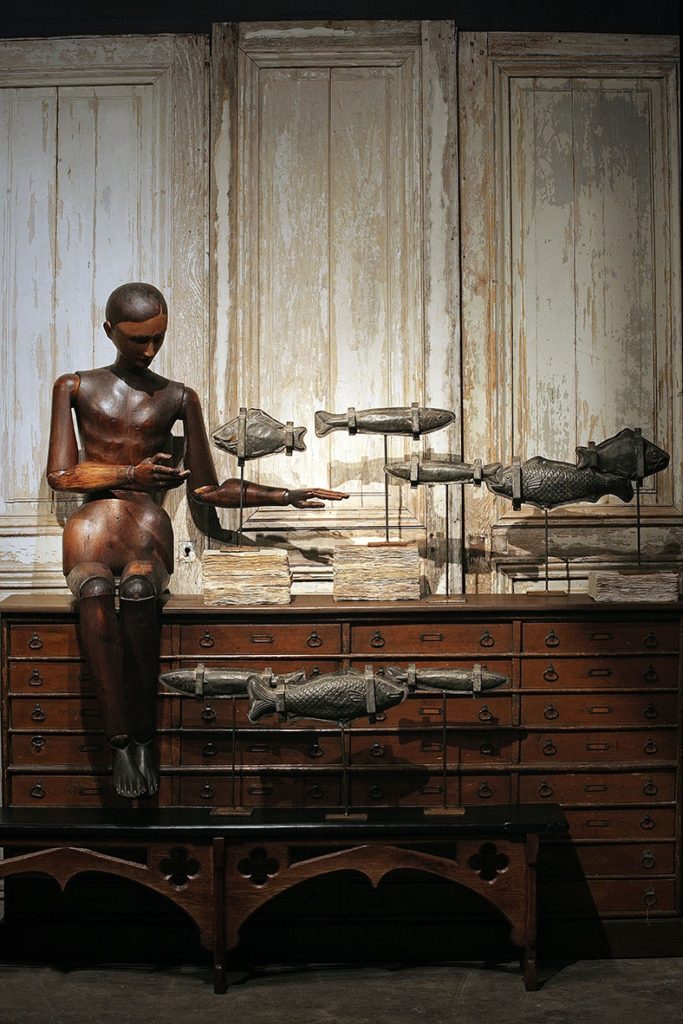 Gail McLeod, our Antiques Diva Agent leading our England Antiques Tours has worked for a long time with both businesses, both in her role with my company leading English antique buying tours as well as her own business Antiques News and Fairs. As our Roving Reporter on the Ground in England – Gail explains:
"Martin Johnson Antiques is a family business which has traded in the High Street in Seaford, East Sussex for nearly 30 years, moving from dealing in silver and semi formal oak and mahogany to the uber decorative look they are known for both at home and in the US, dealing in C17th, C18th and C19th English antiques and a mix of decorative French furniture, industrial pieces and mid-century furniture.
Another successful arm of the business is their line of bespoke commissioned pieces using recycled industrial equipment and elements, uniting antique components with more contemporary materials, sourcing locally and in France.
Martin and Paul have become expert property hounds over time, buying and restoring a number of neglected beauties and they worked hard to get planning consent to convert their Seaford premises to residential use so that they could decamp to a more user friendly space for their huge business – parking and loading are key to the life of a dealer to say nothing of ceiling height. This all came to pass in 2015 when permission was granted and they found their new warehouse on a beautiful farm just outside Lewes and the future became clear.
Over in Kent, The Fontaine Boys, as they are known by most people, who had started their career in the Lewes area some 20 years ago, had also been busily acquiring and restoring cherished buildings and their first Margate showroom was once Margate Town Laundry. This too had parking, loading and ceiling height issues so they let it to a well known animation company and acquired a warehouse showroom in nearby Broadstairs which opened in 2015. They too are property junkies and they also acquired an unloved shop in the centre of nearby Ramsgate which is currently being transformed into a retail showroom and will be the next Fontaine Kent outpost.
From their humble beginnings setting off for their first adventure in France 20 years ago, Fontaine are now established and experienced French decorative antiques dealers and members of LAPADA – The Association of Art & Antique Dealers. Their informal and relaxed approach when it comes to buying and selling antiques has attracted a cool and loyal following – hipster antiques and collectables expert Mark Hill wrote, 'Stuart and Kiel who run Fontaine are veritable alchemists when it comes to display. Their innate skill and eye at sourcing objects of beauty and desire are unparalleled, but it's what they do with it that marks them out as truly top-flight dealers and decorators'."
At The Antiques Diva & Co we cannot wait to for the launch of this union – and we're utterly certain the result will be The Best Antiques Warehouse in England. The Martin D Johnson Antiques & Fontaine Lewes collaboration will be styled in a room set showcase layout choreographed by period and style. We've had a sneak peek into the space before opening day and can attest – it's warm and inviting and almost loses its industrial cloak when you enter the very smart offices area – squashy sofas and good coffee on tap! The venue will be an absolute boon for visiting trade – always on a deadline, who can now see a high volume stock from two of the key suppliers in the industry under one roof.
Happy Shopping Mates!
The Antiques Diva®
---