As I write this month's blog I'm sitting at Le Deux Magots in Paris waiting as my 16 year old twin nieces explore Saint Germain des Pres and I take a moment to catch up on office work. They are visiting from Oklahoma. We've spent the afternoon at the Musee D'Orsay and my nieces spent hours staring at paintings they'd only seen on calendars. Meanwhile I've a blog to write. The advantage of my life is I can work from anywhere. Closed – or rather Ferme – signs dot the doors of the smaller shops in the neighborhood. My favorite cheese shop is closed. So is that little jeweler. As is an antique dealer I can't afford but must "lèche son fenêtre" each time I'm in town. Tout Paris is en vacance.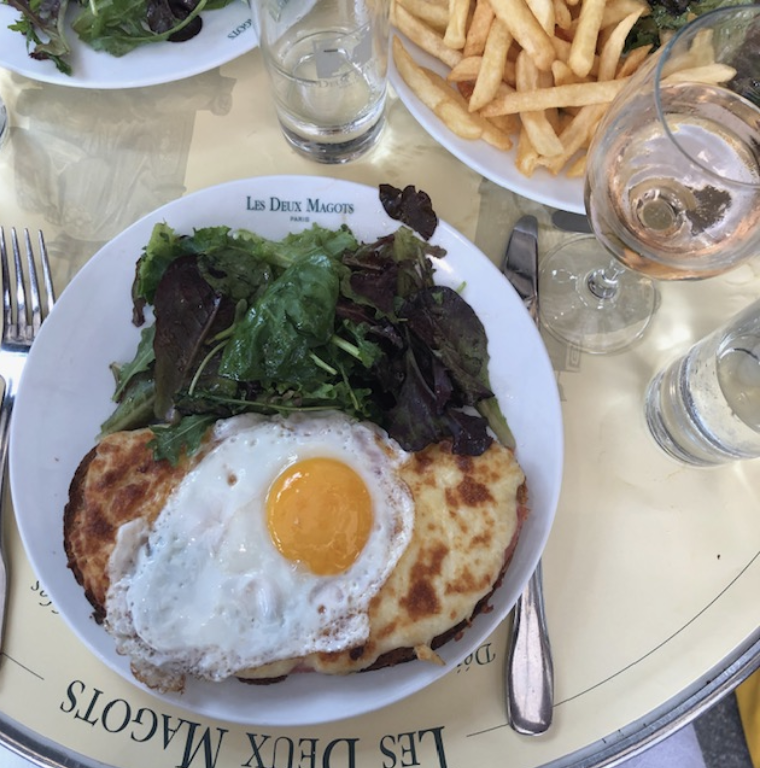 It's August, which means the French flee the city in droves for their summer holiday. This tradition – leaving Paris in the summer – has been going on since the Middle Ages when every August the French monarchy drained the moat to clean the moat walls. The stench was so overwhelming it drove Parisians from the city into the surrounding countryside. This started an annual tradition of the Parisians leaving Paris during the month of August.  
Tradition.  
Tradition. 
Whenever I'm in France I hear the word reverberate across the clay pot chimneys on the rooftops like in Fiddler on a Hot Tin Roof.  
tops-of-Paris-.png" alt="rooftops of Paris" width="500″ height="672″ />Like most things in France, the tradition has lasted through the centuries – long after the moat was filled in Parisians continue the tradition. Today the city practically closes down during the first few weeks in August. But we have come to visit Paris as part of our summer vacation. I've written time and time again about the young ladies and gents in the 17th to 19th Century who took their Grand European Tour to learn the leading art, culture and traditions of their time. Today I'm taking my twin nieces on a modern day Grand European Tour. When my ex-husband and I chose not to have children I had one condition. "If we are not going to have children," I told him as a negotiating tactic, "then I want to invest in my nieces and nephews."  
The summer of their 16th birthday we bring my nieces and nephews to Europe. It's a rite of passage into adulthood and forming a friendship with their Auntie. My friends joke I'm Auntie Mame – Mame is a flamboyant, exuberant woman, who hosts frequent parties with eclectic, bohemian guests. Her nephew Patrick is quickly introduced to his aunt's free-spirited and eccentric lifestyle. My sister has 6 kids and this summer the last of the nieces – twins –  turn 16 at the end of August. And for 1 and a half months we are traveling – I am taking them on a Modern Day Grand European Tour. The rules of Auntie Toma's house are simple – we can go anywhere, we can do anything but you have to explain to me WHY you want to do it. Give me a logical explanation – articulate yourself, your wants and your dreams – and the sky is the limit. Let's make those dreams come true. In the meantime, I teach my nieces l'art de vivre  – the art of living like a diva.  
 to-Market.png" alt="Cooking lessons with fish from Venice's Rialto Market" width="700″ height="495″ /> Cooking lessons with fish from Venice's Rialto Market
At home in Venice we went to the Rialto Market and bought fish which I taught them how carve and cook whole, debone and serve with flourish. In Berlin visiting their uncle, my ex, we dined in the dark at the "blind restaurant" where all the waiters and waitresses are blind and the diners eat in darkness. Now we are in Paris… that bastion of civilization. As Hemingway wrote, "If you are lucky enough to live in Paris as a young man then wherever you go for the rest of your life Paris goes with you… afterall Paris is a moveable feast."  I was one of those lucky ones. Living in Paris in my 20's – my friends joked at the time I was the ultimate BoBo – Bohemian Bourgeois. Living in a 5th floor walk up on the Rue de Seine, taking cooking lessons at Le Ritz Escoffier and spending every franc on antiques found at the brocantes. Those years living in Paris, on the Rue de Seine, shaped me into the lady I became in my personal life – but also gave me the lifeskills and professional contacts to launch my business The Antiques Diva & Co. When I look back at my life in France it reminds of reading Julia Child's biography and watching her life unfold in Julie & Julia.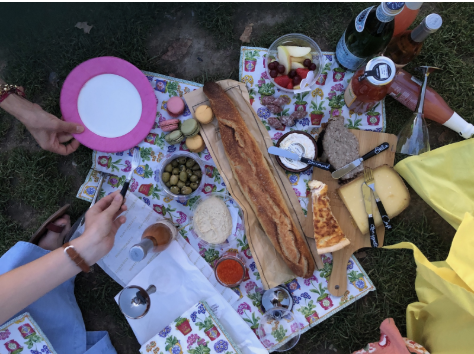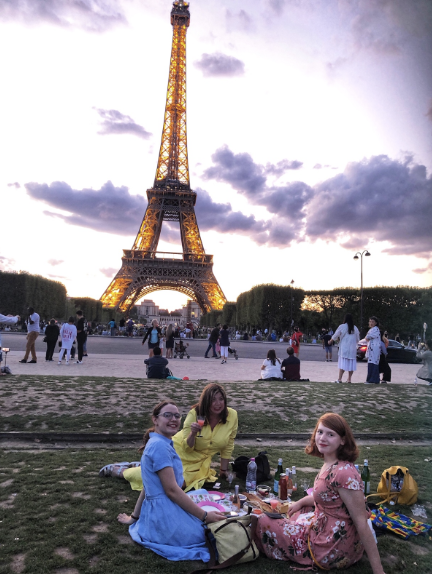 One of my nieces – Jazlyn, the redhead – wants to be a chef and while the girls are here this summer we're on a gastronomic tour of the continent and beyond. Next stop – London. Then Greece. Then it's back to Italy to take the train throughout the country then up through Austria, stopping in Salzberg before the girls fly back home to Oklahoma. It's a trip of a lifetime – follow along on Facebook and Instagram @TheAntiquesDiva. This trip will shape them, the way they live their lives, pursue their dreams and their idea of the world.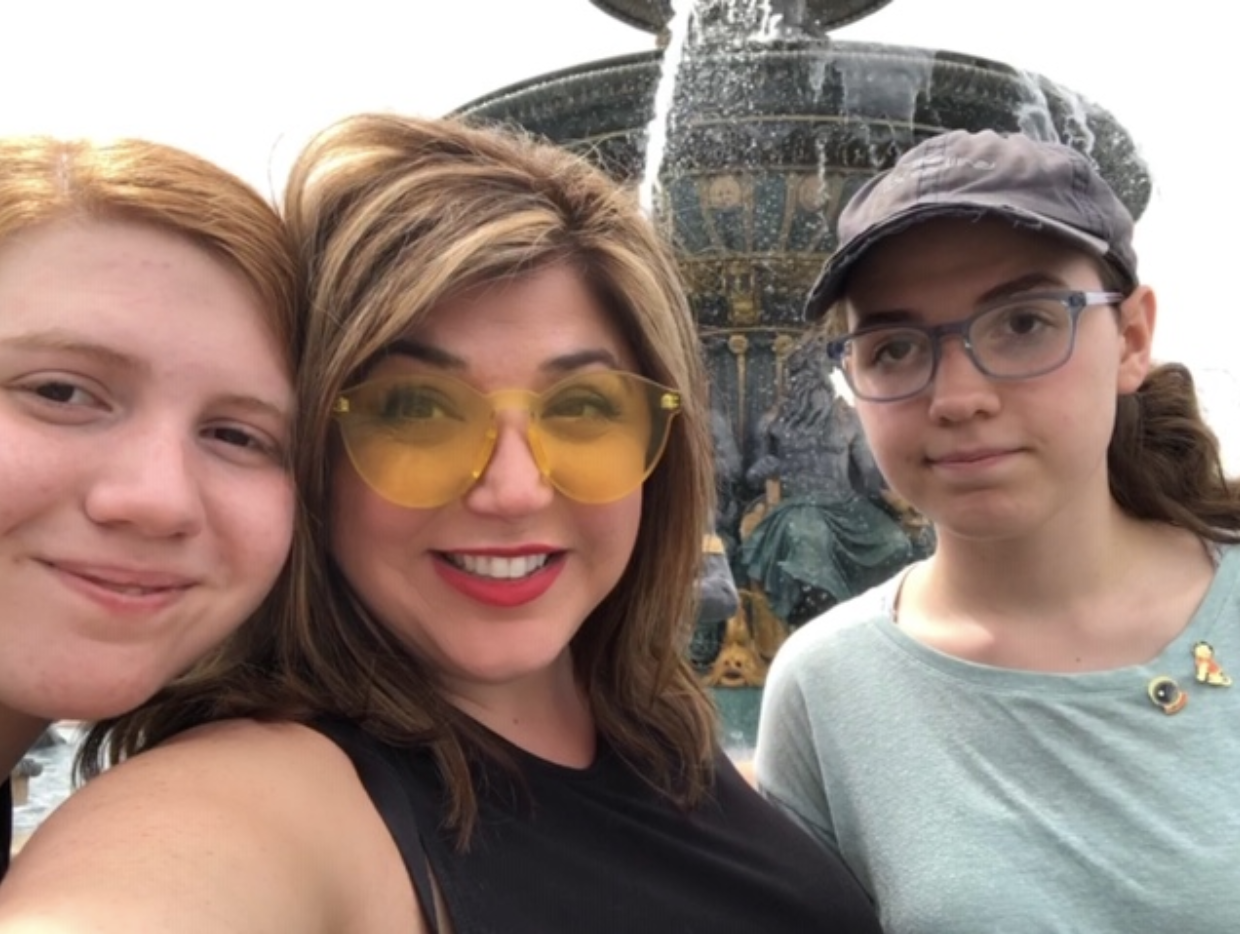 The Business of Antiques 
The role of Auntie comes naturally to me… And in many ways Auntie is the role I play with my clients. Some call it Auntie. Others say Fairy Godmother, making their dreams come true. Bippity Boppity Boo. At The Antiques Diva & Co we offer antique buying tours in 16 countries helping clients source antiques overseas – translating, negotiating and helping clients ship their purchases home – but for years we've been unofficially mentoring our clients, helping them not only stock their store, but also giving behind the scenes advice on everything from marketing and branding, to sales strategies, and inventory management tips. When we started the Antiques Dealer Training and Mentoring Program (ADTP) earlier this year it was an instant success. We offer one-on-one customized training as well as workshops. And are currently working on planning our NYC Fall Antiques Dealer Training Workshop in October and another Antiques Delaer Training Workshop with the opportunity to source antiques abroad in Provence in April 2020 – contact me for details! 
During these sessions – whether at our workshops or in our one-on-one consulting – we get intimate with our clients, discussing their business in depth. We delve into what they consider their failures and their successes. We point out successes they are not aware of and we give warning flags where danger lies ahead. In workshops we pull out from each client what we consider to be the Key Learning Points that others in the group could learn from their peers. We encourage our co-trainers to disagree with one another as advice is given so the clients get multiple perspectives and advice. In the group sessions we give as much customized advice specific to the clients needs as we can, while the private sessions 10 sessions are devoted entirely to you and your business. We brainstorm, but perhaps the most important thing we do is we hold you – the client – accountable.  
Accountability. I have a love/hate relationship with that word. 
For the last year I've been going to the gym. Faithfully. I have shown up whenever I'm at home in Venice and not traveling for business. (I still stink at working out when I travel). I don't show up because I have a burning desire to exercise. I show up because I have a date with my trainer. And I don't want to disappoint him. (Sidenote: if you're in Venice, Italy and looking for a Personal Trainer I recommend Club Delfino at Zattera). My trainer has been integral to my success in my workout plan. I wouldn't have done it on my own.  
This July I visited the nutritionist at my gym and I told him that I wanted to start a new diet plan – not a diet, quick fix, lose lots of weight immediately kind of plan, but a holistic approach to eating healthy for life. We looked at my current diet. We did all sorts of tests so I knew not only my % of body fat, but how much water I retained and my muscle mass (the good news working in antiques means you have to be pretty muscley and my muscle mass was great). And then, after disecting everything we agreed on, a plan that I think can work for me. When I'm deciding between having dessert or not, having the fish or choosing the lamb, I think about my nutritionsist and the weigh-in I'll have at the end of the month.
The hardest thing you can do is face the facts. I did not want to know the % of body fat I had. But doing so helped me get real. It helped me understand what my problems were and what I could do about them. It gave me a roadmap for the next year for my health. With your business it's similar. You need to have a road plan. And sometimes having a 3rd party assess your situation as well as give ideas is the best thing you can do. It's not easy but it's a recipe for success. And I like success, which means it's essential for me to put the right people and tools in my life. 
When I started Antiques Diva I didn't have a business plan. Over the last 5 years I've slowly started assembling what I now refer to as the Antiques Diva Bible. But it's a living bible. The contents change. They are updated. I try to make them as clear as possible so they are not open for misintepretation. And I evaluate: does this really work for me? I challenge my own beliefs about my company. And sometimes I have to make changes – websites need updated and logos changed. Even core values in the company change as the times change. Most of all – the needs of our clients change. And when I give my company regular physicals, we improve as a company.  
torship-Program.png" alt="Digital Marketing Audit for Antique Dealers" width="700″ height="400″ />
Is your antiques business healthy? When was the last time you evaluated it? Our Antiques Dealer Training and Mentoring Program reminds me of working with my physical trainers and nutritionist to create a plan for healthy living. With our Antique Dealer Clients,
we create action plans together

we create goals and set dates for check ups

we give encouragement

we give tough love
We point out what they are doing wrong but tell them how to fix it. In conjunction with the mentoring program we've launched a slew of other services – from Marketing Services for Antiques Dealers – to one of the services I'm most excited about…  a Digital Marketing Audit for Antique Dealers. Subscribers to our AD&CO Newsletter (subscribe here) received a special discount in the last newsletter — a 500 EURO savings if they booked a Digital Marketing Content Audit for Antiques Dealers service by August 1. For new subscribers to the newsletter we're extending this offer until September 1, 2018. Don't know what a Digital Audit is? Or why you need one? Read more in the newsletter. 
Whereas you might be reading your Diva news on my blog, did you know that in addition to the normal social media sites Instagram, Facebook, Twitter and Pinterest, that I'm also active on LinkedIn? You can find me @TheAntiquesDiva. An article I wrote last month titled Becoming CEO of My Life – Not Just My Business was wildly popular as I explained not only how I took control of my personal life but also addressed that question, How do you get it all done? If you've enjoyed the business tips for antique dealers I've shared recently on the blog and in our newsletter, I recommend you follow along on LinkedIn as we share more business advice for antiques dealers there.
As I close, I offer you the advice I offered my nieces just this week: 
Find what makes you happy. And do it.
This year blogging has started making me happy again. For several years I struggled with blogging – it felt like an obligation instead of a joy. Which is why I took control this year and changed the way I was blogging. Making the posts more personal, but also blogging less but giving more of myself each time when I do write. This week I had the opportunity to dine on the rooftop of a fabulous apartment in Paris with longterm blog readers Ron & Debi Lily. When you write a blog you wonder, Does anyone read this? Am I writing words and sending them out in to outer space where they will never be seen again? Chatting with Debi she told me, "I bought that book you recommended." She remembered a few details of my life over the years. And it made me feel so good to know that she was a loyal reader through the years. Maybe it's because I'm traveling with teenage girls, but I'm thinking of that book, "Are you there god, it's me Margaret?"
Ask Toma
Dear Reader, if you're out there, drop a line and let me know. I want to know what you want to hear about on the blog. What questions you have? What questions I can answer? I want to know how I can better serve you.
I want to share a few pics from a recent trip to Giverny with my nieces – Monet's home an hour from Paris. It's such a great example of following the beat of your own drum. Monet lived during the Victorian times when furniture was dark and heavy. While everyone else was modestly covering their legs, Monet painted his dining room bright yellow. He did it because it made him happy. He didn't care what others were doing in home fashion – he did what he liked. He did what appealed to him.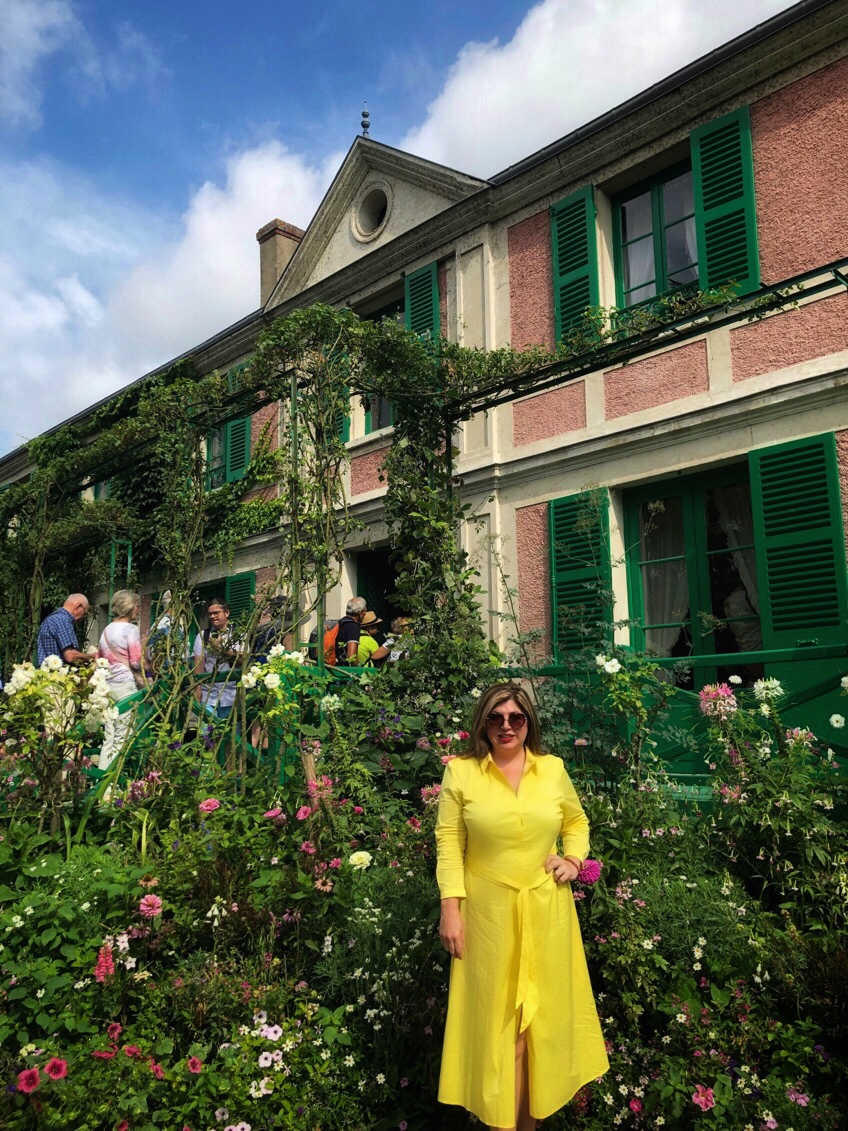 Monet became Monet because he was uniquely himself. For my nieces, that's the best role model I can image. For you as an antiques dealer it should be your mantra. Do what makes you happy! Become your own Monet. 

Thanks for being there. 
Toma – The Antiques Diva