I'm crushing on Chinoiserie – it's a chic blend of what you find on The Antiques Diva® European and Asian Antique Buying tours. Travel opens your eyes and senses to new ideas and experiences, and we bring our new experiences back with us and interpret them into our own homes. As celebrity interior designer Bobby Berk told us: "Modern interior design is all about the global mix." Our guest blogger Liza Jones, of Liza Jane Interiors, shares her love of Chinoiserie with us and how to bring the global mix with some Eastern flair into your home! 
I've always been fascinated with all things Asian and I especially love Chinoiserie. Both as a general interior design style and as individual elements seen in interiors of all types, it's one of those styles that have been around forever but really never goes out of fashion. 
So you won't have to struggle through this post, here's how to pronounce 'Chinoiserie' which is derived from 'chinois,' the French word for Chinese: http://howjsay.com/pronunciation-of-Chinoiserie . 
It all started in the 15th century when Marco Polo explored 'the Orient' and brought the first exotic Eastern treasures like colorful silks and carved ivory and jade ornaments back to Europe.
Chinoiserie – which has always been less about representing the Far East accurately and more about Europe's idyllic, romanticized idea of the other side of the world – took the west by storm in popularity in the 17th and 18th centuries. It was truly the first international design style.
Both then and now, Chinoiserie motifs range from the natural (willow trees, mountain ranges, streams, monkeys, elephants) to the man-made (pagodas, bridges, temples) to the fantastical (foo dogs, dragons, phoenixes). 
Bearing those motifs is the ever-popular blue and white porcelain. Did you know these vases, plates, ginger jars, and more were at one time among the biggest exports from China to Europe? Today it's everywhere and at just about every price point.
My preference has always been antique Chinoiserie. Take a look at some of these beautiful antiques I spied that would make any space special.
English, 19/20th Century Chinoiserie Porcelain Vase Table Lamp, 1st Dibs 
Early 20th Century Chinoiserie Granddaughter Clock, 1st Dibs 
Antique Italian – 4 Panel Leather Chinoiserie Screen, 1st Dibs
Chinoiserie Figural Porcelain and Ormolu Two Arm Candelabra, DECASO 
19th Century Black and Gold Chinoiserie Strong Box, 1st Dibs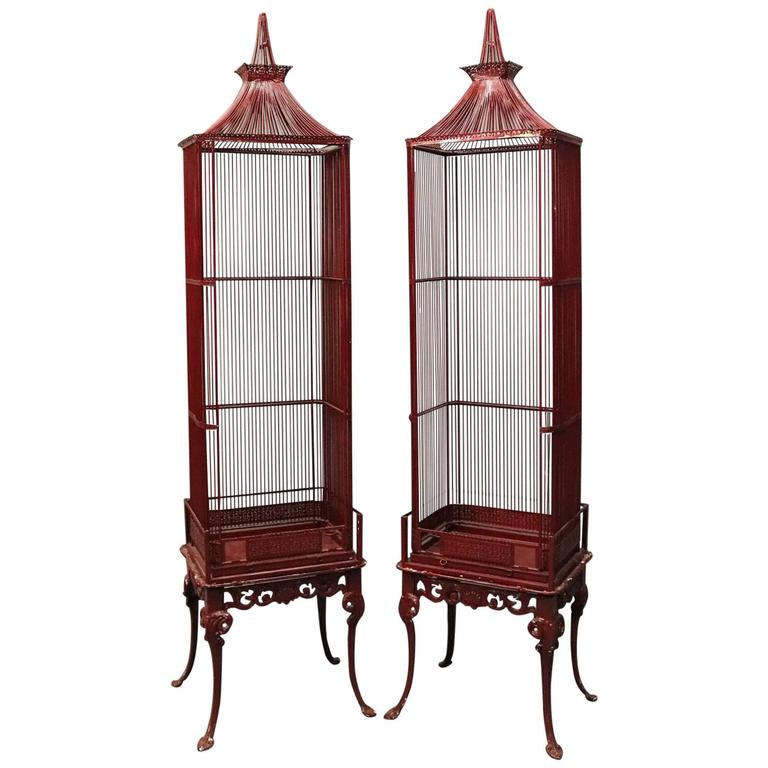 Vintage French Chinoiserie Pagoda Bird Cage Display Cabinets Circa 1940, 1st Dibs 
Rare 1920s Chinoiserie Lamp with Tassled Pagoda Shade and Foo Dog Base, 1st Dibs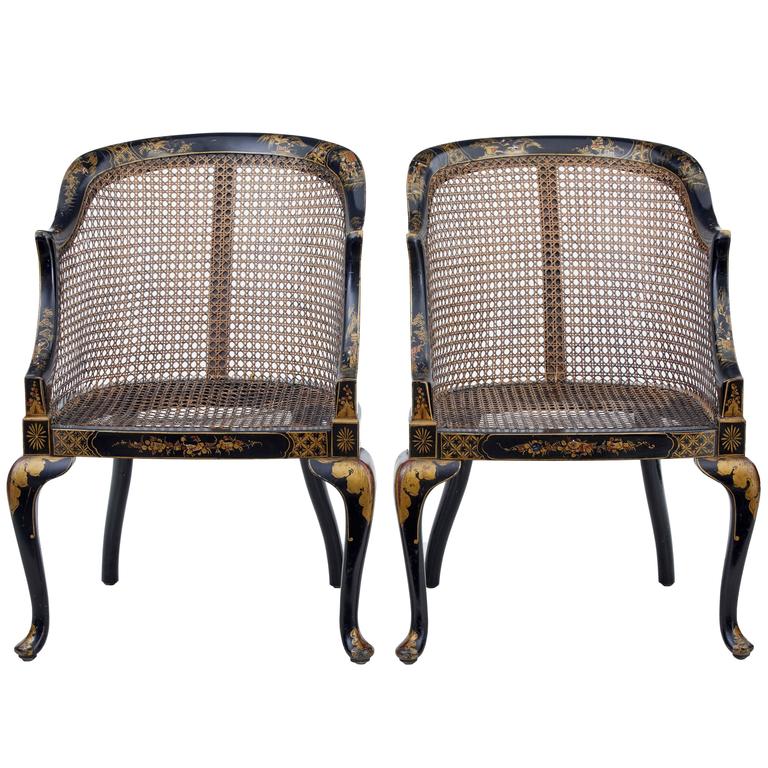 Pair of early 20th Century Lacquered Chinoiserie Cane Chairs, 1st Dibs 
19th Century Large Chinoiserie Iron Black and Gold Tray, 1st Dibs 
Antique Chinese Bamboo Chinoiserie Settee, DECASO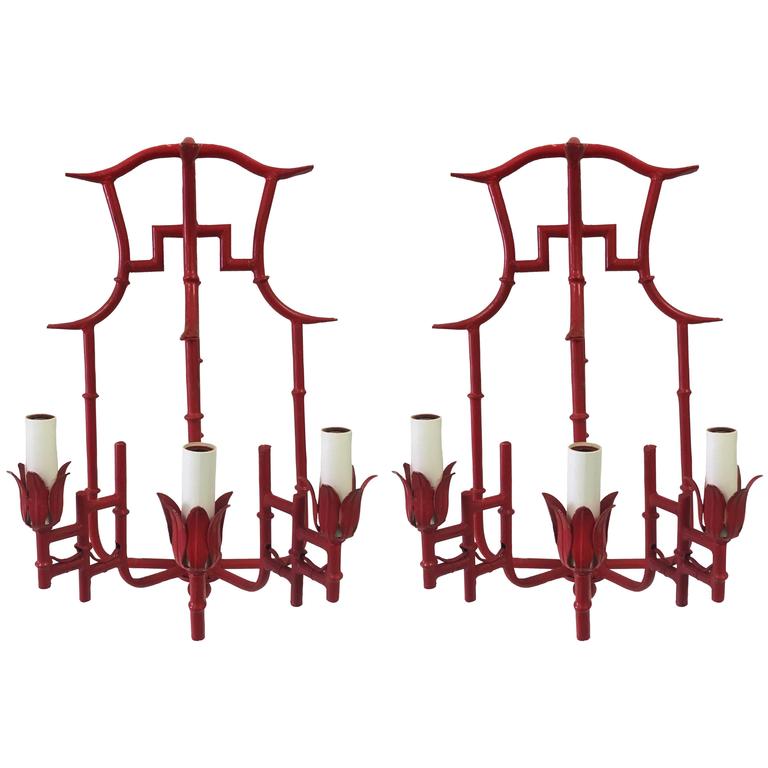 Pair of Red Chinoiserie Bamboo Sconces, 1st Dibs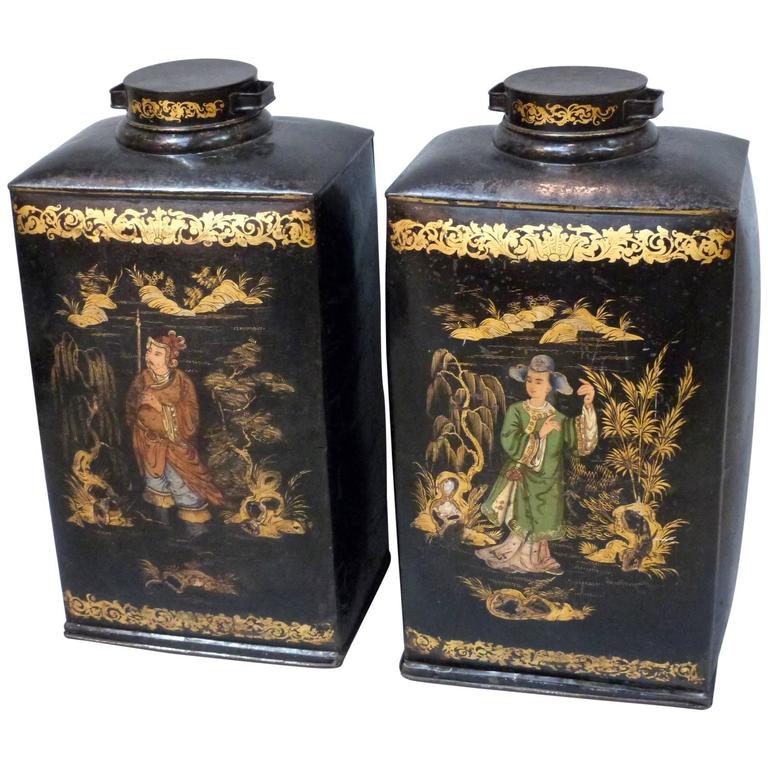 Pair of large, rare, 19th Century Chinoiserie Tea Canisters, 1st Dibs 
We see Chinoiserie's timelessness in currently very trendy fretwork patterns and glossy lacquered furniture finishes. Chinese garden stools, lacquered Ming tables, and ginger jars also adorn many of today's homes of all styles, from staunchly traditional to ultra modern.  
If you are looking to infuse your own home with a bit of Eastern-inspired flair, here's a selection of some of my favorite pieces on the market today ranging from pagoda-shaped lanterns to bamboo-framed mirrors. I just might have to get a dog so I can have that fabulous pagoda dog bed!
Pagoda Lantern, Charles Edward Lighting 
Pagoda Mirror, Interior HomeScapes 
Pagoda Pet Bed, Society Social 
 Willow Salad Plates, Loveramics 
Macau Armchair, Ballard Designs 
Oscar de la Renta Pagoda Bar Cabinet, Century Furniture 
Many of the grandest, most fashionable rooms have one thing in common: hand-painted Chinoiserie wallpaper. Some of the best quality today are from Gracie or De Gournay. Take a look at these absolutely stunning wallpapers. 
Handpainted Chinoiserie Wallpaper, Gracie 

For those of you who might be on the fence about installing wallpaper, I have found a company that sells temporary wallpaper in Chinoiserie styles and I think they look amazing. How cool is that?! 
By the way, remember to always order a sample of any wallcovering you're looking to put in your home, whether temporary or not, as colors can look very different on a computer screen than they do in person. 
When it comes to Chinoiserie print fabrics… the sky is the limit. Almost every fabric line carries one or two patterns at the very least. I have pulled together just a few of my many favorites for you here. 
Vintage Fabric via Pinterest
Isn't it fun knowing you can put something (whether it's brand new or a rare antique) in your home today that's been considered beautiful and stylish for centuries? Even though the tide of design styles ebbs and flows constantly, I'm confident we'll never see Chinoiserie be anything less than the epitome of chic.
So tell me, are you brave enough to include a little Chinoiserie in your home?
Liza Jones, owner and principal designer at Liza Jane Interiors in McLean, VA, believes that good design is transformative, allowing us to experience joy when our living environments offer beauty, functionality and comfort. 
A proud eighth-generation Virginian, Liza has a unique ability to spot unusual pieces that will punctuate and define a room's décor. She then combines those pieces with other elements to create an elegant, cohesive finished space that reflects the clients' personal tastes.
Her passion for gardening and original fine art, and her ongoing world travels inform Liza's tastes for different styles and cultures. She sources a wide range of unique furnishings, artwork, and accessories to create living spaces for her clients that move their souls.
Liza Jane Interiors
liza@lizajaneinteriors
www.lizajaneinteriors.com
703-966-1554