Dear Diva Readers,
top: 5px; float: left; color: white; background: #781300; border: 1px solid darkkhaki; font-size: 60px; line-height: 50px; padding-top: 1px; padding-right: 5px; font-family: times;">It's no secret that I love to decorate my home with antiques. Since my home caught fire a couple years ago and I lost most of my material possessions in the flames, I've been scouting across Europe creating new collections, seeking accessories and staple pieces to complete my new flat. But now that I have my main pieces in place, that doesn't mean that the decorating is over.  I, like many design enthusiasts, tend to get bored with stagnant interiors that don't change or evolve every so often. (heck, every day!)  And while buying all new furniture would be a huge budget buster – not to mention a hassle – creating fresh tablescapes on a regular basis is a fun way to shake things up a bit.  (Confession… soon as I wrote "shake" I began singing Taylor Swift's song Shake it Off!)
When I say tablescape I'm not just talking about the dining table. You can design table arrangements on console, coffee, and side tables. Even other flat surfaces like shelves, mantels, and window ledges can be used to artfully display objects. Here are some easy tips to get you started on creating beautiful vignettes using antiques in your home.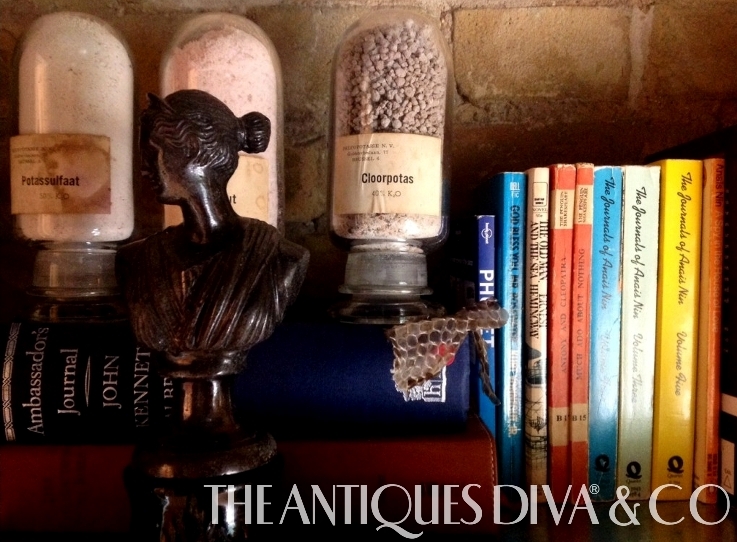 Keep it cohesive, but never boring. As with any decorating project, it's important to know your personal style and the overall "look" you're going for. For instance if you have a mid-century style home and theme, you probably won't be adding heavily carved victorian pieces to your room. The same rule applies with tablescapes. Keep the style consistent with the rest of your decor and try to complement other elements in your home.
In order to keep it from feeling boring, mix up the heights of objects. Use books to stack things on top of and think about layering pieces of art in front of each other. I love the look of using small tabletop easels to display artwork or even photographs.
Add natural elements to your vignettes as well. Mixing materials such as shell, horn, flowers, and geodes with antiques really sets off the patina of the older items. Also using interesting pieces is important. That's what's great about antiques— they are NOT being sold mass-produced at every decor store which means when you decorate with antiques you're giving your home a uniquely you spin!
Whether you hunt for accessories at antique shops, flea markets, or tag sales, think about what other items you can pair them with to create visually interesting tablescapes throughout your house. And remember, the same as when it comes to dating… Opposites Attract!
Happy Decorating,
The Antiques Diva®