Dear Diva Readers,
top: 5px; float: left; color: white; background: #781300; border: 1px solid darkkhaki; font-size: 60px; line-height: 50px; padding-top: 1px; padding-right: 5px; font-family: times;">As I'm gearing up for High Point Market next week, I wanted to invite you all to a party I'm hosting in conjunction with Currey & Co called Midnight in Paris with The Antiques Diva & Co! It will take place in the Currey & Co showroom on Saturday October 17th from 3 to 5 PM and is sure to be one of the most fun events at High Point, as everyone knows Currey & Co's showroom is THE place to be for a good time! The idea of the party came when we had the pleasure of taking the Currey & Co team on an Antiques Diva shopping tour of the Paris Flea Market this year during Maison Objet. Their team came over to Paris for inspiration and boy did they find it! We were able to take them to sections of the market they didn't even know about. In fact, their PR Maven Bethanne Matari says, "The Currey & Co design team spent a full day with Toma & Dive Guide Danielle at Le Puce de Paris. Having been to the market more than 20 times on our own, they took us to the back side of the flea market where we'd never been before – and it was all NEW to us. We found lots of inspirations and a few concrete ideas on new furniture designs. The best part of the day (other than a superb lunch) was a tour of vintage clothing & fabric shops. We could have spent all day there! Toma and Danielle seemed to know just about every vendor at the flea market and were full of historical information on how Le Puce came to be. All in all, it was a thoroughly entertaining day—oh,  and did I mention champagne!  Bubbly always makes an excursion more fun."

While Currey & Co is known for their lighting lines which include chandeliers, wall sconces, table and floor lamps, they also manufacture a wide range of home furnishings, garden furniture, and accessories. In fact, they've been a purveyor of distinctive garden furnishings since 1988. The essence of Currey & Company is not only the product for which it is known but also the very important people who help to create the product and carefully deliver it into the hands of those other important people, the customers, in a timely fashion. While people are key, the product is also the lifeblood of the company and at Currey & Company they take pride in their original design work , meticulous craftsmanship and careful attention to all details of a product. The effort of their multi-step hand-finishing process manifests itself in the richness and depth of the final finish of many of their products. The appearance of these pieces speaks of the human hands that have touched them as well as of the design skills and craftsmanship that have created them. They have the willingness to do what many other manufacturers regard as too difficult or too time-consuming, and it certainly shows.
Some new products we love that will launch at this market are:
1. 3249  AR 4497  Sinclair Bar Cabinet
50.25″w x18.25″d x54.5″h
Material: Wood/Printed Glass
Finish: Black Lacquer/Emerald Green Lacquer/Malachite
A provocative mix of gloss black lacquer and reverse painted malachite glass panels make you want to see what's inside this beautiful bar cabinet. Features include a gloss emerald green interior, lit with under-mount lighting, touch on/off, wine bottle storage for up to 13 bottles, a pull out tray and adjustable glass and wood shelves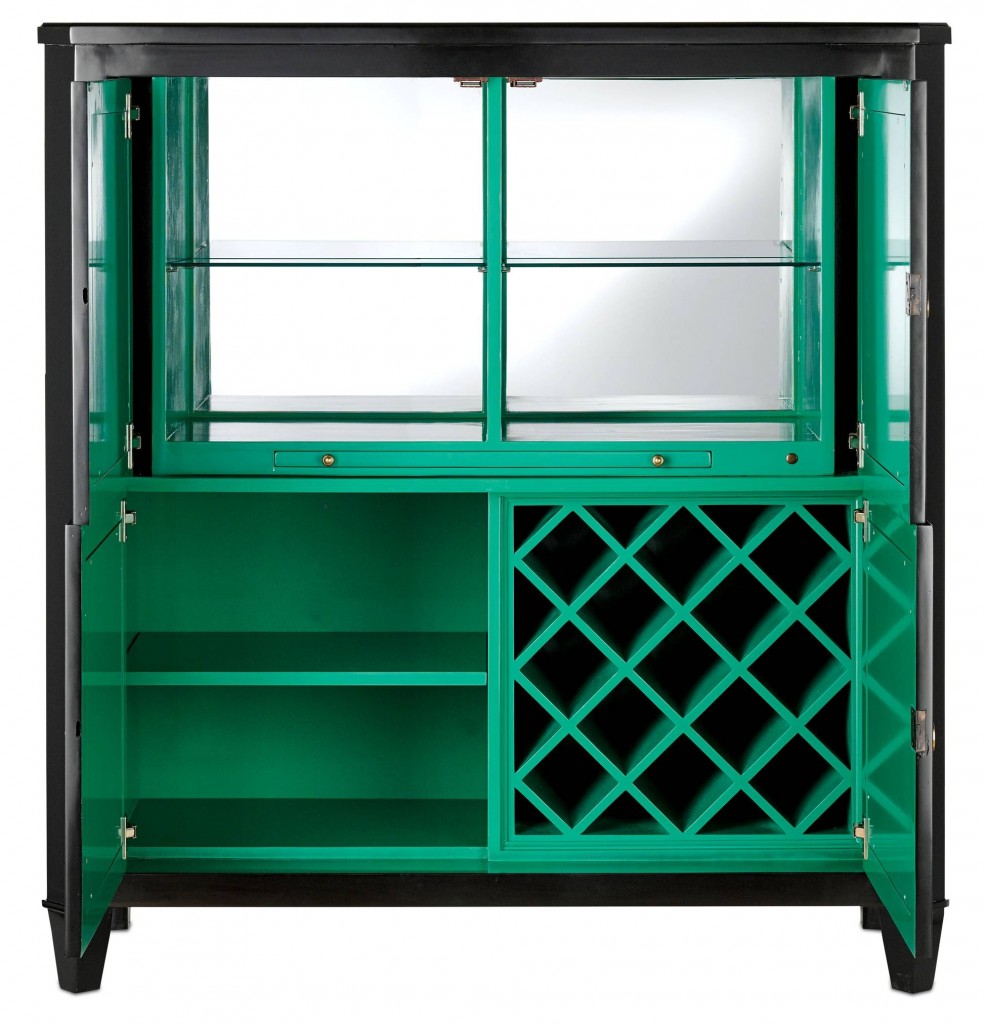 2. 4217  Odeon Bar Cart
36″w x19.75″d x35.5″h
Material: Wrought Iron/Mirror
Finish: Gold Leaf/Black/Light Roche Antique Mirror
Modern chinoiserie story with geometric patterning and shallow curved detail reminiscent of Chinese architecture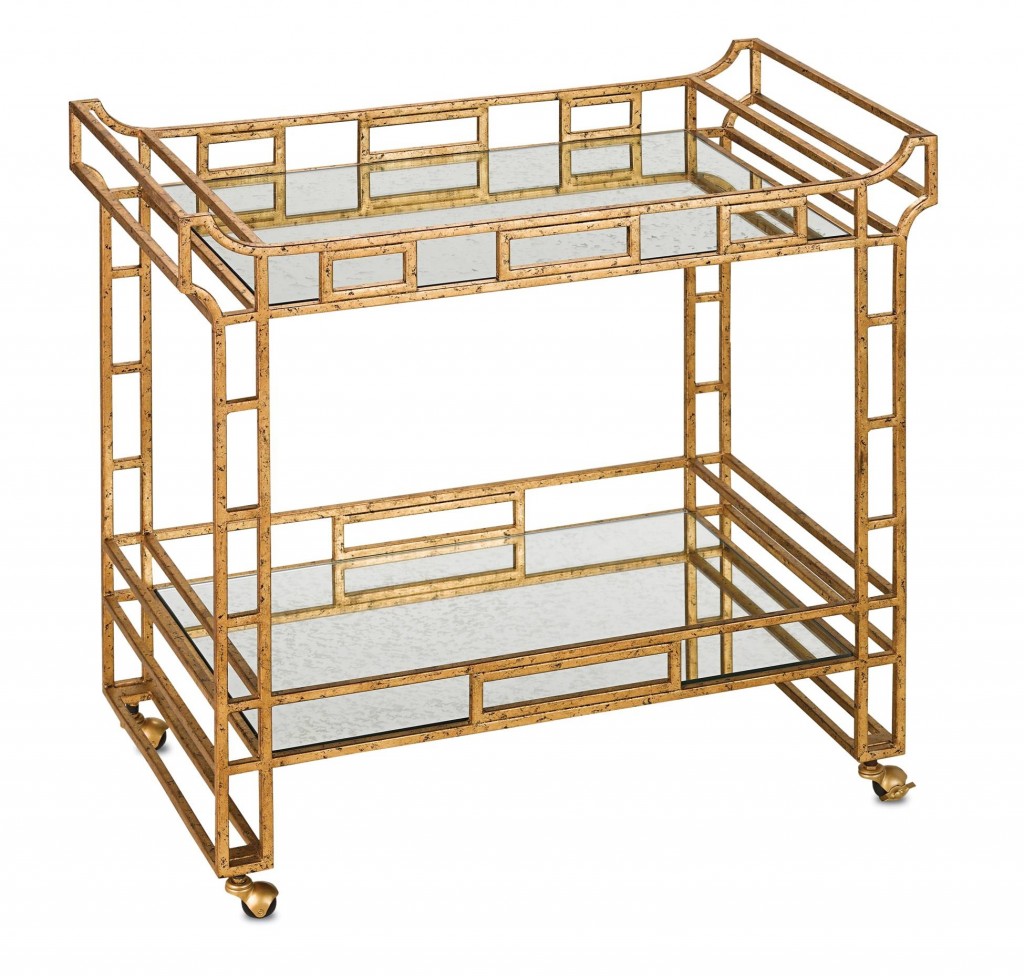 3. 3258  Zhin Cabinet
33″w x23″d x62″h
Material: HDF/Solid Steel
Finish: Snow White/Molten Lava/Contemporary Gold
This Modern Chinoiserie cabinet has crisp lines, bold color and geometric hardware from an Asian motif. The lava red inside adds drama and the hardware is a statement on its own. The cabinet features ample storage with soft close drawers, cubbies with cord management and an adjustable shelf than can be removed to accommodate a small flat screen TV.
4. 6258  Hester Table Lamp
34″h
Material: Ceramic/Metal
Finish: Gold/Black and White Stripes/Satin Brass
Shade: Off White Shantung
18x18x10/150w/1w/A
And an exclusive sneak peek only here on The Antiques Diva Blog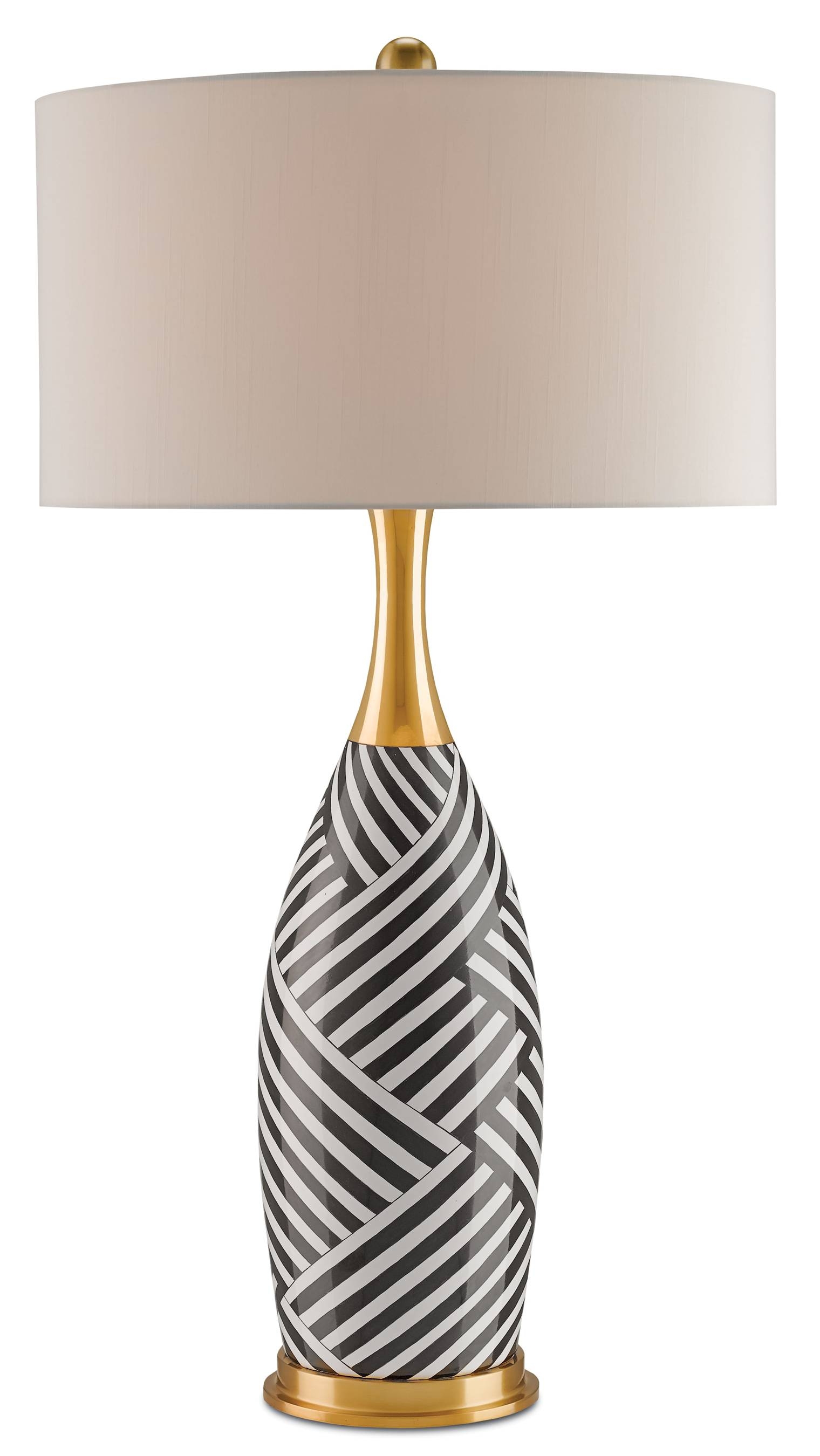 5. 3244 Clara Folding Screen
78″w x2″d x74.25″h
Material: Wood/Brass/Linen
Finish: Natural Black Linen/Brass/Bronze
Inspired from a bangle bracelet this screen is full of drama. The black linen texture compliments the hand finished brass cladding that is inlayed into the piece. Each panel is hand wrapped in brass cladding to frame out the design with class.
Cannot wait to see all these new products in person! Be sure to join us at the Midnight in Paris with The Antiques Diva & Co party as you can enter to win a tour of the Paris Flea Markets with the DIVA. Join us for lively conversations about antiques, design, travel and more while sipping a champagne cocktail, listening to live music and viewing new Currey products on the first official day of market.  SPECIAL 100 EURO OFF Diva Tour Gift Certificates will be given out at this fete in everyone's favorite showroom at High Point! See you there!
Ciao,
The Antiques Diva®