When I was in my 20's and had first moved to Paris, I opened a new journal and I wrote one sentence. I've started a million other journals since then, living a million different lives, as my journey took me the last two decades from living in Paris to Amsterdam and Berlin before making Venice home – but in that particular journal, there is still only that one sentence. The rest of the journal is blank. I didn't know what words would follow – but I knew I was writing my manifestation. My mantra. The life I would live.
I want a life less ordinary.
My mom often reflects, "Your life is interesting, but it's not easy."  She sees past the glamour of my life to the day to day toils of living abroad. Here there are inconveniences you don't face in Oklahoma where I grew up. Radiators that never seem to heat the apartment causing me to sleep under fur coats in the winter. She sees me carrying groceries home in the rain over bridges and up flights of stairs. She's regaled with stories of the acqua alta filling my magazzino and me frantically elevating storage items so they're not ruined by the famed Venetian floods. More than once our Skype has been interrupted when the electrical fuse blows because I turned the tea kettle on forgetting I was running the washing machine. She sees the minor – but yet –  practical – inconveniences of my life abroad. And while my life may not be convenient by American terms, darn it's sexy.
I joke I can tolerate anything but two things – ugly decor and to be bored. And – my life is many things – but it's always beautiful and it's always interesting. 
Venice Biennale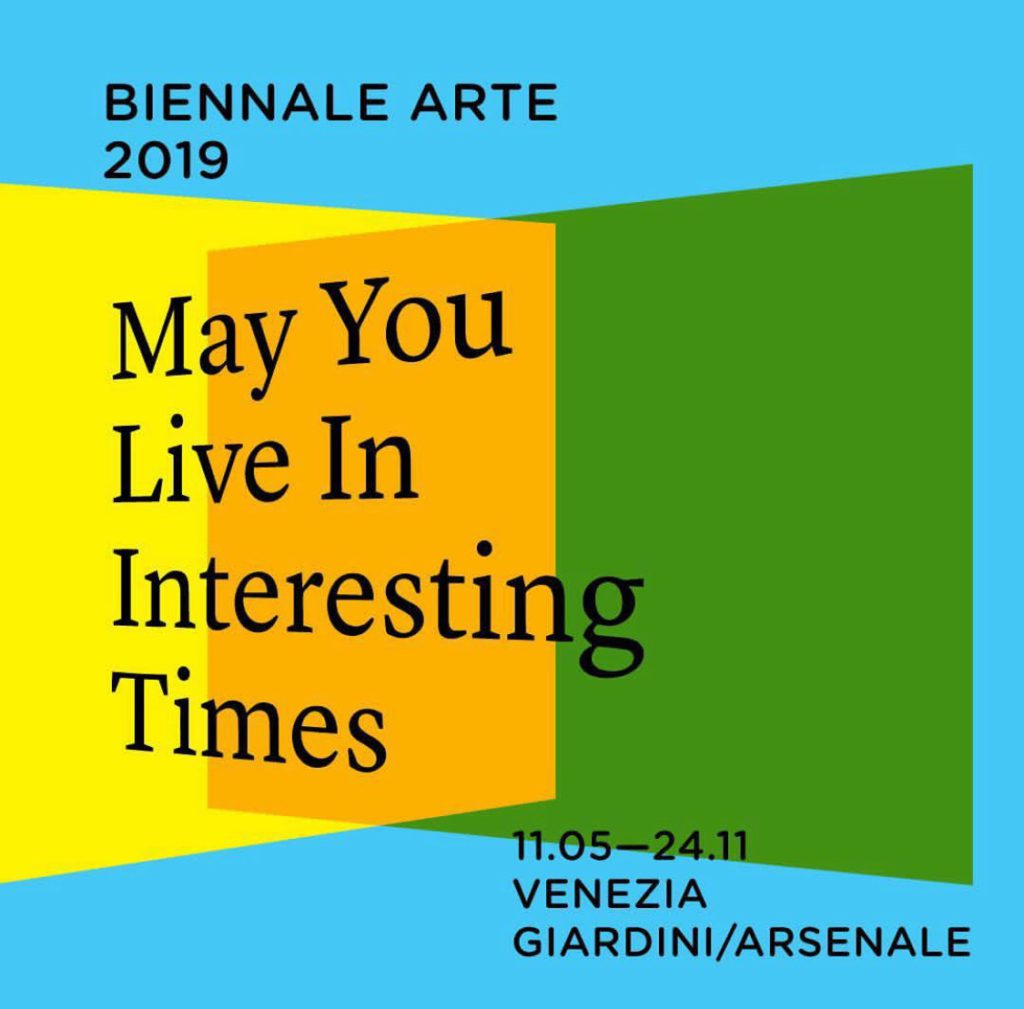 It's this sentiment that made me smile when I saw the theme of this year's Biennale di Venezia – "May You Live In Interesting Times." The quote refers to 1966 when Robert F. Kennedy delivered a speech saying, "There is a Chinese curse which says 'May he live in interesting times.' Like it or not, we live in interesting times. They are times of danger and uncertainty, but they are also the most creative of any time in the history of mankind." Anything is possible.
I found myself reflecting on this sentiment during the opening week of the Biennale as I attended the #DiorBall- also known as the #TiepoloBall – organized by the Venetian Heritage Foundation for their 20th anniversary. Held in the Baroque 17th-century Palazzo Labia, the ball was a reenactment of the 1951 Beistegui "Bal Oriental" – dubbed the ball of the century. Both in 1951 and this month at the event, all of European society floated down the Grand Canal clamoring to get in. Among the original guests in 1951 were Christian Dior, Salvador Dalí and Orson Welles. Now, the guests were Sienna Miller, Tilda Swinton and Sandro Kopp, Peter Marino, Monica Bellucci… and… uhm… me?!?! alongside my dear friend Steven Moore of BBC's Antiques Roadshow. At times like this, I pinch myself. How did I get this life I'm living? With 380 guests in attendance, it was a formal sit down dinner catered by the Gritti Palace. And just as at the original event, the guests were charged to dress as if in a Tiepolo painting – tableaux vivants – so they became part of the decoration. As we climbed the stairs after being dropped by our water taxis and private boats at the palazzo we were presented in the main salon of the palace in the room where Giambattista Tiepolo painted his masterpiece The Banquet of Cleopatra. It was magic… (You can read more about the night in Vogue.)
Behind the scenes at the Venice Biennale Dior Tiepolo Ball
When debating what to wear to a ball hosted by one of the world's greatest fashion houses where everyone I knew was going to be wearing haute couture… I decided to focus on the accessories. After all, "if" as Oprah says, "there's one thing I know" – I know it's all about the accessories. My dress was pretty – an emerald green empire waist strapless gown that I'd worn once before but on my head – I wore a swan. Yes. You read that right – but don't take my word for it, watch Paris Mode TV to catch a glimpse of my feathers! 
The jewelry was all my own design, Republic of Toma. Around my neck, I wore a ring of interconnecting pearl frogs with black diamonds for eyes. In life – not just in romance – you have to kiss a lot of frogs to get what you want. That means sometimes you have to go through failures and times in your life that things don't go your way to get what you want.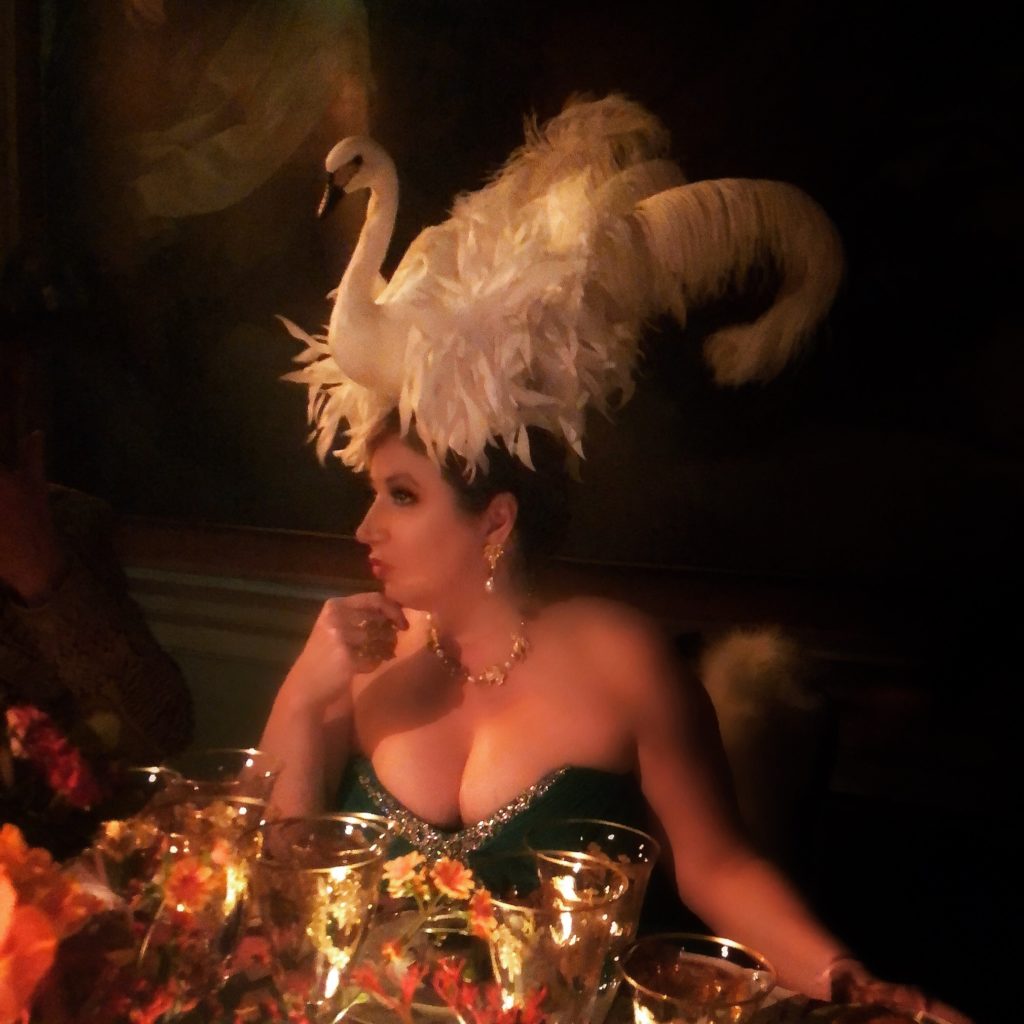 At my table in the SeaRoom, I sat at one head of the table with my escort Steven across the table parallel me. At the very moment the Frenchman from Van Cleef & Arpels sitting to my right asked, "Why do you live in Venice?" and I responded matter of factly, "Because it makes me happy," a photo was snapped. On my face is a look I rarely see. A look of quiet contemplation. I manifested this life. I build this life. A life less ordinary. I have found my home. Ca' Toma. 
In Dior's autobiography, he wrote about the 1951 event, describing that evening as "the most beautiful" he had ever seen and that he "would ever see" and the event "a true work of art." As my friend Steven Moore was on the water taxi heading home after an amazing week in Venice to England he texted me, "No detail was left unattended. No matter how small. We seemed to float along as if in a dream. I kept thinking I was going to wake up, but sometimes dreams do come true."
You and only you have the power to make your dreams come true.
What are you dreaming?
Antiquing in the South of France
Coco Chanel said, "Beauty begins the moment you decide to be yourself." Two photos, taken a week apart capture the essence of me. In one I'm wearing a White Swan fascinator on my head at the Dior Ball in Venice. In the other, I'm wearing a white motorcycle helmet while sitting in a sidecar of a WWII era Ulta motorcycle antiquing in the South of France putting finishing touches on our newly revised Antiques Diva Provence Tours. (lol. Sidecar optional :). #WatchThisSpace we're working on organizing our next training program for antique dealers held at a special retreat in the South of France. The photo is not about the helmet – though that is a great accessory – It's about the adventure. We're visiting Carpentras and Ville Neuve les Avignon, Aix en Provence and of course Ile sur la Sorgue. The deballages – in Avignon, Montpellier and Bezier – are still at the top of our #mustshop Provence list for antique dealers – but we're also adding in appointments in private homes, and a surprising amount of chic new concept stores that show you that antiques can be super sexy. I've fallen in love with Marseilles recently – a city that wasn't my favorite and now suddenly feels like home. It's a city where Europe and Africa meet, allowing you to take a journey within a journey.
Journeys Ca' Toma
Perhaps that journey within a journey is also what I like about reading. Summer is coming and we've our cabana booked in Lido and my stack of summer reads is mountainous. My bookshelves are overflowing with biographies, business books, travelogues and simple inspiration/motivation. It can take me months to finish a book as I don't want to reach the end of the author's journeys. I'm sad when it's time to say goodbye, like parting with a dear friend who I don't know when I will see again.
The last few books on the list start revolving around Venice… As Joann Locktov writes, "I Dream of Venice." (If you've not read Joanne's books then you must add her newest book to your reading list.) Hmmm… this makes me ponder…  Joanne is another American woman making a mark on Venice.  
As an American woman living here, I find it fascinating is that Venice has a history of being influenced by American women. There is Peggy of course. But the Countess Elsie Gozzio saved Fortuny, allowing it to become what it is today. And it's practically impossible to write a chronicle of the 20th C without including the salons of Princess Winnaretta Singer de Polignac – yes, that Singer of sewing machine family fame. When she married her husband Edmond she bought him the Palazzo Contarini Polignac as a gift. And then there was Isabella Stewart Gardner who of course rented the nearby Palazzo Barbaro in 1890 becoming a patron of the arts. Today these American women who left their mark on Venice surround my home here. I live across the Grand Canal from the Guggenheim and the Palazzo Contarini-Polignac. My grocery store stands in the shadow of the Palazzo Orfei (today known as the Palazzo Fortuny on the Campo San Beneto) and the Palazzo Barbaro is a mere stone's throw away.
Colnaghi: Private Exhibit at Abbazia di San Gregorio
During the Biennale Opening Week, I attended countless parties – but one of my favorites was the invitation from Parisian interior designer Chahan Minassian, Richard Nathan and Jorge Coll, the Spanish art dealer, and the CEO of Colnaghi, one of the world's oldest and most significant art galleries. In the historic Abbazia di San Gregorio, Chahan Minassian created his signature atmosphere incorporating Colnaghi master paintings with vintage and modern furniture and design showing how one lives with art and antiques. The collaboration is "the home of a 21st-century traveller" illustrating the lifestyle of a modern-day collector. And much like , the Abbazia di San Gregorio encapsulates the timeless spirit of the Grand Tourist in a contemporary setting. Just as in love and in science, in interiors opposites attract. The juxtaposition of contemporary furnishings set amidst medieval architecture and art spanning the centuries is simply sexy.
While the exhibit is private, Colnaghi will take private appointments to shop the exhibit where all the art is for sale. Of the Grand Tour connection, Jorge Coll of Colnaghi explains,
"Throughout this project, we want to show that a collection is not just a pool of assets: its real value lies in its connection with the life of a collector and is built from memories, experiences, friendships and discoveries. Building a collection is a voyage of discovery and, as with every voyage, the traveler needs guides if he or she is to arrive at the right destination. The collector needs to have good people to do research, to create the right relationship with the experts and dealers to ensure that what is collected is something that he or she can feel proud of and enjoy, something that will live on into the future."  
A Private Tour of Abbazia di San Gregorio
Fortuny
Over the years on The Antiques Diva blog, I've written frequently about the Grand Tour – and last month after I introduced the Silk Road into my dialogue. His book detailing his journey bicycling from Venice to China comes out soon and I'm anticipating its release. Silk is the thread that unravels in my mind as my mind shifts from the Colnaghi private exhibit in Venice to the Palazzo Fortuny. While you can't visit the Fortuny factory itself – the process is still a tightly woven secret – you can visit the 15th C Palazzo Pesaro degli Orfei where one of the greatest minds of the 20th Century lived and created. Mariano Fortuny was a 19th/20th C Renaissance man and perhaps one of the people from heaven I'd most like to meet. While we think of Fortuny for fabric – his stretch and influence go beyond textiles. He was a pioneer photographer, an inventor of theatre and stage lighting plus he patented a plethora of inventions, among them a machine for pleating silk which he used to create his Grecian-style "Delphos" dresses. In his will, Mariano spelled out his wishes that the factory no longer makes the Delphos gown after his wife Henriette's death.
15th C Palazzo Pesaro degli Orfei where Mariano Fortuny lived
Knowing the rarity of these gowns, my friend Nancy Heckler donated her mother's Delphos gown to the museum. (You can find out more about Nancy's mother's foundation by visiting the janetcramerfund.com). When the curators opened the box and unfolded the pleated Japanese silk dress they wept. The dress now is on display in a room layered in antique and oriental fabrics alongside more exotic artifacts and patterns from Africa, Central America, and Polynesia. The room is indeed another tribute to the Grand Tour and beyond. It's a glimpse into the objects that inspired an artist from around the world – and perhaps a glimpse into one of the greatest minds on the intellectual and artistic scene at the turn of the 19th century.
I always joke that I wish my friends could see into my own mind. While I'm far from an intellectual, my mind is nevertheless a beautiful place. I dream in colors that Pantone hasn't classified yet. As I begin the process of writing my book I'm seeking the words to describe that cavern in my head. In the end – art is often merely about just that. Expressing ourselves. I visited the Förg in Venice exhibit at the Palazzo Contarini-Polignac – one of the official collateral events of the Biennale. The curators of the exhibition have layered Gunther's art over the family's own tapestries which lined the walls of the piano noble. As we were leaving the exhibit which is held in a private home a member of the Polignac family stopped my friend Steven Moore – one of the worlds leading porcelain experts – to ask his opinion. And back up the stairs we climbed, to see a collection of tiles on the palazzo balcony walls. My friend named the artist he believed who had created the tilework and as we stood on the balcony overlooking the mouth of the Grand Canal again I smiled that smile of quiet contemplation and felt that perhaps finally – nearly 20 years later – I had the words to write in that journal after my one sentence,  "I want a life less ordinary."
Until next month,
Yours
Toma