Dear Diva Readers,
top: 5px; float: left; color: white; background: #781300; border: 1px solid darkkhaki; font-size: 70px; line-height: 60px; padding-top: 1px; padding-right: 5px; font-family: times;">One of the amazing opportunities I had while in NYC recently as part of tour" target="_blank">#BlogTourNYC was the opportunity to attend the Design Industries Foundation Fighting AIDS (DIFFA)  Cocktails by Design charity event at the Architectural Digest Home Design Show.  Every year DIFFA invites the top talent of the design world to create tables that exemplify their style and story.   I had the opportunity to meet the designer who created my favorite table at the fair – Dwayne Clark of RDYC Interior Design.
What was your inspiration for the undersea theme?
Our inspiration was derived from Ayala Serfaty's SOMA Web Chandelier from AQUA CREATIONS SHOWROOM in NYC at 200 Lexington Ave in New York City.  The transparency from the polymer skin and the delicate structure from the glass tubes individually hand blown to create this masterpiece made it evident that our set would take place revolving the ocean floor. Many people described the set as though if Heaven were on the oceans floor this is where it would be.
What other detail can you give me about your table design?
We covered the 48" round table top with MAYA ROMANOFF'S Mother of Pearl Aphrodite in Oyster.  The majority of MAYA ROMANOFF'S products are used as a wall coverings. We wanted to give a unique characteristic to the table for this particular project and push the design esthetic that their products are flexible also for use on columns and circular applications. They just opened a showroom within the D&D Building in NYC.
Can you share an anecdote or two from the show/dinner? 
We were honored to have Jerry Mitchell (Broadway choreographer and the Chief Editor of NEW ENGLAND HOME Mag.) at our table for dinner at the Dining by Design Gala. Consistently throughout the evening Bob Gaynor, (Lead Designer with our firm) and I reminisced that we were amongst the finest colleagues within in our industry in one room! From David Rockwell of the Rockwell Group, to Ralph Lauren, to Joyce Romanoff we realized that this was the Oscars for Interior Design!
Dwayne Clark – RDYC Interior Design
What is something most people don't know about you?
That I am a neat freak and I have lists at all times ongoing for almost every project…..even ones for my home life. I don't think people know that I believe family is most important and that home is where the heart is; it's the foundation of every family. I realized early on when people would call me a Southerner….I would grin and wished they embraced their family half as much as I did mine and my insides wished that they believed too and if so I felt the world would be a better place.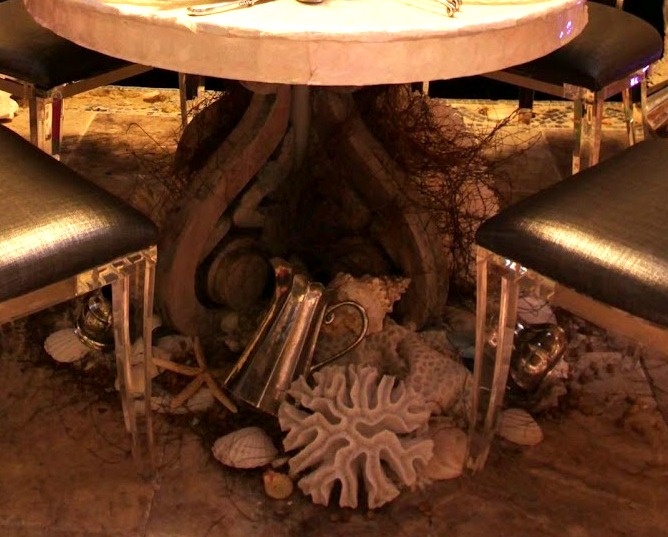 Thanks Dwayne for telling the story behind the story with your Under the Sea Tablescape! 
The Antiques Diva®
(seen above at DIFFA Cocktails by Design with #BlogTourNYC friends Stacey Shephard, Kelly Morriseau of Kelly's Kitchen Sync, Katie Treggiden of Confessions of a Design Geek and Marilyn Russell of Design Magnifique
Thanks for following my journey with #BlogTourNYC! 
tour">
tour_nyc_250.png" alt="BlogTour 2012" width="250" height="228" />
tons/follow-me-on-pinterest-button.png" alt="Follow Me on Pinterest" width="210″ height="28″ />
tons.sociableblog.com/images/FB5.png" border="0″ alt="" width="210″ height="60″ />
tons.sociableblog.com/facebook-badges.html">