Dear Diva Readers,
As I write this post, it's late at night – the night before The Decorative Antiques & Textiles Fair 23-28 April 2013 Battersea Park, London SW11. My heart is pounding, I can't sleep. All I can think about are ANTIQUES – tomorrow I'll be arriving the pearly gates of great decorative antique pieces.  I'll be bringing a VIP Aussie client with me to shop – but I must confess – I might have to break my cardinal rule not to shop on tour with this client.  The fair is just going to be that good! Bloody H-E-Double Hockey Sticks, my purchases just might break the bank.
tors" src="https://antiquesdiva.com/wp-content/uploads/2013/04/imagesCAOH6HAC.jpg" alt="Antiques Diva" width="204″ height="247″ />
This fair will host more that 140 of the top decorative antiques trade.  Anyone who has watched tors" target="_blank">Million Dollar Decorators knows this fair is a 1st port of call for decorators worldwide –  I particularly loved the episode in season 1 when Kathryn Ireland went to the show to decorate an old flame's English country house.  And Martin Lawrence Bullard is famous for haunting the affairs.  But it's not just Big Names in Lights that shop here… many of the American trade buyers who have built a name for having the best inventory in stock come over specifically for the event three times a year to see wonderful objects, furniture and works of art of all periods to tempt every aficionado of fine interiors. Traditional accessories from kitchenalia to wine glasses, textiles and quirky decorations such as antique shoes alongside 'Grand Tour' intaglios displayed under domes and taxidermy also under glass domes on a grand scale. The fair is also a serious source for good antique furniture from early English oak to Georgian walnut and Regency mahogany with Arts and Crafts and Art Deco pieces appearing more and more frequently.
Anyone who has followed the  publicity surrounding Antiques Young Guns will have noticed that the main event will be hosted at this venue which is the ultimate source for discerning homemakers, designers and trade.  The event, still known in the trade inner circles as "the Decorators' Fair" is indeed an event for the Young Guns of the trade to aspire to and thanks to the generosity of the organiser David Juran they will have a bird's eye view of this storming event from the complimentary stand in the foyer where a very varied selection of contributions from The Young Guns will be on display and for sale. The chance to submit stock to be showcased at what is an elite event for the more experienced members of the trade – The Heavy Artillery – was a driving force behind so many entries in the competition.
Keil and Stuart, the Fontaine boys, are now in their sixth year at The Decorative Antiques and Textiles Spring Fair and they seem to be on a gilded path with one successful fair after another, not forgetting their debut at Olympia International Art & Antiques Fair last year which was a sell out.   Their prominent stand just inside the main arena at Battersea is always a buzzy hive of activity and a quick check on their web site this week confirms that they have been on yet another buying frenzy in France. The boys seem to have a policy of keeping the stock fresh at all times in the former town laundry which they have artfully transformed in Margate, Kent. They have regular sales of existing stock when prices really are slashed together with their annual boozy and lively "deballage" where they also showcase new stock, and then off they go to France to replenish it all with fresh delights. They have an extremely sharp eye for trifles and baubles you did not realize you simply could not live without but they are also very clever at structuring all of this with sleek usable furniture – each piece with an arresting little detail to give it that little flick.
Somebody who is heading along his own gilded path is Young Gun George Johnson, aged 35, who owns Lady Kentmores in Callander up the picturesque Trossachs region of Scotland. George has in a very short space of time made a name for himself in his role as one of the four hosts on Channel 4's Secret Removers and since this appearance has been offered a new role in another nationwide show still under embargo! George writes regularly for my colleague Gail McLeod's website Antiques News and Fairs and a number of other trade press and has recently been snapped up to write a column for Money Maker Magazine, giving tips on how to make a profit from collectibles. You might recall that I described his shop as "a cocktail stirred but not shaken!" – a confection of curios, collectibles and the macabre.
As a key member of the crack team of judges for Antiques Young Guns, George was not eligible to enter the awards but he is able to display some of his stock on the Young Guns stand at Battersea. He has chosen two of his favorite pieces of taxidermy which he acquired after a lengthy and circuitous journey to a remote castle in the North of Scotland where the Laird had invited him to come and buy a few pieces. George found the journey home a lot more enjoyable with some prize examples of pre-war taxidermy in tow!
SO… on Thursday of this week – April 25th,2013 – I'm lucky enough to be returning back to Battersea (after shopping the Cotswolds and Sussex) to attend the Antiques Young Gun Competition!!  The contenders for winning the award of brightest light shining in the trade – in the under 39 category include:

Profiles of the shortlisted entrants for the 2013 National Antiques Week Young Guns award: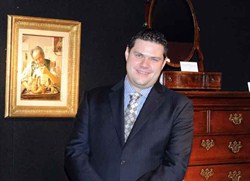 Robbie Timms (30), Bedfordshire
S&S Timms Antiques from Ampthill, Bedfordshire, one of the founding members of the original #AntiquesYoungGuns. He brings a new outlook to the traditional furniture side of the trade. Robbie launched the world's first antiques shop iPhone/iPad App. Joined the family antiques business aged 16, and has 'upped the ante' by exhibiting at the UK's top fairs.
Natalie Smith (32), Woodbridge
www.woodbridgeantiquescentre.co.uk
Opened her own antique centre at only 26 years old and proves that antique centres are not just an old person's game. Got the antiques bug while visiting car boot fairs with her dad, took a degree in Italian, worked for a jewellers in Venice but really got into dealing when she helped sell some of her father's collections.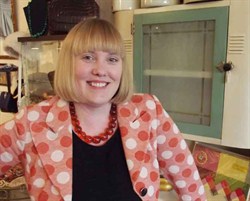 Keeley Harris (36), York
Runs Discover Vintage & Vintage Emporium, has been making waves from her shop in York and from the various fairs she runs throughout the country. Fell in love with a Victorian doll's house aged eight, and spent her teens buying at car boots and charity shops to sell on at antiques fairs. Interim jobs in events have helped her create very interactive vintage shows.
Kieran Mathewson (26), Herefordshire
Dealer in tribal art, architectural reclamation and country furniture. Has carved out a career through determination and a love for objects. First struck aged eight by a pewter tankard in a South African antiques shop that looked like one he had seen in a pirate movie -"I remember my heart racing, wondering about its history. That feeling is a high I have been chasing ever since!"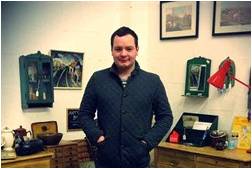 Paul Jones (29), N. Wales& Chester
Runs Morgan Fairs in Wales and has his own shop in Cheshire specialising in Victorian pine and country furniture, and smaller items including books, folk art and kitchenalia. His parents are in the trade (specialist Welsh and vernacular furniture dealers).
Paul was a mechanic until he realised his heart was really in antiques. Dealt at fairs for two years before opening his own shop.
Timothy Medhurst (21), Chelmsford
Turned a childhood love of coins in to a career as an auctioneer specialising in the numismatic world. Determined to bring a youthful edge to a field sometimes seen as old and stuffy. The youngest of our short-list, Timothy aged 10 was first amazed by a Victorian crown coin shown him by his grandmother. That sparked a collecting craze he developed into an online dealing business whilst still at school.
Matthew Nunn (37), Reading
Runs Apsley Antiques Ltd & Fleaglass Ltd and has been bringing the scientific antiques market to a whole new generation.
Spent years working in engineering but was hooked on antiques as a child, and started dealing when eBay launched.
Adam Partridge (39), Macclesfield
Adam is still a young gun, but has achieved so much in auctioneering after some major early set-backs. Well known from TV (Flog It! et al). His first purchase: a small oil painting, bought with pocket money aged eight, which he still has. Read classics at Oxford but spent more time haunting fairs and auctions.
ton" src="https://antiquesdiva.com/wp-content/uploads/2013/04/2080BP01I-13-02-28_190x240.jpg" alt="" width="190″ height="240″ />
Sam Loxton (33), London
Travels the world sourcing the finest jewellery for Lucas Rarities Ltd and has a love for the finest items. In his words: "I consider myself a champion of antique jewellery…" He adored old books and antiques; soon after school he was offered two jobs at once – with the National Art Library and with Christie's as a porter in the jewellery department. He took the latter and has been utterly dedicated to jewels ever since.
Chris Oxley (36), Wiltshire
Another founding member of the #AntiquesYoungGuns, busy rejuvenating the timeless world of fine clocks. His parents established P.A.Oxley Antique Clocks, and Chris started going on buying trips with them from the age of 10. He joined the business after leaving school, and now runs it with his mother.
Alys Dobbie (29), Cornwall& E. Sussex
Owns two vintage shops under the Nana Dobbie brand, one in Brighton and one in Lostwithiel, Cornwall; causing a stir in the 20th century collectables and vintage worlds. Another who fell in love with 'retro' whilst car-booting with her dad. Tried art college but couldn't resist temptation to deal. Studied in order to do her own modern furniture restoration, and says her business has only ever used recycled packaging!
James Gooch (30), Bedfordshire
Another founding member of the #AntiquesYoungGuns, runs Doe & Hope, a web-based antiques and curios shop that aims to bring a bit of fun and showmanship to the trade. Early obsession with antiques television programmes. With a BA in film & video, he first worked as a runner and researcher in TV production. A small legacy from his grandmother was what prompted him to set up shop.
For full exhibitor list and times see The Decorative Antiques & Textiles Fair website!   In the meantime – I cannot wait to see you in London!!!
Let the shopping commence!
The Antiques Diva®
NATIONAL ANTIQUES WEEK – THE MAIN EVENTS!
Please visit National Antiques Week Main Events feature with images and full details of all events and promotions.
We are delighted to report on the main events for National Antiques Week which in addition to the Antiques Young Guns campaign culminating in a sparkling evening to celebrate National Antiques Week with an awards ceremony followed by a party at The Decorative Antiques & Textiles Fair.