How to Create Christmas Tablescapes with Antiques and Vintage Pieces pt 1
Your home is a reflection of who you are – your travels, your passions, your lifestyle. As The Antiques Diva, I always incorporate antiques and vintage pieces into my home, mixed with modern and far more practical items for everyday living! When I entertain, I enjoy using antiques I've collected in new ways that showcase their beauty, but at the same time demonstrate that antiques are anything but old-fashioned and stuffy. Living with antiques is an art and a passion – and I love to share my home and #DivaLifestyle with my guests, especially during the holidays.  
Today we're starting a series of blog posts by Mimi Montgomery of Lolo French Antiques et More full of #designinspiration and tips on using antiques and vintage pieces for holiday tablescapes, bar carts and entertaining! Mimi is thinking pink! Are these tabletops not the most stunning Christmas shades of pink you've ever seen! I'd love to be invited to this ladies brunch! 
Wonderful Christmas Time Ladies Brunch 

'Tis the season… to deck the halls, the walls, and the tables! Whether you're celebrating all that's merry and bright with an intimate group of friends or hosting a large family gathering on Christmas Eve, you always want to make sure your holiday tabletop shines. This year, I called on a few of my favorite friends for some sparkling inspiration. WOW! Did they ever deliver! You might have seen some sneak peeks if you follow me on Instagram or Facebook. For the next few weeks, I'll be sharing with you the three table settings (plus a bar) that we created, along with detailed photos. So… put on your sleigh bells, pour yourself some bubbly, and fa la la la long…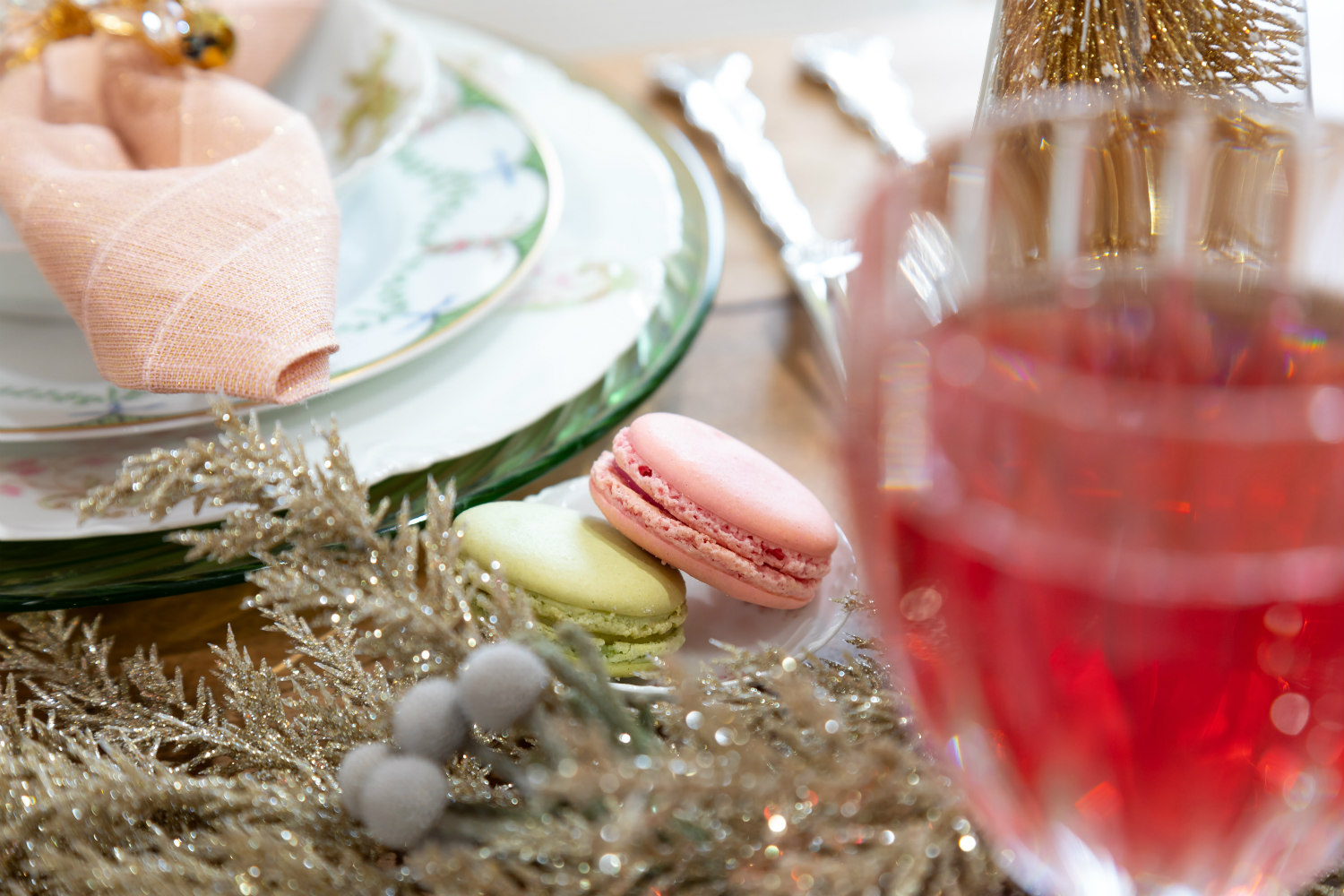 TABLESCAPE #1 WONDERFUL CHRISTMAS TIME LADIES BRUNCH 
When it comes to setting a festive table, especially one in shades of pink, like my Wonderful Christmas Time Ladies Brunch, no one does it better than Barri Thompson Interiors. I met Barri shortly after moving to Birmingham, and we became fast friends. When Laurent and I purchased our home, there was no question who would be our designer. Barri's love of color and her enthusiasm for design is contagious. I recently asked Barri and her assistant Melinda Musgrove (one of the floral designers on the C. Wayman Floral & Events Team for Cardi B's baby shower before joining BTI) to design not one, but THREE, holiday tablescapes for a photoshoot. They didn't hesitate to say yes! Photos by Eric Gray Photography. 
Barri embraces the romantic appeal entertaining at home has. It's a well thought out affair for her, where "fancy" doesn't mean complicated. She brings her signature modern style to each tablescape, yet she has the uncanny ability to mix in vintage and antique pieces — making things that probably shouldn't work together look enchanting. Non-traditional details help to define her Christmas tablescapes, which are made festive with fresh flowers, boughs and greenery from the yard, signature drinks, and a break from the usual red and green colors associated with Christmas.
A pink and green color scheme. The green plates used as chargers make the mix and match place settings, in various shades of pink and green, pop when placed directly on my bleached walnut table. The vintage Tulu rug and the bright colors and bold pattern on the antique Louis XVI style chairs also stand out against the wood.
The table is set à la française — French style, with the tines pointing down. Barri chose to use heirloom silver passed down to me from a great aunt, Pyrex chargers, a gift from my mother, beautifully detailed antique Limoges dishes, and Raynaud Festivite salad plates. As you can see, my love of antiques and vintage is not limited to furniture!
Barri has such a discerning eye. She took the dainty little Limoges butter pats and placed two yummy macarons in each. What a delightful surprise! She also mixed the stemware, using Parklane by Mikasa and Manhattan Gold by Union Street. Blush pleated metallic napkins and chandelier napkin rings by Deborah Rhodes, were used to add extra shine.
Melinda placed a 19th century Limoges fruit bowl that is part of my china collection in the center of the table to hold a large glitter bottle brush Christmas tree surrounded by pale pink peonies, silver brunia and gumball pink hypericum berries. She ran a glitter garland down the center of the table and filled in with the live berries and more silver brunia, adding champagne colored bottle brush trees inside glass on each side of the centerpiece for height. Blush colored rope taper candles from Greentree Home in antique silver candle holders add additional height and provide elegant light.
Will any of you be hosting a holiday fête this season? If so, these 5 tips will help make you the hostess with the mostest: 
1. Decide On A Color Scheme Or Theme — Think outside of the box with new color combos to create a fresh tablescape. Consider color combinations other than the traditional red and green. Dishes and glassware, as well as florals, are great ways to bring color to your table.
2. Get Creative — Take a cue from Barri and use things in unexpected ways like she did with the butter pats. We've been trained to set forks on the right and knives on the left, but holiday tablescapes give us the freedom to step away from tradition. Play with the napkins. Move them around until you find the perfect spot. And never feel like you have to cover a wooden table! The texture of the wood just creates another layer.
3. Make It Personal — Work with what you have. Don't think you have to go out and buy everything new. You can't go wrong with a mix of modern and antique tableware, or high end and low end. If you have a fabulous collection of sterling napkin rings or colored coupes, use them! Mix Limoges with Pyrex like we did! We played around with my china and crystal and swapped plates and glasses and candlesticks in and out many times before we settled on what we used.
4. Keep It Fresh — Go big on fresh flowers, garlands, and greenery. Natural elements are key to making a holiday tablescape memorable. Tuck sprigs of greenery into the tablescape or use them to adorn plates or candle holders.
5. Add Some Sparkle — Metallic finishes just draw people in. Whether its metallic threads in linens or glitter ornaments, everyone loves a little sparkle!
*All other table accessories except sterling candlesticks are from Table Matters.
Don't miss our next tablescape, Dreaming of a White Christmas. We're roasting marshmallows and making s'mores… on a mohair rug.
A Bientôt!
Mimi