Today you know me as The Antiques Diva. I've lived in Europe nearly 20 years, having lived in Paris, Amsterdam and Berlin before moving to Venice last year. But I grew up in Oklahoma and rarely traveled outside of the state as a child and teenager. I didn't have a passport until I was 21 and I decided to study abroad and in doing so, it changed my life. On that first trip abroad to London, I realized that "Dreams Do Come True" and my dream was to live and work in Europe. I realized if I wanted something strongly enough, if I worked hard enough, that I could achieve my dreams. And my dreams were big. Ten years ago when I founded The Antiques Diva® & Co I had a very specific vision of where I wanted to bring my brand – and I'm still working on achieving all those goals. Today I'm excited to announce that I get to check one more of those goals off my checklist. This Fall Aidan Gray Home is launching The Antiques Diva Collection by Aidan Gray at the fall High Point Market, Oct. 13-17, 2018.
If one phrase captures the essence of my mindset, it's "You Mustn't Be Afraid to Dream a Little Bigger Darling." Thanks to the way my parents raised me, I have always believed I could achieve whatever goals I set for myself. My dad is the ultimate at giving encouragement.  He thought I could climb the highest tree or run faster than all the boys… and because he believed I could, I did. As I was growing up my parents did not have much money and things were always financially tight in our house. My parent's house was small, but it was a wonderfully cozy home. My mom didn't have much money to decorate with but she had good taste. And more importantly, she has an ability to make anything look beautiful. I remember her walking into the fields near our house and picking wildflowers. She would bring them home and put them in a rusted vintage Folgers coffee can and they looked like a centerpiece for Country Living. She went to garage sales and bought second-hand furniture and paintings and our interior design was always the coziest of all my friends. Today I owe a lot of who I am professionally to who she was as a mother. She inspired me to live beautifully. My father inspired me to achieve my dreams.
to-dream-a-little-bigger.png" alt="You mustn't be afraid to dream a little bigger" When I met Randal Weeks, CEO of Aidan Gray, we connected not only in business but connected as friends who have similar roots. We understood each other. He's a Texas boy. I'm an Oklahoma girl. He grew up as a military kid, with his family moving around the world from military base to military base and his mother was a magician. She could move into a house in a foreign country and perform magic on military housing making the spaces as beautiful as she was. He saw the beauty she created in her world. And he was inspired by her and the way she lived her life. 
In university, he studied architecture – but he was always drawn to furniture and interior design. When creating the architecture plans for the house he couldn't help but think how the people would live in the space, what the lighting would be, how the furniture placement would interact with the structure itself. For him, architecture, interior design and furniture were always in the conversation. By happenstance one day while getting his MBA, he caught an episode of Oprah. And something she said resonated with him, "You will never be happy if you are not passionate about what you do." And he thought – "she's right."  
And he made the decision to pursue his dream to start a company that produces European inspired home furnishings. Since 2003, Aidan Gray has grown to become one of the leaders in the home furnishings industry.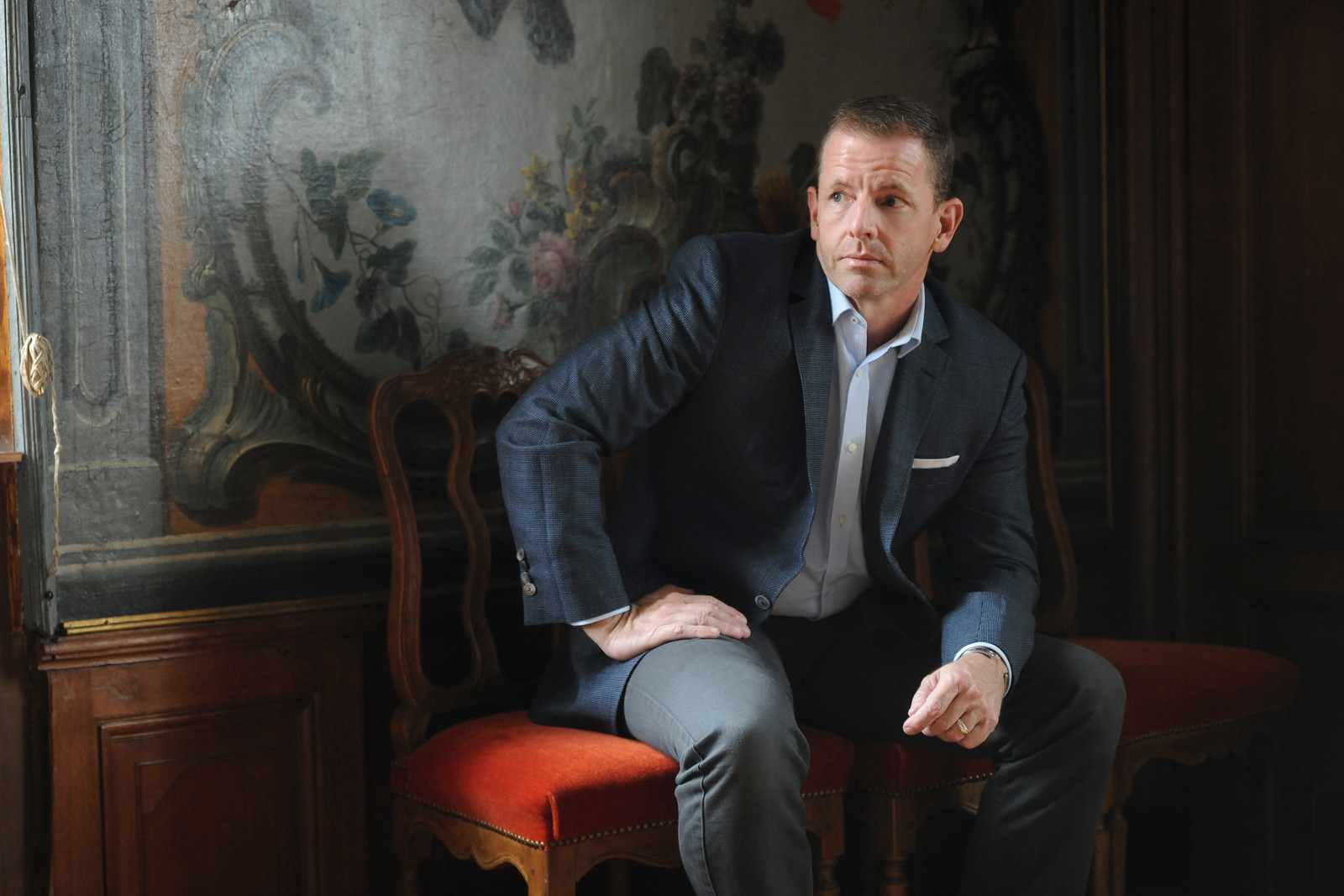 Randal and I first met 6 years ago when he approached The Antiques Diva & Co to help source antiques in England, France and Belgium to use as design inspiration for creating his collections as well as accessorizing and selling in his showrooms.  And – the shoe fit. 
We were fast-friends enjoying a mutual respect for one another's businesses and over the years worked together when Randal had international antiquing needs.  
When two years ago I was approached by a licensing agent to design a licensed line of furniture for one of Aidan Gray's competitors, I prepared a powerpoint presentation. And I did what they say you should never do. I flew to Dallas and I showed my ideas to Randal and said, "I've been asked to develop a furniture collection, and if I am going to do a furniture collection, I want to do it with you." Before I was halfway through the presentation he was taking me into his warehouse and showing me some feet for a chair he was working on and we were excitedly discussing the idea of "the chair as art."  He got my vision immediately. My initial ideas were too "Form over Function" and he gently informed me, "It must be comfortable to sell!" We discussed my ideas and decided eventually decided the best way to start our collaboration was to hit the road together – traveling throughout France, Holland and Belgium, seeking design inspiration to develop a line of furniture together – and a collection was born. The Antiques Diva Collection by Aidan Gray 
Sneak Peek of our Marie Antoinette Chair with Lucite and Faux Leather
Chair as Sculpture: Marie-Antoinette Chair"The channel quilted faux leather seat reinforces the construction and makes this refined antique incredibly practical for today's active and busy lifestyles. Our Marie-Antoinette Chair's simplicity has been modernized to compliment any style of home or interior. We are making this in an armchair, armless chair, and a settee version. 
The Antiques Diva & Co's goal is to make antiques accessible. Aidan Gray's goal is to offer this same accessibility for European decor and home furnishings, so this is a perfect partnership! Designing this collection together was a natural progression for The Antiques Diva brand. Just as Louis XVI was inspired by his Grand Tour and the discoveries of Pompeii when creating his Neoclassical furniture, I've traveled the world and have seen the best-quality antiques and gained global design inspiration. Antiques help us learn from the past to create for the future. 
But I didn't want to create a line of antique reproductions – I wanted to create something that was inspired by the past but made for today – mixing media to create unique looks for furniture, using concepts and materials not available in the 18th century – such as authentic hand-carved woods combined with Lucite and faux leather.

Years before I started The Antiques Diva & Co – when I was in my mid- 20's living in Paris – I remember sitting one day at the Café Les Deux Magots and telling a girlfriend that my dream was to someday design a line of furniture. At the time I didn't think it would actually happen – it was a far-out fantasy – but words have power. Speak the desires of your heart out loud… and then work your butt off every day until your dreams come true. 
It is my great pleasure to invite you to join me at High Point Market | The World's Home for Home Furnishings for the Launch Party for The Antiques Diva & Co Collection by Aidan Gray Home. Aidan Gray is located in High Point at 201 North Main. The fête is Sunday October 14, 2018, from 9am to 11am, but you are welcome to shop the collection every day during market October 12-17, 2018  (or online on the Aidan Gray website after the product launch in High Point). If you're in High Point, I would love to take time personally to show you the collection in a private tour – email me Toma@antiquesdiva.com to make an appointment. For those of you who won't be at market, over the coming months I will share photos on my blog and tell the behind the scenes stories of various pieces.
Hope to see you at High Point!
Toma Clark Haines – The Antiques Diva