Dear Diva Readers,
top: 5px; float: left; color: white; background: #781300; border: 1px solid darkkhaki; font-size: 60px; line-height: 50px; padding-top: 1px; padding-right: 5px; font-family: times;">I have many indulgences… Champagne for breakfast (and on Tuesdays because, after all, Tuesday should be made to feel special, too) but one indulgence I enjoy more than most is taking time for classic British tea. I've been fortunate to do tea in some of the most chic locales in the world – the Mandarin Oriental in Bangkok, the Ritz in Paris… but my favorite place I've ever done tea is in Scotland at Inverlochy Castle.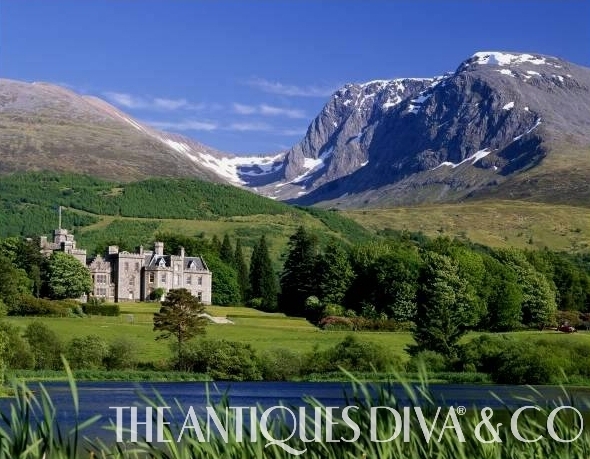 The castle's history is fascinating! Everyone from the current Queen of England to Thomas Jefferson, Sean Connery, Elton John and Mel Gibson have stayed there.  Built in the 13th century by John "the Black" Comyn, Lord of Badenoch and Lochaber, the structure itself remains largely unchanged since its construction. It is said that the site had been a fort some five hundred years prior. In 1863 a Scottish baronial style mansion called Inverlochy was built to the north-west as a private residence.  Since 1969 this grand house has operated as a hotel with 18 bedrooms (all with private baths). Between the frescoed ceilings & Venetian crystal chandeliers inside and the splendid views of the grounds & mountains outside, it is the ideal place to relax in the Scottish countryside—perhaps with a nice cup of tea!
And while it's lovely to do tea abroad with castles and crumpets, perhaps what I love most about the art of British tea is that the castles are merely optional!  You can take time out of your schedule to indulge yourself at home any day of the week.  My travel schedule can be horrid so I love inviting girlfriends around to catch up over a cuppa. It's an easy and elegant way to entertain – Diva Style!
Here are some of my Antiques Diva Essentials for Afternoon Tea:
First and foremost you have to have an antique tea set! Whether your style is more formal (a silver or porcelain set) or casual (maybe mix-matched pieces), I think it's important to have at least a tea pot, cream & sugar, and a tray. You can always purchase full sets which include coffee pot, waste bowl, strainer, and tea caddy.
I like to use beautiful tiered etageres (think a 3-tiered cake plate) which you can find at flea markets to serve cakes and snacks on. Serve a mixture of sweet and savory indulgences like scones, biscuits, cucumber sandwiches, and other little bites you can prepare in advance. Be sure to set out cream, sugar, and lemon slices to accompany the tea.  I also suggest having a pressed set of antique linen napkins that each guest can drape over their lap. I often come across lovely embroidered linens in Belgium and these are ideal for tea time!
Remember, tea time needn't be fussy. It's all about the time-honored tradition of pausing in the afternoon and catching up with friends. Enhance this social time with a few gorgeous antique pieces, and everyone around your table will be reminded to "use the good stuff" and take time to stop and smell the roses!
If you want to host a Tea Party at home you can follow some tips in our Antiques Diva/Chef in Berlin video or catch up on some recipes via BBC's Good Food Afternoon Tea Party.  You know I love sharing recipes… and Ina Garten's – the Barefoot Contessa – is one of my time-tested tea time favorites…. She makes a simply divine orange cranberry scone recipe!
Until next time, I say cheers darlings!
The Antiques Diva®