Dear Diva Readers,
To continue our Entrepreneur Series, I want to talk about something that all aspiring business people should be aware of: their Strengths and Weaknesses.
My Biggest Weakness in both my professional and personal life is Time. We all have the same 24 hours in a day, and it is crucial to identify what you can do well and what you can't do so well in that time in order to grow a thriving business. Due to a constant travel schedule, time is one thing that seems to always allude me. I have to be aware of what I'm able to accomplish within a 24 hour period and what I need to delegate.
Running a company is a sure-fire way to guarantee you're sleep deprived. In the beginning I didn't have the money to hire staff or outsource certain services so I did everything myself. Today even with a team of 18 people, there is still never enough time to complete the tasks that need to be done each day. I spend more than 200 nights per year on the road traveling so managing my schedule takes a lot of prioritizing. And at the end of the day I've had to accept that some things simply don't get done.
I have, however, created a system for organizing my schedule that time-blocks certain tasks so that I maximize my energy mode. For example, administrative tasks, when lumped together in an hour, go faster than if randomly done throughout the day. If I do all my creative tasks at the same time, my brain needs less "warm up" time when starting new projects and I get in the "mode" and am able to work faster. By time-blocking tasks by category – administrative, financial, creative, marketing, follow up/clients contact, etc I'm more productive and am able to get more done during the allotted time.
I've also learned to listen to my body in determining my natural rythym and thus work when I am most productive. For me it's in the early morning hours – I wake daily around 4am and have 4 hours in my office before most people leave to go to work. During those 4 hours I am able to accomplish twice as much work as I'm uninterrupted and have high energy.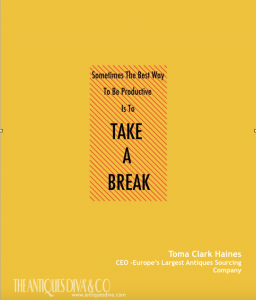 And believe it or not – one of the biggest solutions to managing my time crunch – has been learning to take a break. Each morning after my first 4 hours in the office – I go for a walk. Exercise gets the blood flowing and wakes up the brain. I'm able to use this time to process and think through things that need more dedicated time, while doing something healthy. It also enables me to think more creatively about work problems, finding solutions while in that new environment walking in nature or working out with my trainer.
While my company might be called The Antiques Diva® & Co but there is no room for being a diva when it comes to running a successful business. The key to my professional success has been an utter lack of ego. Yep! I catch the irony that I am BRAGGING about lack of ego…. but hey let's face it – my company name Diva wouldn't work if we really were divas in the shoe throwing since the word! Lack of Ego as a strength means recognizing it's NOT all about me. The client comes first. And I dont always have to be right or know the answer – I'm not afraid to admit to myself, an employee, or even a client when I don't know the answer to their question. While I may not always know the answer – I usually know how to find those who do know the answer – that's another of my strengths – my global network. We've grown as a company because I've surrounded myself with experts who strengthen me and my brand. Externally we've hired graphic artists, lawyers, accountants, publicists and social media gurus, while internally I've hired a slew of people who have different skills, knowledge levels, languages and contacts to serve as our locally based Diva Guides as well as Office Staff.
A big realization that has allowed my company to grow is the realization that just because I can do something within my company doesn't mean I have to be the one doing it or that it is the best place for me to be spending my time. I assess where my time is best spent and prioritize my schedule to align with what yields the greatest results for the company overall. Sometimes this means more time is spent on stage front and center while other times it means I'm stepping behind the scenes spending more time on strategy instead of implementation.
Regardless of what type of company you're running, it is crucial to understand that time is one of the most valuable assets you have. Learning what you can do (and do well) in a day, and what needs to be outsourced or delegated can really give you an edge when it comes to growing a business.
Go Rock the World.
The Antiques Diva®