In addition to 1-to-1 custom antique buying tours in 15 countries in Europe, Asia and America – 7 days a week, 365 days a year – meet Toma Clark Haines, The Antiques Diva, at public appearances in cities around the world.
@AskCHATTIC and The Antiques Diva at The Original Miami Antiques Show
February 10, 2018 @ 12:00 pm

-

1:00 pm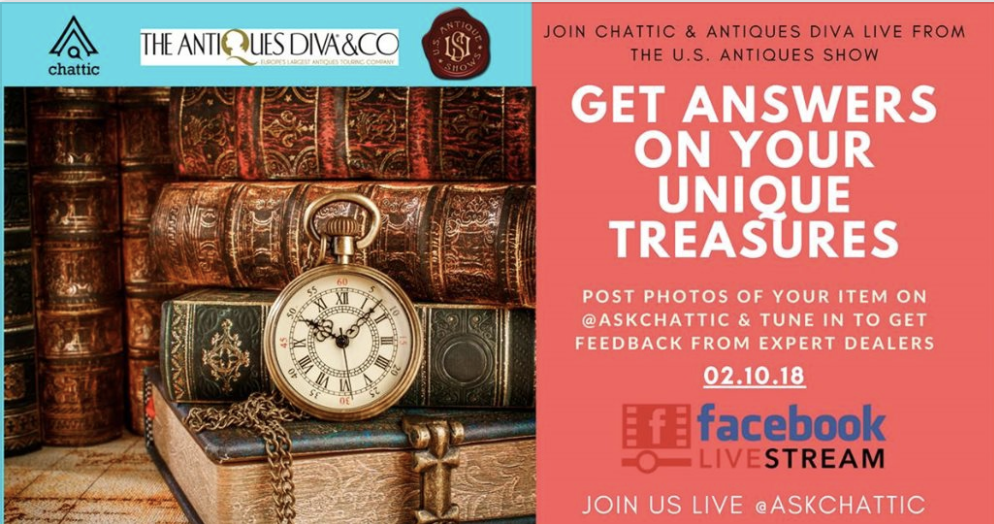 Chattic & The Antiques Diva at

The Original Miami Antiques Show
Join me on a walking tour of the Original Miami Beach Antique Show
and get expert advice on your unique treasures.
Visit AskChattic and send us pictures of items you'd like to know more about
and have a chance to have your questions answered LIVE!
Saturday, February 10 @AskChattic  12:00noon ET
LIVE at the Show and LiveStreamed on Facebook
Original Miami Beach Antique Show
February 9-12 @USAntiqueShow
The Original Miami Antique Show exhibits the finest antiques, art and jewelry collections in the resort city of Miami. The internationally renowned show is held at the Miami Fair Expo Center and features more than 600 established dealers from across the globe.
Chattic is the new way to sell old stuff! Chattic is the world's first antique and vintage social marketplace, building technology to help people understand and monetize their collectibles in a new way. By crowdsourcing ideas in a digital community Chattic users get answers on demand about what they have and what it's worth.

To book Toma Clark Haines, The Antiques Diva®, for a speaking engagement please email toma@antiquesdiva.com