Dear Diva Readers,
top: 5px; float: left; color: white; background: #781300; border: 1px solid darkkhaki; font-size: 100px; line-height: 90px; padding-top: 1px; padding-right: 5px; font-family: times;">If I believed in reincarnation I would want to return to this next life as a dog in Paris!!  They live the good life – Parisians carry their dogs in their Louis Vuitton hand-bags as they dash across the city, going from chic locale to chic locale.  Restaurants in Paris not only allow les chiens to accompany their owners to the table but they're often given their own plate and water bowl under the table!  On top of that, the average French dog visits the spa more times per year than I do… and if that wasn't enough to have me interested in living my next life as a French dog, they also flea market! Today in honor of the Spring Semester of my favorite flea market in France – La Foire Nationale à la Brocante et aux Jambons going on this March 11-20, 2011 – I want to share with you a few snap shots of these furry French friends I've taken over the years at this famed flea market in the Parisian suburb of Chatou.
I think some vendors simply bring their pets because they look so darn cute cuddled underneath their inventory!  This pup would certainly convince me to buy that basket!
Other dogs are put to work guarding the antiques and vintage pieces in their master's stall… or perhaps, rather than guarding they are used to lure customers into the stall with their cuteness!
Meanwhile some of the dogs at the National Fair of the Flea Market and Ham are for sale! You could take home this English Victorian Dog Pitcher or this charmingly naïve painting of a French bow-clad puppy!
tou/15530081_3Mprk#1185964225_4jk5D-A-LB">
But sometimes it gets to be too much – As you can see, all this shopping is exhausting for the poor dogs! 
Sometimes they simply have to take a break!
And when the dogs find something they really want at the flea market – like these gorgeous gilt chairs… they plead and whine in hopes of getting their way!  With those puppy dog eye's I'm a goner… I'd give into their whims every time!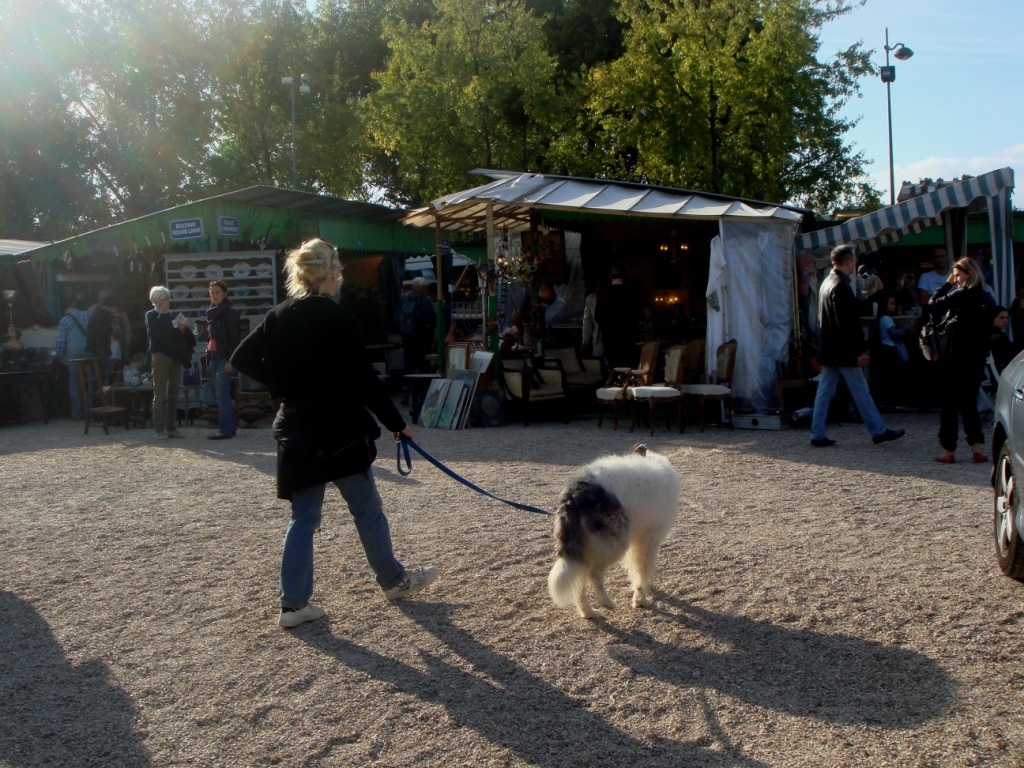 When the day is the done, the dog knows it and he takes his master home!  After spending the day at les puce, I'm happy as a dog!
The Antiques Diva®