Below is a Guest Blog from the wonderful "Chef in Berlin"!
Dear Diva Readers,
top: 5px; float: left; color: white; background: #781300; border: 1px solid darkkhaki; font-size: 100px; line-height: 90px; padding-top: 1px; padding-right: 5px; font-family: times;">You don't need to lead the life of the rich and famous to enjoy "Champagne Wishes or Caviar Dreams." 
When I saw the new "Designer Tag Sale" The Antiques Diva® & Co was offering on their website, I was like a kid in a candy store.  A multitude of gorgeous caviar presentation dishes caught my eye and I told the Diva that as "CHEF in BERLIN" it was practically my obligation to write a Guest Blog to share some Caviar details with you!  
Have you ever wondered what real caviar actually is? The world's leading producer is Iran at 300,000 metric tons, followed by Russia's Soviet States. Both countries border the Caspian Sea which is the world's largest salt-water lake.  Caviar is actually a type of fish egg called roe. Exactly like Champagne has its own designation, caviar traditionally comes from the sturgeon roe. Today these eggs come from a wide variety of fish like beluga (the most expensive up to $25,000/kg), trout, salmon, and other sorts of fish that are raised to produce the eggs. Beluga is the most prized and the price is directly relevant to the age of the fish. Apparently the older Beluga sturgeon can take up to 20 years to mature and their eggs range in color from black to pearly white. 
When eating caviar, it's all about the accessories!  Caviar is typically eaten with a bone, horn or mother-of-pearl spoon or spreading knife since a metal or silver one imparts a metallic taste.  Another way to serve caviar is with a gold spoon as it also has qualities that do not impact the taste. 
Aficionados and purists might not agree on all of the typical caviar garnishes but one thing they do agree with is that caviar should be enjoyed with either ice cold vodka (my favorite way to consume caviar) or, as The Antiques Diva® does, with "un coup de champagne". 
There are loads of caviar imposters like lumpfish (hard black or red colored eggs), salmon or trout (orange/red in color), or whitefish (golden color). Last week I saw green caviar which is some sort of manufactured wasabi product – it seems to be popular on the sushi circuit for its bright psychedelic green hue.  They are sort of the "proseccos and sparkling wines" of the caviar circuit.
As I know Diva Readers love La France, I must share with you that France has its own type of caviar called Poorman's Caviar. It's not fish eggs but rather a whole baked eggplant mixed with a whole roasted head of garlic. Slather it on a chunky baguette and sip some champagne!  Perfect budget-friendly party food!
Champagne Kisses and Caviar Dreams,
CHEF in BERLIN
(seen below with The Antiques Diva®)to.php?op=1&view=global&subj=1228362061&pid=31586949&id=1228362061″>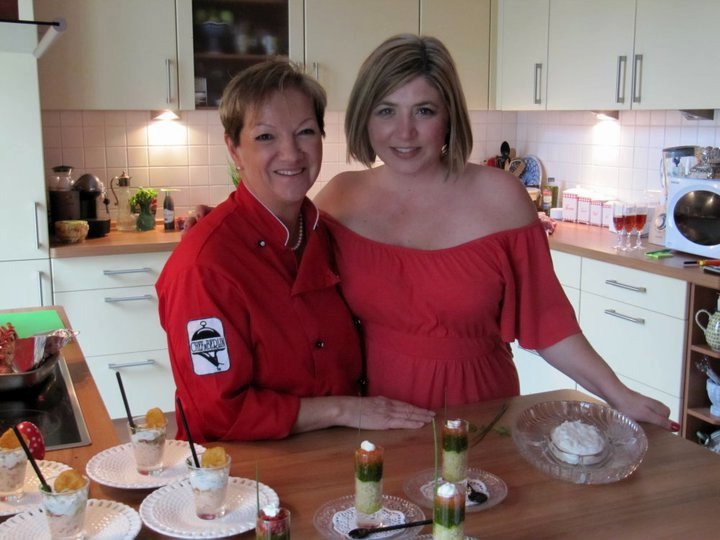 Jill DiGiovanni is "CHEF in BERLIN" – a Germany-based Canadian who has taken Berlin by storm with her great selection of gourmet offerings.  She's a personal chef for hire who offers in home catering, private cooking lessons and custom menus for busy people. Visit www.chefinberlin.com for more information.