Dear Diva Readers,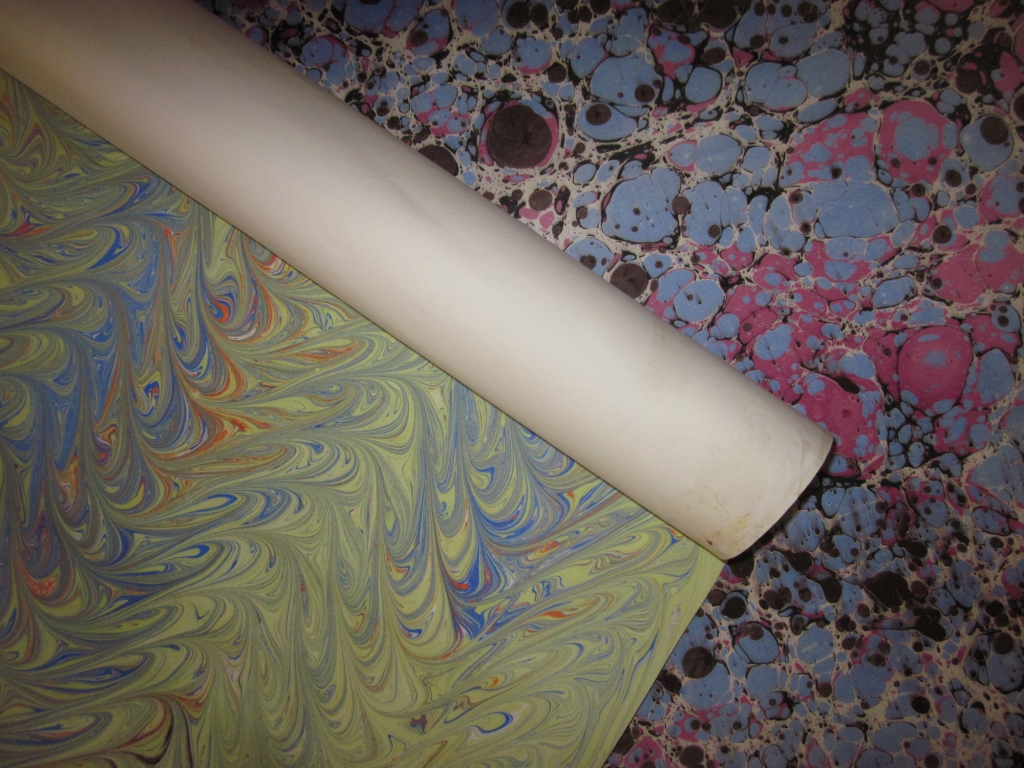 Today's blog comes to you from Tuscany and your Antiques Diva Guide Susan P as she shares details on her recent Paper Marbling Workshop in Florence! This workshop is just one of the insider's tips on Italy that we offer access to on our Antiques Diva Italian Tours!
So ta ta from me and Buongiorno from La Dolce Diva Guide – Susan P
The Antiques Diva®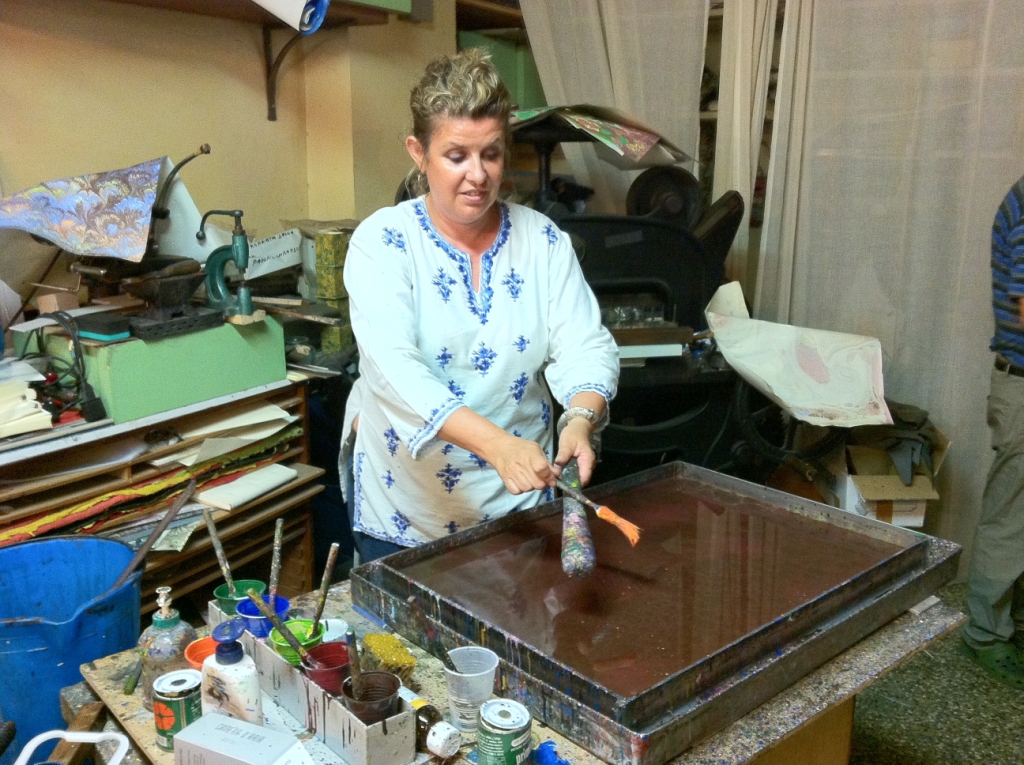 Diva Guide Susan P
top: 5px; float: left; color: white; background: #781300; border: 1px solid darkkhaki; font-size: 100px; line-height: 90px; padding-top: 1px; padding-right: 5px; font-family: times;">Just a stone's throw from the famous Boboli gardens and the Pitti Palace, not far from the hustle and bustle of Santo Spirito, tucked almost anonymously in one of those many narrow Florentine streets is the workshop of Omero Benvenuti, bookbinder since 1967.  From outside a dusty window front reveals little of what jewels are held within.  A small but impressive display of beautifully hand-worked, leather-bound books and a mirage of coloured Florentine marbled paper pieces from letter racks to pencil holders, little boxes for stamps to carefully displayed papers, all of which he has created himself.
We had come to try our hand at making Florentine marbled paper under the watchful but auspicious eye of Omero (his name a wonder in itself meaning Homer).  A passionate and gentle soul, a true Florentine artisan, more concerned with his craft than commerce, choosing only the best quality natural leather, colours and glues and following traditions passed down through generations.  He proudly displays his inherited antique embossing tools and demonstrates their use using fine gold leaf.   Whilst we are there one of his 'regular' clients came to collect a 19th copy of Dante's 'Inferno' that he had rebound and covered. 
He guided us to the back of the single room store.  There he mixed for us five acrylic-based colours with water in little pots carefully lining them. Alongside was a large tray into which he poured a liquid which he had prepared the day before that must be left for at least 12 hours to rest.  Of course each artisan has his own secrets… but Omero did share his incredible recipe; the ingredients were mind boggling; algae, water, Arabic gum, the yolk of an egg, a sachet of icing sugar all boiled up together.  We noticed some rather dangerous looking medieval tools, which turned out to be his homemade combs.
We were given free reign to choose and apply the paints as we wished which was great fun! Colours are applied to the surface of the oily water in splatters using a paint brush,   Best results are obtained using no more than six colours – one colour after another starting with the darker shades and then the lighter ones to create a dense pattern of several colors, which  slowly expand.  At this point you can lay the paper directly on the surface of the liquid, which we did try and came out with more contemporary designs,  but more often motifs are created stirring the colour spots with a thin stick and the metal combs: first a comb with straight and narrow teeth and then a comb with triangular teeth. Each artisan uses his own-developed combs, enabling him to obtain unique motifs. Even the same comb produces very different decorations used in different ways.
Now a paper sheet is carefully laid down on the water, paying attention to avoid that no air bubbles remain between the paper and the water surface, as this would result in black patches … Omero didn't quite trust us to do this so we left it in his capable hands.  He dragged the sheet of paper over a rod to draw off the excess liquid… we waited with baited breath, feeling sure it was all going to smudge… . But what a wonderful surprise the final results, the colors being so much more vibrant than they appeared in the tray… it was hard to believe that it really was we who had created them!  
Bellissimo!
Susan P – Your Dolce Diva – tours/italy/" target="_blank">Leading Antique Shopping Tours in Tuscany