Today's Guest Blog comes to you from my dear friend whom I call La Reine – she's the fab bloggess of She's Shopping Now and from time to time she graces Antiques Diva readers with royal presence! Without further adieu, let me present to you her royal highness – La Reine with today's Guest Blog.
Photo Taken on a Cross Country Drive in the USA last winter–
The Antiques Diva & La Reine of She's Shopping Now Blog

GUEST BLOG DIY Diva Magazine Rack!
Dear Diva Readers,
There are many good reasons why The Antiques Diva and I are friends:
we met as expat spouses living in Paris with time on our hands, no children, and husbands who worked long hours  
we share a passion for travel, antiques, shopping, food, collecting and entertaining
we tend to be a little quirky at times: friends and family often smile, incline their heads, and decline to comment on our ideas and adventures
sometimes our creative ideas challenge our capabilities…and our time constraints
Recently The Antiques Diva® shared with us her latest DIY project, a footstool fashioned from a moneybag she'd purchased 13 years earlier, and carried with her through 4 moves to 4 countries: voila!
tool.jpg">
tool" src="https://antiquesdiva.com/wp-content/uploads/2011/09/AD-DIY-footstool.jpg" alt="" width="452″ height="614″ />
The first time The Antiques Diva and I traveled together, we visited Île de Ré a charming island off the western coast of France (near Cognac).
La Reine, The Tampa Girl and The Antiques Diva (all looking incredibly young!)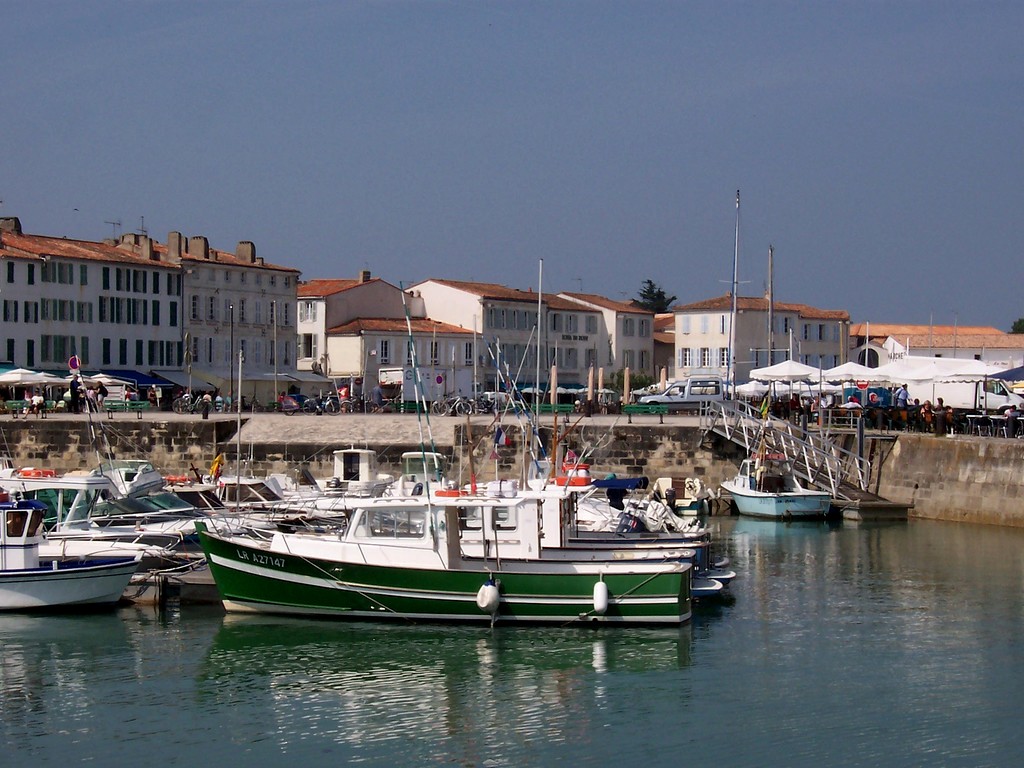 Why were we there? To track down the island's famous sel gris (grey salt) and fleur de sel (finishing salt), and sample some of the incredible salted caramel ice cream (caramel à la fleur de sel)! On our visit we also discovered the Ré wines, and a lovely salted caramel liquor.
Along with the bags and bags of salt, a fabulous chandelier I found at Barbotine (and hauled home on the train!) I also carried home a 3-pack of wine from Vignerons de l'Île de Ré so that my husband, The Big Guy, could appreciate a taste of Ré (the ice cream would have melted!) And over 8 years, 3 countries, and 6 moves (Paris to Copenhagen to Hoboken to St Louis to Chicago to New York to SoFlo!) the empty box has traveled with me, just waiting…
TBG was out of town for a few days, and I was resolved to flip my way through a stack of magazines that was so tall it kept sliding off the coffee table. When we repatriated I was so overwhelmed by how cheap it was to buy US magazines: I could get a year's subscription for $10, when I'd been used to paying €10 for a single issue on the Champs Elysee : I over-subscribed. Unsettled since our recent move to SoFlo, most of our furnishings were still in storage, including our magazine racks. But: I knew right where the wine box was, and I'd planned for years to turn it into a magazine rack. So inspired by The Antiques Diva® recent DIY Diva blog post, I got to work:
I took the side off the box because I wanted to preserve the so-charming rope handle.  Et voila: a mere 30 minutes late, a tres chic and tres unique magazine rack.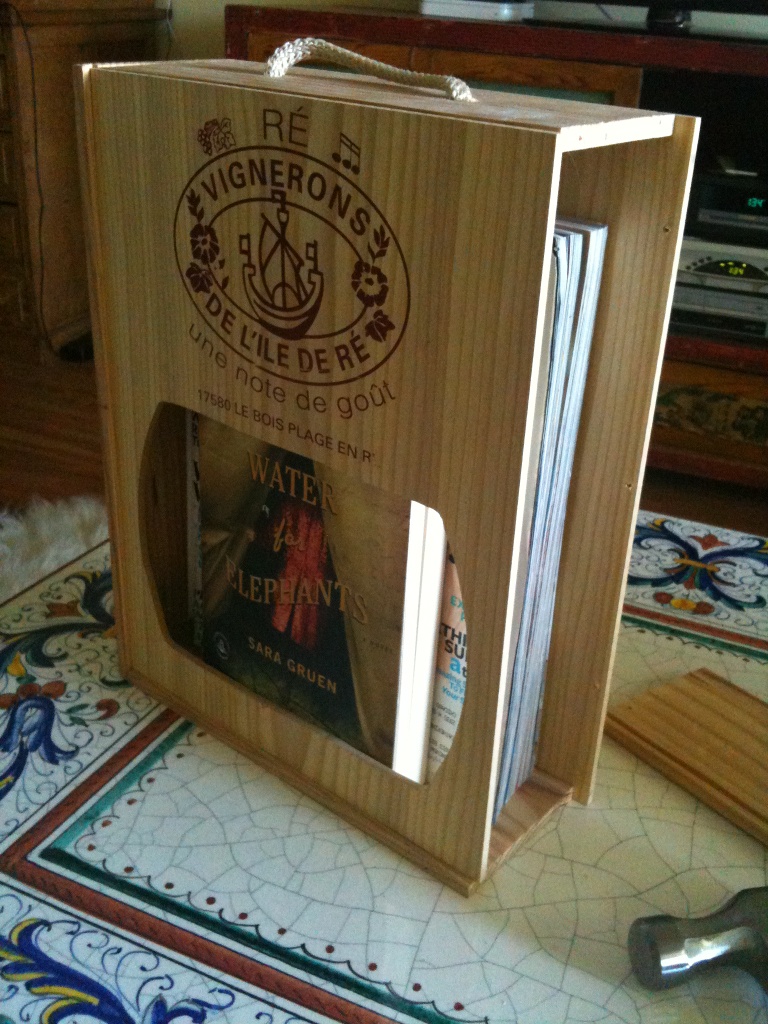 Now every time I grab a magazine, I'm reminded of our visit to Ré and wonderful friends and food and adventures. Je mes souviens…
à la prochaine,
la Reine